Chinese lady posing as a buddhist monk detained in Delhi on suspicion of spying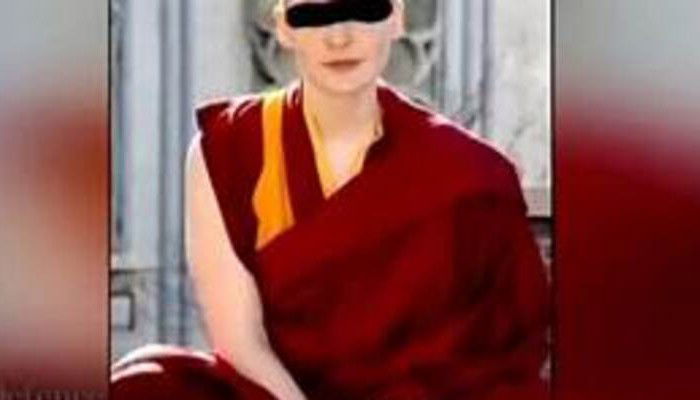 The police in the nation's capital have detained a 50-year-old Chinese lady who was allegedly participating in anti-Bharat activities. According to authorities, Cai Ruo, who identified himself as a "Buddhist monk," is believed to be a Chinese spy.
Cai Ruo is a "well-trained and crafty individual who tried to deceive the investigators by alleging that Chinese Communist authorities planned to kill her and that's why she escaped to India," a source told IANS.
She was "Dola Lama, a Nepalese national," and she had been residing in Bharat.
She had also acquired a "Nepalese Identity Card" to prove her residency in Kathmandu.
She did not speak Nepali while being able to communicate with the Delhi Police officers in English with ease.
She speaks fluent Chinese, which was also discovered by the police.
She had a Chinese passport issued in her name, and the authorities later discovered that she had been residing in Bharat using that passport after cross-checking and verification.
She crossed into Nepal in 2020 through the West Bengali state of India's Raniganj border region. After obtaining Nepalese IDs, she later re-entered Bharat.
According to the source's knowledge of her data held by the Indian authorities, she resides in the Chinese province of Hainan.
She allegedly tried to stir up trouble all around the nation.
According to reports, a source stated, "She informed us that the Communist leaders wanted to have her killed because she was a Buddhist. She was left with no choice but to leave China. But we discovered she was snooping and engaged in anti-national acts."
According to the source, authorities were informed that a female Chinese spy was staying in the nation's capital.
After evaluating the information provided, it was discovered that Cai Ruo was advocating anti-national actions.
In response, the police reported her for violating sections 120-8, 419, 420, 467, and 474 of the Indian Penal Code.
Then a police team was assembled, and a raid was carried out. Eventually, Cai Ruo was apprehended from her hiding place in a part of north Delhi.
The person added, "She was living in India illegally as a Buddhist monk so that she could evade security agencies' scanners. She had been spying and hatching conspiracy against the nation. She had been found in the possession of fabricated documents, ID cards… we are taking this matter seriously."
Ruo has submitted a request to the authorities, through her attorney Deepak Tyagi, asking for authorization to contact her relatives in China.
The source added that the investigation authorities will look into the woman's connections to the PFI because she was engaged in anti-national actions. Her arrest was also reported to the National Investigation Agency and the intelligence services.
DISCLAIMER: The author is solely responsible for the views expressed in this article. The author carries the responsibility for citing and/or licensing of images utilized within the text.