How Prabal Pratap Judev is giving a tough battle to Christian Missionaries single handedly ?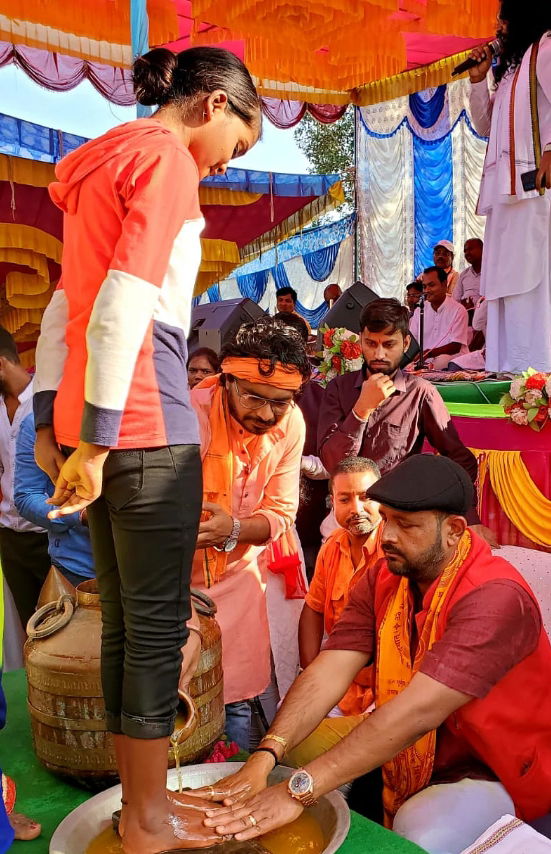 Prabal Pratap Singh Judev, the son of Dilip Singh Judev is giving sleepless nights to Christian missionaries like his father. His father Dilip Singh Judev was a minister in the government of Atal Vihari Vajpayee who used to wash the feets of tribals and do their Ghar Wapsi who were previously converted by Christian missionaries. After the death of his father in 2013, Prabal Pratap Singh Judev is carrying forward the legacy of his father. Pratap Singh Judev is the General Secretary of Chhattisgarh BJP. Recently in Odisha, around 500 people belonging to scheduled tribes have done Ghar Wapsi on 20th of October. Vishwa Kalyan Mahayagya was organized in village Jamurla of Sundargarh district for the Ghar wapsi of these people who were previously converted to Christianity. The event was organized by Dharma Jagran Coordination Department, Odisha in collaboration with Arya Samaj, Vishwa Hindu Parishad and Bajrang Dal. After the Shuddhi program
After the purification program, Prabal Pratap Judev welcomed everyone back in Sanatan Dharma by washing their feets. The people who came back in the Dharmik folds came from the society of Bhagwan Birsa Munda. Prabal Pratap Singh Judev also stated that "People associated with the campaign were getting threats. Despite this, we were successful in getting about 500 people back home."
DISCLAIMER: The author is solely responsible for the views expressed in this article. The author carries the responsibility for citing and/or licensing of images utilized within the text.