Dharma warrior and Archaeologist: Padma Bhushan Dr. R. Nagaswamy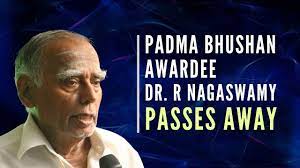 Internationally renowned archaeologist and inscription expert Dr. R. Nagaswamy (age 91) passed away on January 23, 2022. Apart from archaeology, he excelled in various fields like art, architecture, literature, paleography, ancient jurisprudence, music, dance etc. As a result, his passing leaves us with a void that cannot be filled. Going beyond that, India has lost a fierce Dharma warrior who fought fearlessly against secularists, progressives (regressives actually) and rationalists to bring the glorious history of Hindus to the fore. His death leaves a void which is irreplaceable. After independence, there were many efforts to erase the rich history of India and give it a secular look. Dr. Nagaswamy blew the whistle on such conspirators. He had a famous saying, there is no such thing as 'alternative history'. Until the end, he was firm with the belief that 'History is based on facts'. He used his in-depth knowledge to bring out historical facts. The doctrines or facts presented by him were so accurate and perfect that neither the historians nor the archaeologists who had been trained in the West were able to oppose them. Currently, the Indian Archaeological Survey has been transformed into the Islamic Archaeological Department. In this backdrop, as an archaeologist and manager of the Tamil Nadu Archaeological Department for 22 years, it is very important to review the work done by Dr. Nagaswamy.
Impact in foreign countries due to his in-depth study !

He was the first to undertake archaeological research under the sea at Poompuhar in Tamil Nadu. Apart from this, he has taken part in various activities like the preservation of the inscriptions from the time of the Chera dynasty, the preservation of the palace of the Chola dynasty, the preservation of the 17th century Thirumalai Nayakkar palace at Pugalur etc. The list is endless as many such activities took place during his tenure. However, Dr. Nagaswamy will be forever remembered by Hindus for bringing back the idol of Nataraja from London. The lawsuit began in 1986 in the High court of London. But Dr. Nagaswamy had to face another hurdle as the presiding judge had no knowledge of Indian culture & civilization. The defense counsel had come fully prepared to court. He left no stone unturned in order that the Nataraja shouldn't be returned back to India in any case whatsoever. But Dr. Nagaswamy presented various historical facts before the court. The judge was so impressed with his presentation that at the time of the lawsuit, he started asking various questions to Dr. Nagaswamy in between the hearing itself. He asked for many clarifications on many historical pieces of evidence. Without losing patience, Dr. Nagaswamy politely dispelled all his doubts. As a result, the idol was eventually returned to India in 1990. At the time, the British Judge Ian Kennedy had described Nagaswamy as an unequalled expert in his subject and also an acknowledged expert on Chola bronzes. From this, we can understand Nagaswamy's authority in the field of archaeology. However, even after such unparalleled achievements, Dr. Nagswamy's efforts remained neglected.
Dr. Nagaswamy was a resident of Tamil Nadu. In the past few days, Tamil film actor Dhanush and his wife Aishwarya's separation was being shown as breaking news by media outlets. But they didn't take any efforts on the sad news of Padmabhushan Dr. Nagaswamy's demise and his invaluable contributions. This is heartbreaking to say the least.
Shredding the Dravidian philosophy !

Tamil Nadu has been notorious for false claims like 'Our's Tamil culture', 'Our Tamil language is older than Sanskrit', 'Our tradition is different'. It has been spewing venom out of a conspiracy hatched by anti-Hindu parties like the Periyar activists and the DMK to separate Tamil Nadu from India. Dr. Nagaswamy buried all of such theories as rubbish. He had said that many Tamil dynasties had established Vedic schools in their time. By studying the inscriptions of that period, he proved with examples that 'Tamil culture is an integral part of Indian culture'. The controversy that erupted in Dr. Nagaswamy's life was his commentary that 'The poem 'Thirukkural' has its origin in the Vedas', a statement he had made in the year 2019.  'Thirukkural' was a matter of identity for the Tamil people, because it was composed by the great Tamil poet Thiruvalluvar. These statements made by Dr. Nagaswamy to the DMK President M.K. Stalin were not well received. Hence, Stalin criticized Dr. Nagaswamy to which Dr. Nagaswamy directly replied saying, "Does Stalin have any knowledge of Tamil history ?" He went on by giving various historical references on 'Thirukkural' and made it clear as to how it was related to the Vedas. It is to be noted that while the majority of the people in Tamil Nadu are promoting Dravidian or Tamil culture, Dr. Nagaswamy's fearless attitude to go against the mainstream was remarkable. Due to this fearless attitude, the difference between Dr. Nagaswamy and other archaeologists is obvious.


He would lead a simple lifestyle and could always be seen having the holy ash smeared on his forehead. Dr. Nagaswami was a disciple of Shankaracharya Swami Chandrasekharananda Saraswati of Kanchi Kamkoti Peetha. Hence, he had a spiritual background and practiced Sadhana. Dr. Nagaswamy has written many books on archaeology. These books are characterized by their cultural and spiritual significance. To preserve the historical heritage of India, archaeologists with such a pro-Hindutva attitude are the need of the hour. Hence the only fitting tribute to Dr. Nagaswamy would be for Patriotic and Dharmik archaeologists to carry forward the divine mission started by Dr. Nagaswamy.
DISCLAIMER: The author is solely responsible for the views expressed in this article. The author carries the responsibility for citing and/or licensing of images utilized within the text.