FoE 'champions' couldn't stand BJP leader Shazia Ilmi being a panellist in Jaipur Literature Festival in New York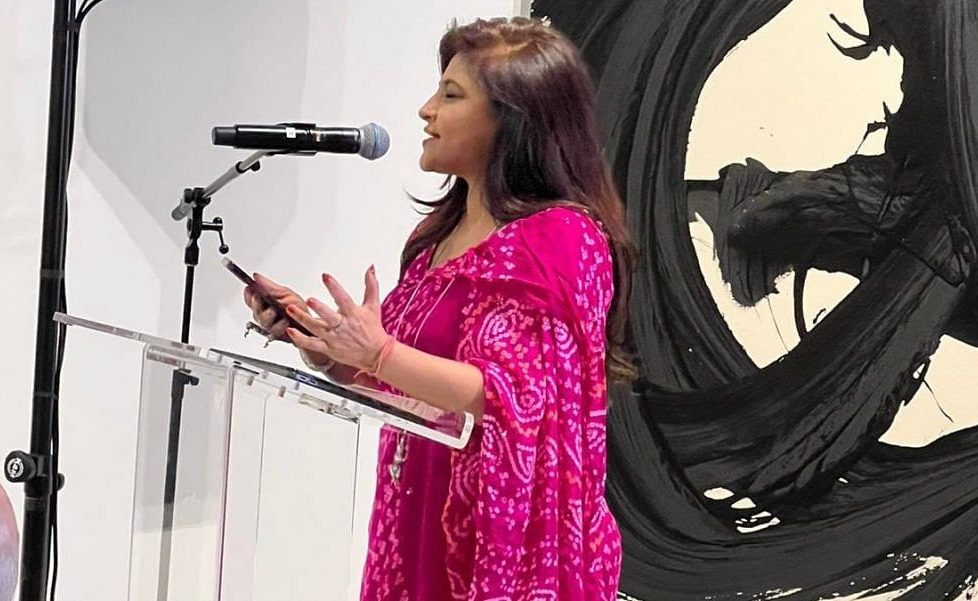 The New York edition of the Jaipur Literature Festival or JLF held from 12-14 September in NYC came under fire and criticism from Left-liberal propagandists. At least two panellists had withdrawn from the event allegedly because they did not want to share the stage with BJP national spokesperson Shazia Ilmi.
Though the panellists themselves did not release statements, author Aatish Taseer claimed that they were afraid to do so publicly. It's because "they have relationships with people in the festival," he told the Middle Eastern Eye. According to a report by Middle East Eye, at least three panellists have withdrawn from the event, alleging that JLF is normalising Hindutva in the United States. Festival organisers, however, denied these allegations.
Among the persons that didn't participate in the event due to the presence of Shazia Ilmi include Marie Brenner and Amy Waldman. Brenner is an author, investigative journalist, and writer at large for Vanity Fair. The other panellist who withdrew was Amy Waldman, a former reporter with The New York Times and author of two books. "JLF is a platform for all kinds of voices. They have every right to cancel [their appearances]," said Sanjoy K. Roy, managing director of Teamwork Arts, which organised the festival.
However, Aatish Taseer whose Overseas Citizen of India card was revoked in 2019, claimed that they were afraid to do so publicly. He took to Twitter to expand on the controversy.
"Nor should we forget that this was a festival too craven to host @SalmanRushdie in 2012 when there was a Congress govt. One can only imagine the alacrity with which they were prepared to do @narendramodi's bidding," Taseer had tweeted on Tuesday.
Ilmi was invited to take part in a panel discussion on 14 September and deliver the closing ceremony address.
"Time to cancel cancel culture," Ilmi tweeted in response.  Eventually, Ilmi did speak, both during the panel discussion and the closing ceremony.
"The chorus of the protesters grew louder as they flashed placards against India! And against this very telling backdrop of hate, I spoke of the necessity to bury hatred within and without. I will not allow 'borrowed hate and mortgaged rage' to come between my truth and theirs!" she later tweeted about her speech.
Following news that the representatives of the Bharatiya Janata Party would be attending this year's Jaipur Literature Festival (JLF) events in New York City, a pressure campaign began, seeking a boycott of the event. In the visuals, activists and writers can be seen raising placards as BJP's national spokesperson Shazia Ilmi addressed the programme in the United States city.
During a TV Debate, Ilmi narrated what exactly happened. She said, "This is not the first time that I have been to the JLF, I have been there a number of times. And to be fair, they did not succumb to the bullying and the pressures exerted by this lobby, so much so that they wrote to every panellist who spoke that they should not be there because of the BJP's presence. I was there, along with Guru Paswan."
The protesting organisations included Majlis Ash-Shura, New York' Islamic Leadership Council of New York, MWK, South Asian Solidarity Initiative (SASI) and No Separate Justice.
Sanjoy Roy attributed the uproar to cancel culture, saying it was an attempt to 'cancel' "a Dalit writer and a young Muslim woman speaking from the Right." The Dalit writer in question is Guru Prakash, another BJP spokesperson invited to speak at the event. Guru Prakash and Shazia Ilmi were panellists in a discussion on 'Intersections: Searching Equity' moderated by journalist Prashant Jha.
JLF is touted as being one of the world's largest literary festivals, with JLF 2022, held in Jaipur, being its fifteenth edition. This is far from the first controversy it has entered into. Salman Rushdie's almost-visit in 2012 and Ashish Nandy's caste comment in 2013 are some of the major ones. The literary festival has now moved on to Houston, with a list of speakers that contains more members of the literary elite. In 2023, it will return to Jaipur.
DISCLAIMER: The author is solely responsible for the views expressed in this article. The author carries the responsibility for citing and/or licensing of images utilized within the text.