Gharwapsi helpline: Need of the hour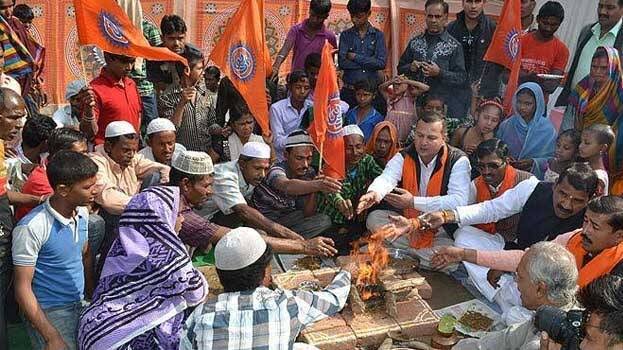 The Indian version of secularism has afflicted Santan Dharma to its yore. Hindus have either been cleansed ethnically or are on the verge of being total washout from lands of Afghanistan, Pakistan and Bangladesh which were once where Hinduism flourished and find mention in our scriptures. After a thousand years of persecution and killings by invaders, and colonisers, Hinduism has become confined to majorly India and Nepal. And even in India, we are unable to create a safe space for Hindus. Hindus can only counter by adhering to the age old practice of 'Shudhi movement' which was started by Swami Dayananda, further continued by Swami Shradhananda and is still carried out by few Hindu organizations in bits and pieces.
We Hindus can stand strongly against every attempt to convert, and eradicate the malechas by neutralizing them and hence ghar wapsi is a step towards prevailing hindutva. While several hindu organizations such as VHP, RSS, Bajrang Dal and many others have been relentless in this direction with very little or no public support and help the converted embrace Hinduism. But many still fear to do ghar wapsi knowing the genocidal nature of Abrahamic religions.
As a solution to this, Hindu organisations across India must establish *#Gharwapsi Helpline numbers* in order to reclaim Hindus who have been converted to Islam or Christianity. This is entirely lawful and constitutionally permissible!
Hindu organisations across India need to setup *#Gharwapsi Helpline numbers* for bringing back Hindus lost to Islam and Christianity. This is perfectly legal and constitutionally acceptable!
1/n

— Sangam Talks (@sangamtalks) December 30, 2022
It only takes the following steps:
— a toll-free number
— some advertising of the number in your city
— a modest operations room where volunteers are active
— counsellors who can perform Shudhi (or similar)
— a network of temples ready for conversion (how once Arya Samaj under Swami Dayananda Saraswati did in its temples)
– some monetary assistance on regular basis from affluent Hindus
Why is it needed?
Christian missionaries and Maulanas have been paid by the government as well as their fellow parent organizations which are mainly aided by alms from foreign nations and sometimes from NGOs with vested interests, mainly to expand their population. Be it distributing rice bags or waving off loans they provide impressive offers to the poor hindus to get converted.
Remember, Bharat was a larger landmass when Sanatan prevailed. Then come Islam and then Christianity that broke this massive peice if land into 3. For Bharat to remain Bharat forever, Sanatan Dharma has to prevail.
It is not helpful to constantly complain and expect RSS to do everything about all of the challenges that Hindus face. Its a moral obligation for all practicing Hindus to do their bit in this direction.
Furthermore, we must recognise that the only long-term solution to these Hindu problems is to bring our people back within our fold.
Yes, there are issues with marriage, employment, and so on for returning people, particularly Muslims.
Taking little, well-organized steps always opens up new windows and doors of opportunity. We can solve any difficulty! Remember, one little step of us can embolden Hinduism for tomorrow.
Har Har Mahadev!
DISCLAIMER: The author is solely responsible for the views expressed in this article. The author carries the responsibility for citing and/or licensing of images utilized within the text.