Global Hindu Heritage Foundation made a Ghar Wapsi of 57 people who had converted to Christianity in TN.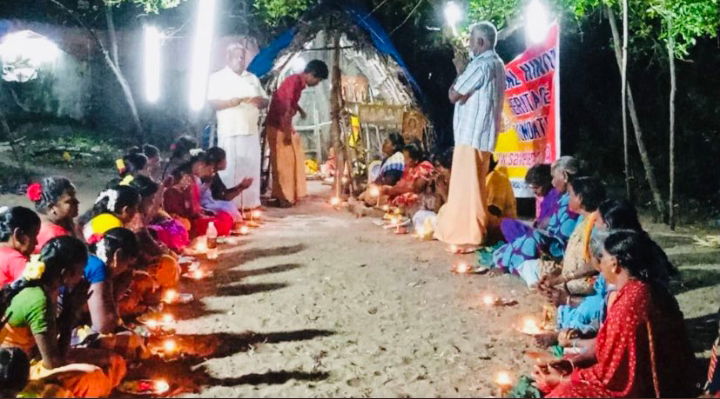 Global Hindu Heritage Foundation is doing a great work for Dharma. The foundation is bringing back people into the Hindu fold who went up to convert to different religions due to various socio-politico-economic reasons. Few days back Global Hindu Heritage Foundation has made 57 people who had converted to Christianity in Tamil
Nadu embrace Sanatan Dharma.
On 16th of February 2020, 57 Christians belonging to the fishermen community in Kadalur village, Chengalpet district of Tamilnadu came back to their ancestral religion Hinduism. These people came from 9 families they were previously converted to Christianity on false contexts and had been practicing Christianity for close to year.
GHHF hired Jayalakshmi Ji as it's Pracharak in this village in November 2021. She has a good rapport with many of the fisherman's families in this village previously having worked as an RSS pracharak here. She immediately swung into action and focused on 6 out of 50 families that had converted to Christianity over the last several years. With constant discussion with women fork of these families she convinced them about the greatness of sanatana Dharma and important place it has in the spiritual life of all Indians regardless of caste creed or colour. Within a matter of three weeks this family agreed to formally come back to Hinduism. Single handedly she arranged for Ghar Waapsi of these families at the local Amman temple. This required quite a bit of logistic work to get done in less than a week. The Program happened exactly as planned at the temple premises in the presence of goddess Devi . The temple Gurukula welcomed back all the families, gave a primer on Sanatan Dharma and taught them a short Ganesha stuthi to be chanted everyday. The event ended with lunch for all the families.
DISCLAIMER: The author is solely responsible for the views expressed in this article. The author carries the responsibility for citing and/or licensing of images utilized within the text.