Hindu dhaba proprietor in Pakistan insulted and his Dharma disparaged for opening during Ramadan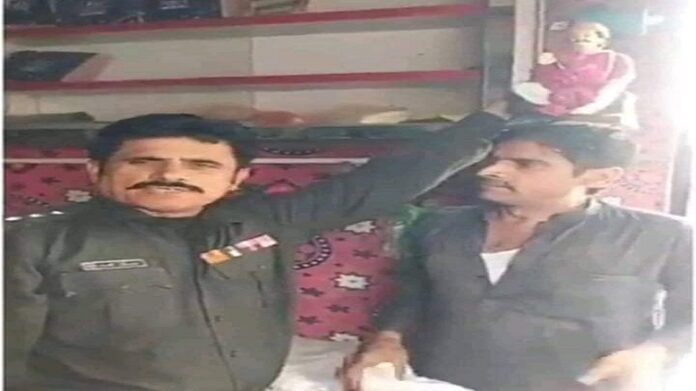 In the small Sindhi hamlet of Khanpur Mahar, a Hindu owner of a dhaba (a small roadside cafe) was insulted by a Pakistani policeman during the Islamic holy month of Ramadan. 'Crime,' was it? At a time when Muslims fast during the day, the Hindu guy had the audacity to open his company in order to make a living.
The Senior Superintendent of Police (SSP) Ghotki took action and suspended the officer Muhammad Kabil Bhayo and ordered an investigation into the incident after a video of a Pakistani police officer demeaning a Hindu dhaba owner went popular on social media.
"How dare you open Dhaba in Ramzan, O Hindu? Keep your bhagvan (idol) on your head and down your shutter"

– Pak Sindh police SHO reminds poor Hindu Dhaba owner it's the 'land of Islam'pic.twitter.com/bF3uhb9ZTK

— Pakistan Untold (@pakistan_untold) March 24, 2023
The Station House Officer (SHO) Muhammad Kabil Bhayo allegedly forcibly closed down the Hindu establishment on the grounds that he had "violated the religious sanctity of Ramzan" in a video that has gone popular on social media. The SHO then forced the Hindu man to take an oath while making offensive comments and placing a murti on his head.
Local leaders and proponents of human rights have vehemently condemned the incident. Non-Muslims should be allowed to continue about their everyday lives even while Muslims fast throughout Ramadan.
However, the Islamic Republic of Pakistan has seen such situations before. In Sindh, Pakistan, an old Hindu man named Gokal Das was viciously attacked by a Muslim policeman named Mir Hussain Hydrani in 2016 because he dared to eat outside his home 40 minutes before the Iftar meal, which is when Muslims break their Ramzan fast and occur after dusk.
DISCLAIMER: The author is solely responsible for the views expressed in this article. The author carries the responsibility for citing and/or licensing of images utilized within the text.