HR VIOLATIONS IN SINDH: IS IT THE NEW PoK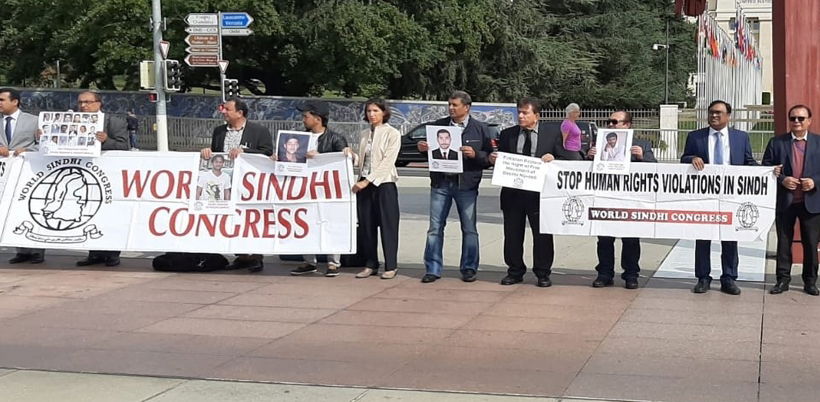 HR VIOLATIONS IN SINDH: IS IT THE NEW PoK?
Enforced disappearances and rampant HR violations is a chronic problem permeating in Pakistan province of Sindh. Enforced abductions of Sindhi people by Pakistan agencies continue unremittingly in the country and is used as a tool to spread terror among the minority communities, said Secretary-General of World Sindhi Congress, Lakhu Luhana in the recently conducted United Nations Human Rights Council (UNHRC) in Geneva. Reports of enforced disappearances of the Sindhi population is not a new phenomenon and is a major issue of HR violation. The province of Sindh, despite being the second largest province of Pakistan lags in development owing to abject economic conditions, extreme poverty and poor governance. The cultural crisis and deprivation of politico-economic authority in Pakistan contribute to Sindh's struggle for restoration of its historical separate independent status as a nation state. The struggle for independence from Pakistani theocratic fascist state is not new and it has a popular support of Sindhi people. The Sindh movement started after partition in 1948 followed by a struggle for total independence in 1972.
Calling on the United Nations to protect the human rights of Sindhi people, Lakhu Luhana said that "enforced disappearances of Sindhi people by Pakistan agencies continue unabated. In the last 3 months, over 60 abducted. They are using it as a tool to spread terror." "We request the United Nations Council to fulfill its responsibility to save Sindhi people from enforced disappearances by Pakistan agencies. Perpetrators must be brought to justice holding the Pakistan government accountable," he added. Recently, the World Sindhi Congress also held a demonstration in front of the United Nations office in Geneva to raise the issue of the persecution of minorities, especially the Hindus, in the Sindh province of Pakistan. In March, World Sindhi Congress had urged the United Nations Human Rights Council (UNHRC) to hold the Pakistan government accountable for the violation of the human rights of the Sindhi people. Speaking at the 43rd session of UNHRC on March 11 in Geneva, Luhana had said, "The enforced disappearances of Sindhi people by Pakistani agencies continue unabated in order to ruthlessly silence every voice in the struggle of Sindhi people for their historical, political, economic, and cultural rights." "In the last three years, more than 300 people have been abducted including renowned political leaders, workers, and intellectuals," he had said.
State sponsored conflict
The problem of religious conversions in Sindh is a worrying trend as it is operated and backed by Pakistani military establishments in Sindh and proxy religious organizations working under the direct supervision of Pakistan establishment. Multiple reports of forces conversions of Hindus, Ahmadis and Christians trickle through the highly controlled Pakistan media which showcase the deplorable state of these minority communities, compelling them to flee the country and take asylum. Government sources have confirmed the extent to which the population residing along the Sindh border with India is fed religious fanatism and propagated radical notions against India. Safe havens in the form of nearly 50,000 madrassas have emerged over the years built by Punjabi establishment and the army on both the sides of the National Highway from Punjab to Karachi. They provide safe havens to terrorists of Jamaat-ud-Dawa, Haqqani Network and Jaish-e-Muhammad and also facilitate as launch pads for terrorists to infiltrate the Indian border to carry out cross-border terrorism.
Heavily militarized Region
The largest deployment of Pakistan Army falls in Sindh, after Punjab and Kashmir, with 19 major military cantonments and countless smaller intelligence and executing units spread throughout the region. Pakistan has six major cantonments―Pano Aqil, Hyderabad, Chor, Petaro, Badin and Malir (Karachi) all bordering or in proximity to India. The heavily militarized character of this region showcases the extent of direct control of the Pakistan Army over the Sindhi population. There are incidents of widespread disappearances of political activists, often abducted in broad daylight, brutally tortured, killed in cold blood and their bullet-riddled, mutilated bodies either dumped on roadsides or trash piles. Incidents of kidnapping, molestation and rape of women in Baluchistan and Pashtun areas like WANA and Waziristan get muffled in the garb of media regulation. Torture, abduction and extra-judicial killings of Sindhi, Baloch and Pashtun youth is a common phenomenon.
International Advocacy for HR violations in Sindh
On 25 July 2018 US Congressman Brad Sherman, a ranking member of the Asia Pacific Subcommittee, released a report highlighting the problem of enforced disappearances in Pakistan. The report revealed that the Geneva-based International Commission of Jurists (ICJ) estimates that anywhere from 1,250 to more than 18,000 enforced disappearances have occurred in Pakistan since 2009. The US Congressman has been raising the Sindh minorities rights violation and their abduction, enforced disappearances issue since a very long time. Last year Inam Bhatti, a university professor was abducted in Pakistan and the US congressman had then also raised the issue with Pakistani authorities and asked to them to acknowledge minorities rights and urged his immediate release. On 22 August 202 Brad Sherman tweeted saying, "Today, I spoke to the ambassador regarding the problem of enforced disappearances in Sindh. Sindhis have been abducted from their homes in Karachi. For many, their whereabouts remain unknown. This is one of a handful of times I have discussed this with Pak embassy in DC".
According to the statistics meted out by the human rights commission on Pakistan, there are an estimated 1,000 abductions and forced religious conversions of young, often underage, Sindhi girls each year. The abduction and forceful conversion of Hindu and Christian girls are widespread in Pakistan. Such incidents have sparked widespread criticism as many victim families are forced to migrate to foreign countries, including India. Sindhi girls of all minority religious backgrounds, whether Hindu, Christian, or Sikh, were being forced to marry Muslim men after their conversion, never to return to their families. As per HR Watchdog Amnesty International, the groups and individuals targeted in enforced disappearances in Pakistan include people from Sindhi, Baloch, Pashtun ethnicities, the Shia community, political activists, human rights defenders, members and supporters of religious and nationalist groups, suspected members of armed groups, and proscribed religious and political organizations in Pakistan. On 21 July 2020 a massive protest was held outside Hyderabad Press Club in Pakistan's Sindh province to stop enforced disappearances of political activists by the security agencies. The protest was held by victims' family members. The protesters, including women and children, were holding posters and pictures of abducted political activists and demanded their immediate release. The protestors alleged that security agencies are spreading fear amongst common people of Sindh by sabotaging political activists.
DISCLAIMER: The author is solely responsible for the views expressed in this article. The author carries the responsibility for citing and/or licensing of images utilized within the text.