Is the World suffering from "Mute Spectator Syndrome" on Unrelenting Bangladesh Hindu Genocide?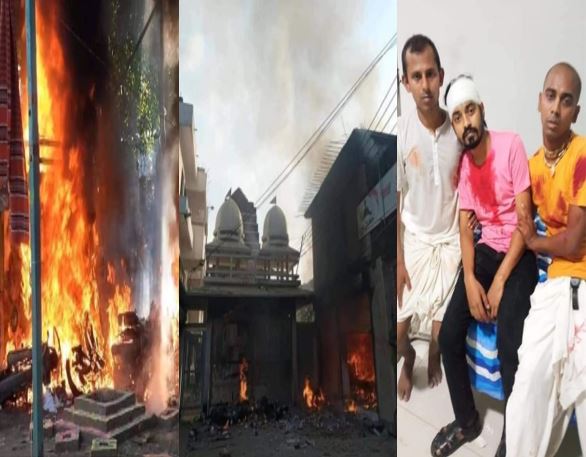 In March 2021, when the world was dealing with the Century's worst Pandemic "COVID", Ocasio-Cortez Alexandria, a US Representative from district 14th New York, introduced a bill in the United States House of Representatives. The Bill was named "House Resolution 239[1]" which states "This resolution recognizes the people of Bangladesh on the 50th anniversary of their independence and the historical significance of this milestone to those of Bangladeshi heritage. It also recognizes the contributions of Bangladesh for hosting Rohingya refugees fleeing genocide in Burma (Myanmar)".
As a Hindu American, I appreciate the Bill tabled by Representative Alexandria but what concerns me the most is that there is no mention of the "Bengal Hindu Genocide of 1971" in which 2.5 million Hindus were killed and nearly half a million Hindu women were raped. This Hindu Genocide was carried out by Pakistan Army from March 1971 till December 1971 under "Operation Search Light".
Questions that come to my mind are:-
How Representative Alexandria can ignore the US Department of State Reports of February 1991 and March 1995 on Bangladeshi Hindus which states "A lot number of harassments, beatings, robbery, vandalism, and encroachment on property directed against non-Muslims especially Hindus". It clearly mentioned that the Slaughtering of Hindus continued even after Bangladesh's creation.
Is Representative Alexandria naïve on the high upsurge of violent activities against Hindus in Bangladesh in the last decade? Is she not aware that after the brutal killing of Hindus in 2013, then US Ambassador to Bangladesh Dan Mozena "The United States is sad about the loss of lives and property and concerned about the attacks on Hindu temples and homes?
Had she not read, What International Business Times reported in 2014, "At least two dozen Hindus were killed in the violence?" OR
She didn't bother to browse through the headlines of The New York Times (her own state, New York Newspaper) "Hindu Temples and Homes in Bangladesh Are Attacked by Muslim Crowds".
Recently all newspapers worldwide are reporting the latest Hindus Genocide carried by a Pakistan-sponsored militia group earlier this year and last month. The recent killing of Hindus on the occasion of the Durga Puja Festival on October 13th 202 by Jihadi Islamic forces itself explains the barbaric violence which the innocent peace-loving Hindus face on daily basis.
2020
A. Islamic Militants Attacks On Hindus Every Day.
The Hindu minorities have been highly oppressed at the hands of Muslim militants in the Islamic state of Bangladesh. Every day Hindus live under the fear of attacks of being attacked by militants of Jammat-e Islami sponsored by terror state Pakistan.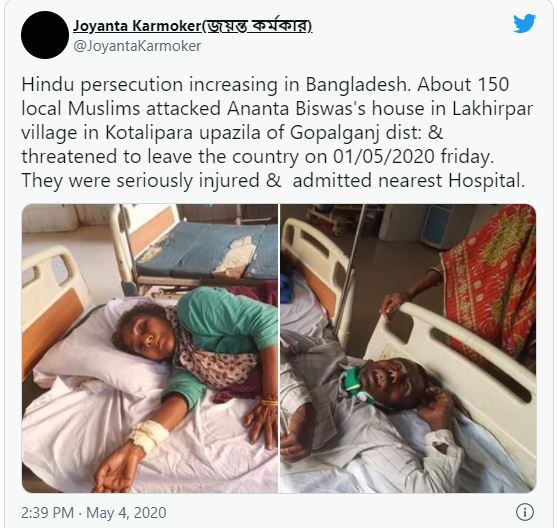 May 1:
Around 50 local Muslims attacked Ananta Biswas's house in Lakhirpara village in Kotalipara Upazila of Gopalganj in Bangladesh, over allegations of breaking the branches of a small tree, All the members of the family were seriously injured.
On the same night, some goons led by Upazila Chairman MA Moeed Farooq attacked and vandalized Shri Deenbandhu Sen's poultry farm in Amtail Village falling under Juri Police Station, Moulvibazar District, Bangladesh.
Rony Satyarthi, a student of Manikgong Debendra College, was arrested over false allegations of writing a derogatory post about Islam and Prophet Muhammad on his Facebook page.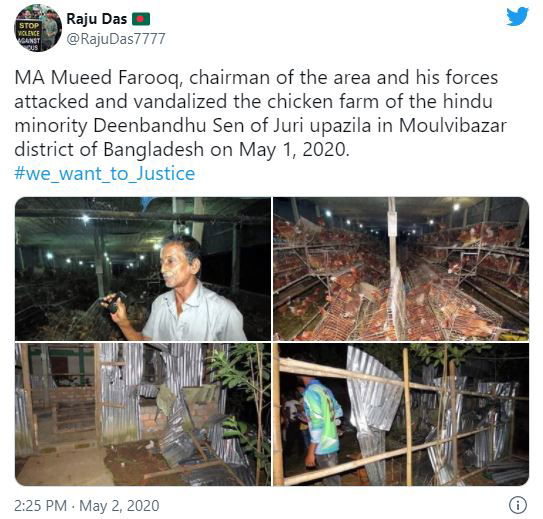 May 4:
Dr. Kajal Kumar Bhowmik was attacked by terrorists when he was on his way home from Sripur local market Comilla, Bangladesh at around 8:30 pm on May 4th, 2020.
The body of a man named Swapan Chandra Sarkar (55) was found floating in the Someshwari river. The police and fire service personnel recovered the body and handed it over to the relatives.
Bangladesh police had arrested Sanjay Sarkar, son of Rajkumar Sarkar of Subidpur village in Habiganj's Baniachang Upazila on charges of insulting the religion of Islam.
The police recovered the body of Dulan Rajbhar. Locals had spotted his body floating in the nearby river, after which they informed the police. Investigation reveals that he was killed by militants.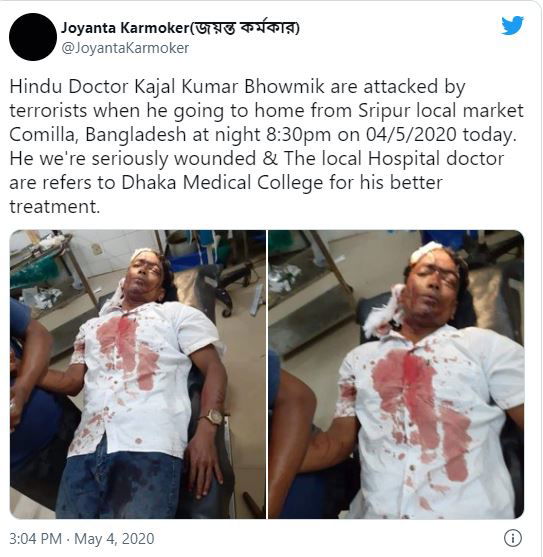 May 5:
The police have arrested a Hindu young man Rakesh Chakraborty (18) on charges of hurting religious sentiments on social media – Facebook Messenger at Nawabganj Upazila in Dhaka. On the same day, some unidentified terrorists broke into the house from the back of the house and started beating Karthik with sharp weapons and sticks with the intention of killing him.
15-20 local terrorists tried to occupy one local Hindu's house and build a new structure there. The Hindu identified as Chittaranjan and his two daughters Pinki Devi (24) and Kali Devi (26) was critically injured in the attack.
Kalidas's son Ravi Das was beaten and injured by local criminals. At night the group of people attacked Ravi Das' house and set it ablaze. The women of the house were also brutally tortured
May 7:
Local land mafia Mintu Mia and his goon attacked 10 Hindu families in Kalia Upazila in Narail district, Bangladesh.
May 8:
Terrorists killed Sunil Chandra, a Hindu laborer, and fled leaving him in a bamboo bush next to his house.
May 9:
Rubel Mia and his militants' friends attacked Ranjit Debnath's house at Nathpara village of Nasirnagar Upazila in Brahmanbaria district and seriously injured him & his family members.
A drug militant named Matin Gangra attempted to attack Sudhir Kumar's house and tried to occupy the house and property.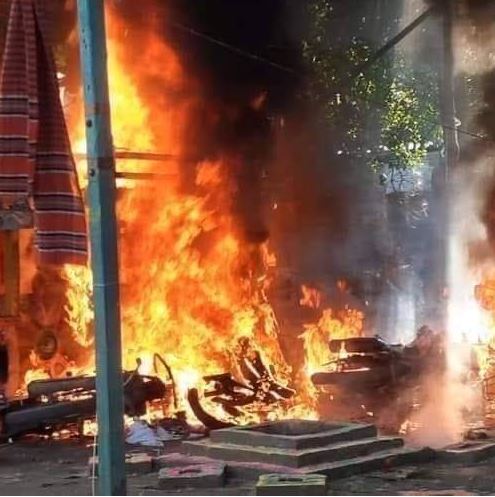 May 10:
Terrorists attacked Hindu families and vandalized houses and temples over comments on Facebook at Tatikona village of Chhatak Municipality in Sunamganj district.
Some members of the Nasirnagar Upazila Sub-Registrar office in Brahmanbaria district attacked and looted valuable things from the Hindu gold trader, Shri Mihir Dev.
May 12:
A former member of Bancharampur Union, Md Omar Farooq forcefully took the dead body of one Hindu named Tagore Das from a crematorium and buried it in a graveyard.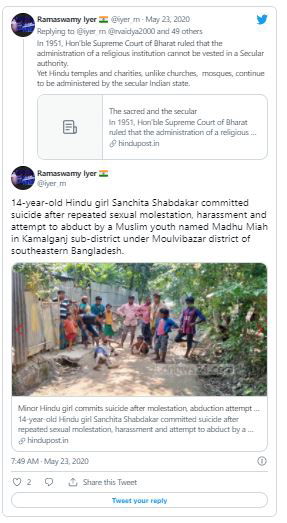 May 13:
At least ten Hindu people including men and women were injured and their houses were vandalized when local criminals attacked them with the intention of grabbing their properties at Kurushaferusha village of Phulbari Tenaodanga Union in Kurigram district.
4-year-old Hindu girl Sanchita Shabdakar committed suicide after repeated sexual molestation, harassment, and any attempt to abduct a Muslim youth named Madhu Miah in the Kamalganj sub-district under Moulvibazar district of southeastern Bangladesh.
May 14:
Miscreants set fire to the barn of Nayan Mallik's house. Mallik's cow and a bull were burnt to death in the incident.
May 15:
The local union chairman and his jihadis took about 20 minority Hindu men to the union council office and thrashed them as the police watched silently.
May 16:
Three Hindu women were seriously injured when the criminal Sultan and his extremists attacked a minority Hindu family in the Pakhimara village of Kalapara in the Patuakhali district. The attack was carried out to allegedly grab the lands belonging to these Hindus.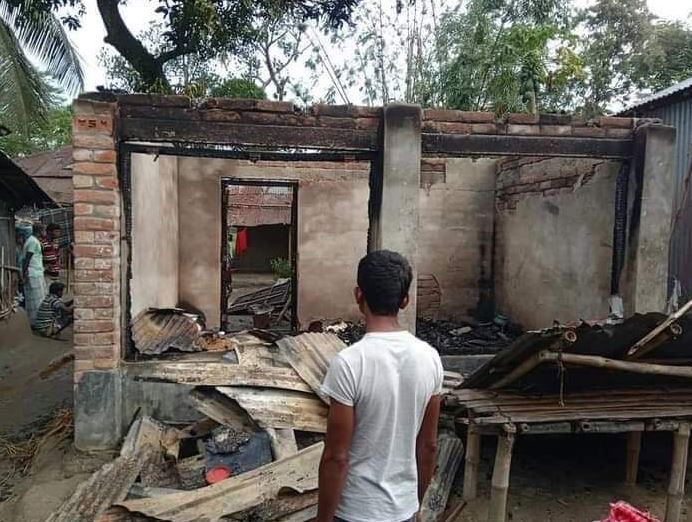 May 17:
Some unidentified miscreants set fire to the house of Baul Ranesh Chakraborti Tagore a 55-year-old man of Ujandhal village of Dirai Upazila in Sunamganj district.
May 18:
Police recovered the body of Mohan Lal Das, 48 years old man, a Hindu farmer, from Tilpara of Nasirnagar police station in Brahmanbaria district.
May 19:
A Hindu priest, Shri Sameer Haldar a 55-year-old man, and his wife were physically assaulted by local chairman Shahjahan Ali Khan and his militia-men at Ambria village of Morelganj in Bagerhat district.
May 25:
Tapas Das, a Hindu Chhatra League activist from Patuakhali district, was stabbed to death in political revenge
May 28: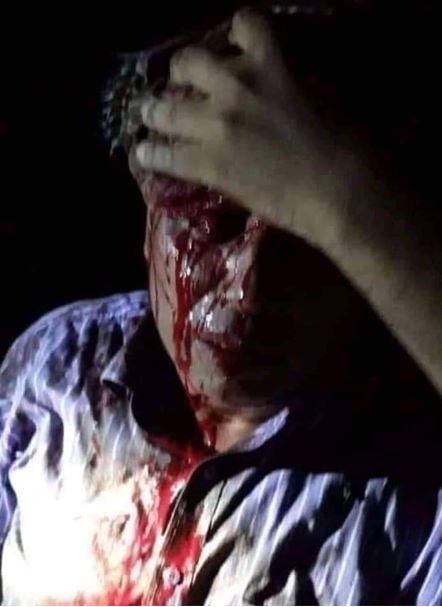 Local land mafia Md Abdus Salam tried to occupy the ancestral land of a Hindu girl, Ms. Suma Vishnu. When she tried to stop him, he hit on her head with an iron rod.
On the same day, terrorists attacked Bipul Mahanta, a Hindu businessman, at Ghoshpara, a town under the Sherpur police station in Bogra district.
May 29:
Md Abdul Jalil, Shafiqul Islam, Md Mamun, and Naki Khatun had forced Sridham Biswas and Saral Biswas to leave the country by embroiling them in false cases at Fatepur village of Kaligonj in Satkhira district[1].
The above 31 incidents within a month clearly portray the Hooliganism by Islamists militia in Bangladesh and how unsafe is Bangladesh for Hindu minorities.
B. attack over a Facebook post about Charlie Hebdo cartoons
On November 2nd, 2020, another blatant display of fanaticism and bigotry happened in Bangladesh "When two Hindu households consisting of five houses were vandalized and torched in Comilla after a man reportedly showed support for France defending cartoons depicting the Prophet Mohammed on Facebook".
The incident took place at the Korbanpur village under Muradnagar Upazila of Comilla, creating panic among the community.
The office of the local Union Parishad Chairman Bankumar Shiv and the house of the accused, Shankar Debnath, were vandalized and were set on fire. The fire service had to be called to douse the fire[2].
c. Reports On Total Barbaric Attacks By Muslims On Hindus
The Bangladesh Jatiya Hindu Mohajote secretary-general Gobinda Chandra Pramanik revealed that "At least 149 people of the Hindu community were killed in different incidents and 7,036 were injured in the country in 2020, which are higher than the previous year's figures, The statistics are given by him a press conference revealed that 2125 Hindu families were either evicted or forced to leave the country in 2020. 163 temples were attacked or vandalized or set on fire".
Gobinda added that "

94 Hindus were victims of abduction and 2623 were forced to get converted into other religions in 2020. Gobinda said that at least 53 Hindu women and children were raped and 370 idols were vandalized. General Secretary Pramanik clinched the report by stating that "The total number of the atrocities that happened to the Hindu community in 2020 is 40,703

"[3].
2021
The year 2021 is no better than the previous years but it also narrates many Bangladeshi Hindus tearful bigotry stories that world and Human Right Organizations immediately need to pay attention to.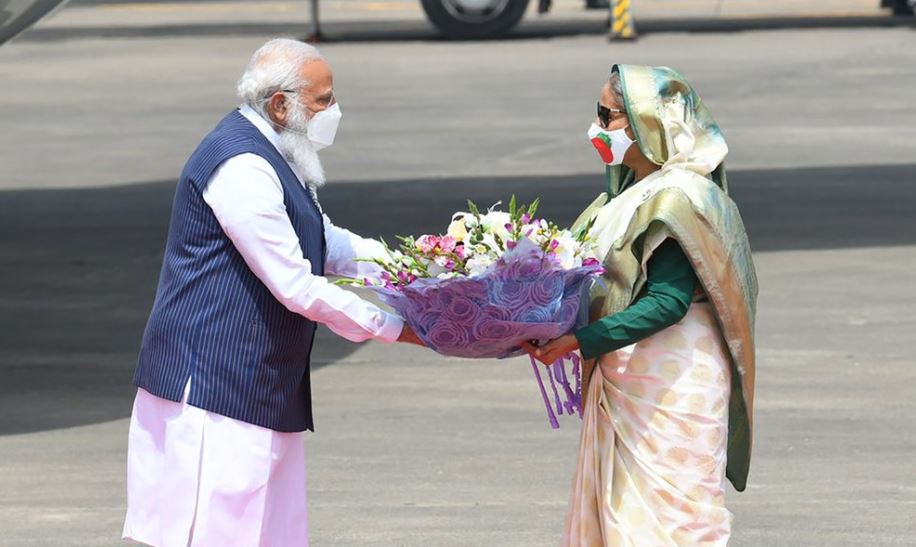 A. Slaughter Of Minority Hindu Community on Prime Minister Modi's visit to Bangladesh.
Prime Minister Narendra Modi's made a two-day visit to commemorate 100 years of the birth of Bangladeshi independence leader Sheikh Mujibur Rahman, the father of current Prime Minister Sheikh Hasina. Bangladesh had won independence with the help of the Indian Army on December 16th, 1971.
Local media reported that "Pakistan, Terror Sponsored country to the World, that backs the Islamist group Hefazat-e-Islami, has a network of Islamic schools that preaches Jihad in Bangladesh. These Jihadi militia groups attacked government structures, including a police station a land office at the Hathazari area in Chattogram before police finally took action".
The protestors set fire to offices of a railway station in the eastern district of Brahmanbaria, disrupting train communications[4].
Javed Rahim, a journalist in the Brahmanbaria town, told Reuters by phone: 

"Brahmanbaria is burning. Various government offices were set on fire indiscriminately. Even the press club was attacked and many injured, including the press club president. We are in extreme fear and feeling really helpless

."
Protesters reportedly attacked Hindu temples and a train in eastern Bangladesh[5].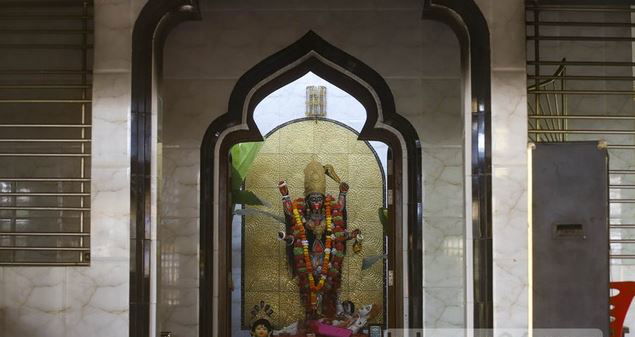 Hefazat members allegedly ransacked Brahmanbaria's biggest Temple, Sree Sree Anandamayee Kali Mandir, where they broke idols, and looted the temple's donation box, The Daily Star reported.
"We were performing prayers for Dol Purnima when 200-300 armed men broke the temple gate and barged into our ceremony," said Ashish Paul, president of Anandamayee Kalibari Temple Festival Celebration Committee, which runs the temple. "We tried to protect the idol of goddess Kali, but they shoved us aside and vandalized the idol.[6]"
Hundreds of members of a hardline Islamist group attacked Hindu temples and a train in eastern Bangladesh, police and a local journalist said, as violence spread across the country in the wake of a visit by Indian Prime Minister Narendra Modi[7].
As a regional leader, India has every right to be concerned about the plight of communities in the subcontinent. However, it must ensure that its domestic drivers do not upset carefully build foreign relations. And any act that is seen as religiously partisan is bound to destabilize the otherwise close and productive relations between the two countries, which have a shared history of cooperation of over 50 years.
B. Islamist Terrors attacks on Durga Puja
Islamic Country Bangladesh was prepared for the largest religious festival of the Hindu minority community in the second week of October 2021. Like every year, makeshift arrangements to offer worship were set up across the country.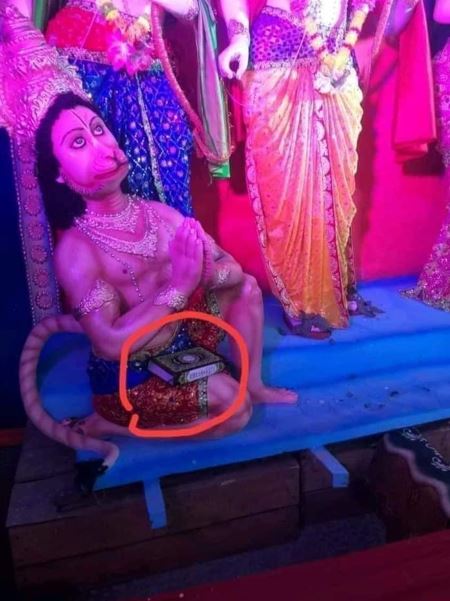 In the morning of October 13th, 2021, "Allegations of defaming the Muslim holy book Quran emerged from a makeshift temple in Cumilla district when unconfirmed reports of finding a copy of the Quran on the lap of an idol were circulated through social media platforms".
However, soon after the report was circulated, an angry mob started attacking local temples in Cumilla due to the lack of proper resistance from government officials. The religious tension soon transcended to other districts of Bangladesh.
This ignited a series of communal attacks across the country, resulting in the deaths of six people[8].
However. some reports mention the death of many more people.
"

Bangladesh authorities are dealing with an extremely stressful situation that could easily escalate into even more bloodshed unless law enforcement acts with caution and restraint

," said Brad Adams, Asia director at Human Rights Watch. "

The authorities need to be de-escalating violence, not shooting live ammunition into a crowd

[9]."
The United Nations Basic Principles on the Use of Force and Firearms by Law Enforcement Officials states that "Security forces must apply non-violent means before resorting to the use of force and firearms," and that "whenever the lawful use of force and firearms is unavoidable, law enforcement officials shall:
Exercise restraint in such use and act in proportion to the seriousness of the offense and the legitimate objective to be achieved;

Minimize damage and injury, and respect and preserve human life

."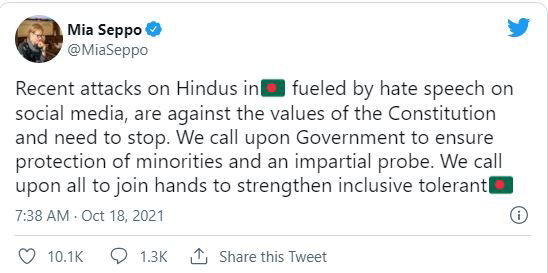 Calling for an investigation, 

Mia Seppo, United Nations resident coordinator in Bangladesh

, said on Twitter, "Recent attacks on Hindus in Bangladesh, fueled by hate speech on social media, are against the values of the Constitution and need to stop. We call upon the Government to ensure the protection of minorities and an impartial probe. We call upon all to join hands to strengthen inclusive tolerant Bangladesh.[10]"
Taqbir Huda, coordinator of the rights group Justice for All Now, said "The attacks were eerily similar to previous instances of communal unrest in Bangladesh".
"

The pattern really suggests that there is a mob that is ever ready to mobilize and attack Hindu homes, and all they require is an ostensible trigger, which usually comes in the form of an inflammatory Facebook post. More often than not, that turns out to be concocted,

" Huda told VICE World News[11].
However, on October 21st, 2021, the police identified the culprit, Iqbal Hossain, through CCTV footage at the Comilla Durga Puja pandal. The police said that Hossain could be seen taking the Quran to the pandal and leaving with a mace of the statue of the Hindu god, Hanuman[12].
Reports on Barbaric Attacks by Muslims on Hindus
During the Durga Puja, a main religious festival of Hindus, Muslim militants attacked Hindus and their Temples. They Vandalized more than 315 Temples and their Idols and looted all valuable things in more than 30 districts of Bangladesh during 13 – 16 October 2021. They attacked and vandalized nearly 1500 Hindu houses in Cumilla, Chandpur, Noakhali, Chittagong, Cox's Bazar, Feni, Chapai Nawabgonj, and other districts. Hindu-owned shops and business places were vandalized and looted in Cumilla, Chandpur, Noakhali, Chittagong, Feni, and other districts in Bangladesh.
The Press Release by the Bangladesh Chapter of the World Hindu Federation, on the attacks in Bangladesh from October 13th to 16th 2021 is self-explanatory. It clearly proves that a planned systematic genocide is going on against Hindus in Bangladesh.
More than 10 Hindus were killed. The detail is as follows:
Manik Saha at Hazigonj in Chandpur.
Jatan Saha (Hindu Priest) at Choumohoni, Noakhali.
Priest Nimai Krishna and another priest (name unknown) at ISCON Mandir, Noakhali.
3 Priest (name unknown) at Ram Thakur Ashram of Choumohoni, Noakhali.
Prashanta Das (26 Years) at Cumilla.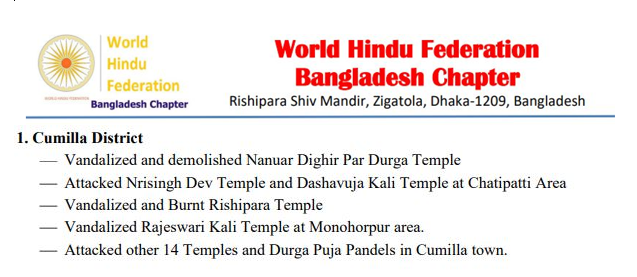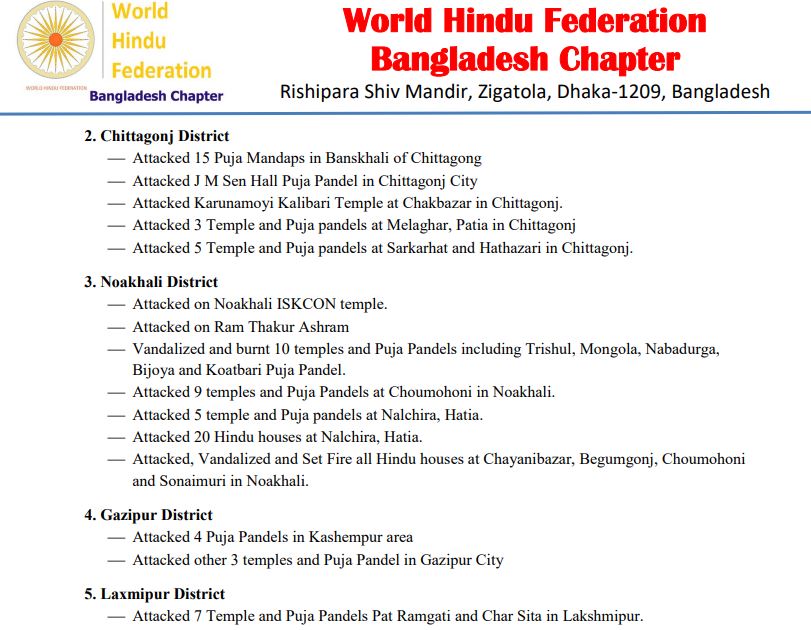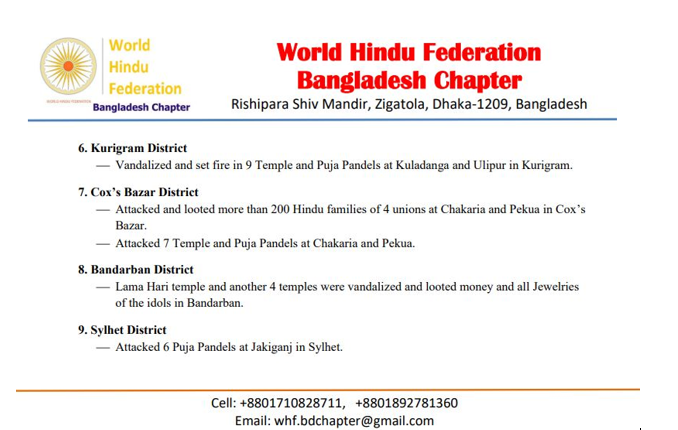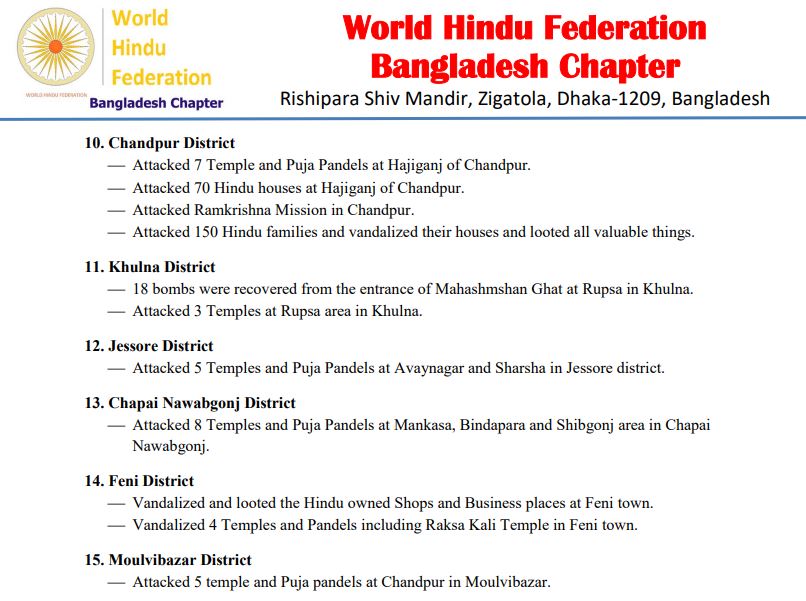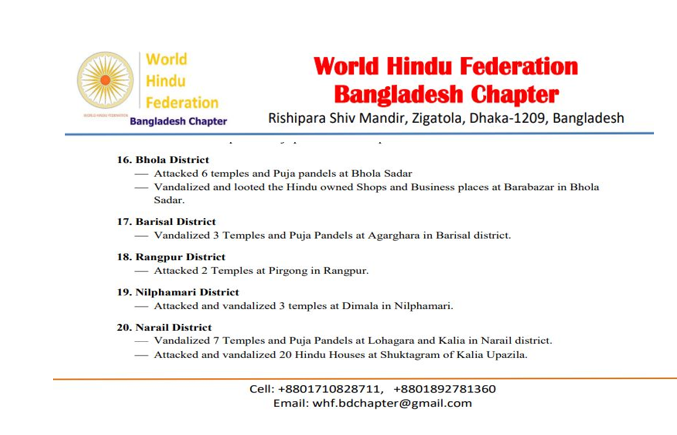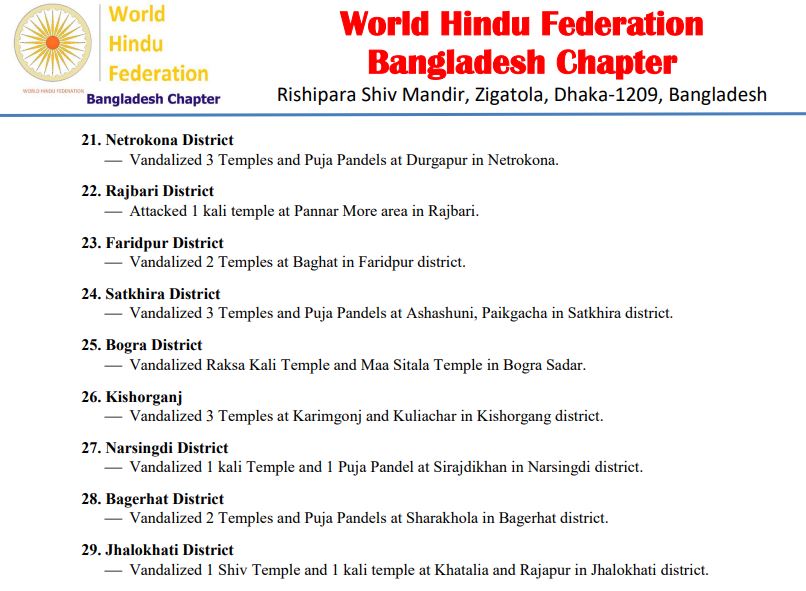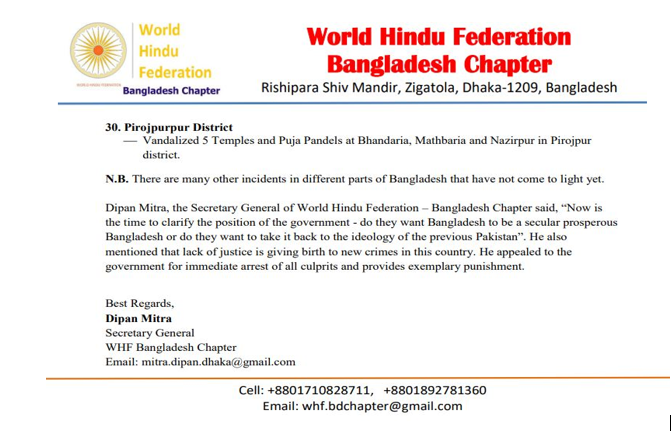 N.B. There are many other incidents in different parts of Bangladesh that have not come to light yet.
The Hindu community in Bangladesh frequently encounters violence. Ain o Salish Kendra (ASK), a Bangladeshi human rights organization that documents attacks on minority communities, "Estimates over 3,600 attacks targeting Hindus have taken place in Bangladesh since 2013".
The attacks include "Vandalism and arson targeting over 550 houses and 440 shops and businesses. More than 1,670 cases of vandalism and arson attacks on Hindu temples, idols, and places of worship were also reported during that time", according to ASK.
Eleven members of the Hindu community died in these incidents, and another 862 were injured. Several instances of sexual assault against Hindu women were also reported during this time.
Rana Dasgupta, general secretary of Bangladesh Hindu Buddhist Christian Unity Council (BHBCUC), told DW that the actual number of attacks could be much higher than what ASK has estimated[13].
"Although Hindus were also attacked in the 1990s and 2000s, we have been observing a continual pattern of such attacks since 2011, which is alarming," he said.
"We thought the Hindu community would have a better life under the Awami League government, but that didn't happen," he said.
Research by an economist and professor at Dhaka University, Abul Barkat, concluded that "Bangladesh witnesses a daily exodus of 750 Hindus, most of whom try to get into India in the hopes of a more secure future and better economic conditions"[14]. 
In the end, I want to ask the same question that I asked at the start of the Article "Can Western Countries Be Forgiven For The Sense of Deja-Vu As Their Scornful Recipe Of Turning Their Eyes Shut And Ears Deaf Can Only Be Seen And Felt As Abhorring Behavior To Bangladeshi Hindus".
---
[1] Bangladesh: 30 incidents where Hindus were attacked in the month of May (opindia.com)
[2] Hindu households vandalized, torched in Comilla | Dhaka Tribune
[3] 149 Hindus killed in different incidents in 2020 (newagebd.net)
[4] India's PM Modi visits Bangladesh, sparking violent protests (apnews.com)
[5] Violent protests spread in Bangladesh after Modi visit | Narendra Modi News | Al Jazeera
[6] At least 13 killed in Bangladesh in protests against PM Modi's visit (scroll.in)
[7] Bangladesh violence spreads after Modi's visit, attacks on Hindu temples, train | Reuters
[8] With 3,679 attacks in 9 years, Bangladesh's Hindus at 'regular threat' of violence: ASK | bdnews24.com
[9] Bangladesh: Deadly Attacks on Hindu Festival | Human Rights Watch (hrw.org)
[10] Attacks on minority Hindus in Bangladesh must end, UN says (yrtnews.com)
[11] 6 Deaths, 450 Arrests and Mass Protests. It Started With a Facebook Post. (vice.com)
[12] Bangladesh violence: Man, who placed Quran at Durga Puja pandal, identified by police (scroll.in)Bangladesh:
[13] Hindus targeted by violence demand better legal protection | Asia | An in-depth look at news from across the continent | DW | 19.10.2021
[14]3,600 attacks since 2013′ — violence against Hindu minority not a first for Bangladesh (theprint.in)
DISCLAIMER: The author is solely responsible for the views expressed in this article. The author carries the responsibility for citing and/or licensing of images utilized within the text.