Bangladesh: "Auschwitz Center for Bangladeshi Hindus Genocide"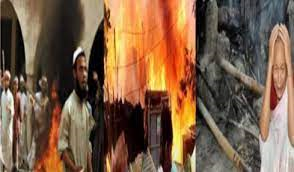 Let me start this article by asking a question to all my readers…
What is Democracy? To me, Democracy is "By the People, For the People and Of the People". What is Dictatorship? Dictatorship is "By One Person, For One Person, and Of one Person". So, the definition seems to be the same except the ONLY BIG Difference is "People vs One Person".
Now, How can you describe Democratically Elected Bangladesh Government, which is in Power since 2012?
To me, Bangladesh Government is a " Democratically elected government that had been engaged regularly in the perpetuation of Genocide against its own population AND is certainly NOT about to prove responsive to mere calls for the imminent restoration of peace on the continent, BUT WITH A HIDDEN MOTTO OF COMPLETE ANNIHILATION OF A PARTICULAR RELIGIOUS COMMUNITY WHICH IS 'HINDUS' ".
In my article, The Forgotten Genocide: "1971 Bangladesh Hindus Genocide", I broached how the Hindus Genocide was carried out by the Pakistani Army in East Pakistan (Now Bangladesh) in which 3 million Hindus were killed and .5 million Hindu women were raped. After the creation of Bangladesh, the Hindus Genocide didn't stop there but continued as I narrated in Bangladesh Hindu Genocide: The Murky World Of Silence. But in the last decade, attacks, killings, and looting of Hindus, and rapes of Hindu women have highly intensified.
Planned systematic Annihilation of Hindus
In recent years, there had been a high upsurge of violent activities against Hindus in Bangladesh.
In 2012 and 2013, at least 20 attacks were reported against the minority communities at Hathazari and Bashkhali in Chittagong, Kaliganj of Satkhira, Chirirbandar of Dinajpur, besides Ramu in Cox's Bazar, Sathia of Pabna, Barisal and many more.
2012 — Rise of Jihadi outfit Jamaat-e-Islami
Brutal Attacks on minorities Hindus started in Hathazari on 9 and 10 February 2012, when Islami Chhatra Shibir member of the student wing of the Jamaat-e-Islami Bangladesh, influenced local Muslims to attack, loot, and plunder Hindu households. 8 temples, 12 shops, and a number of houses were burnt down[1].
After the violence in Hathazari, police arrested the perpetrators but they were let out on bail with the help of Hefajat leader Ahmed Shafi, after a long wait of 9 years, the Hindu victims have still not got any justice.
The Hathazari incident was the tip of the iceberg of religious terrorism against Hindus by the militant outfit Jamaat-e-Islami in Bangladesh.
In March and April, several Hindus at Fatepur and Chakdaha in Satkhira were attacked. At least 12 houses were burned down to ashes and two villages were ransacked during the two-day-long vandalism in the area.
On March 31, 2012, a local newspaper named Daily Drishtipat, backed by Islamist militia, spread the rumor that a school play in the village had made indecent remarks about the Prophet. The local newspaper reportedly circulated complimentary copies of the paper to different houses, bazaars, and mosques. The false news spread like fire in the forest and give excuses to Jihadis to attack and loot Hindus. While minority Hindus were being executed the police acts as a sitting duck. The houses of almost 10 Hindu families were looted and set ablaze.
Big Shame on mainstream Bangladeshi media for maintaining a stoic silence, completely ignoring the incident. Bangladeshi media highlighted this event only when the Hindu Students of Jagannath Hall of Dhaka University protested against the persecution,
On 4 August 2012, a similar attack was carried out by the local fundamentalists on the vulnerable Hindus of Chirirbandar Upazila of Dinajpur District in the Division of Rangpur, Bangladesh. The Islamic extremists mercilessly burned down 50 Hindu households in a pre-planned attack. This attack was sparked by an inflammatory speech given by Professor Hamida Khatun of Chittagong Metropolitan College with the help of the Chirirbandar Upazila Parishad chairman and a Bangladesh Jamaat-e-Islami leader Aftab Ali Molla, to agitate the local Muslim against the Hindus of the area. The Muslims, in turn, hit the streets across the country in support of Jamaat-e-Islami's and reduced houses of at least 50 Hindu families to ashes.
On September 29th, 2012, on Bangladesh's southeastern coast, dozen Buddhist monasteries, shrines, and Hindu temples were destroyed by Islamic fanatics launched in Cox's Bazar, after a rumor circulated that a Buddhist had insulted the Quran in a Facebook post[2]. As Always, later it was found that the Buddhist youth was falsely defamed as the picture was not posted by him. According to rough estimates, 25,000 Muslims participated in the violence directed at Buddhists in Ramu, Cox's Bazar, Bangladesh
"Before they set fire to my home, they looted everything," said resident Sumoto Barua. "They took our possessions, money, gold and even computers. Then they torched the house. I am now living under open sky.[3]"
The violence spread to the outskirts of the port city of Chittagong, where a Hindu temple was also attacked.
Hindu community leaders had often raised serious concerns and said that the attacks are systematic and have been going on for years. They further stated that "They are not only carried out by hardliner Islamists but also by supporters of other mainstream political parties, including the Awami League and Bangladesh Nationalist Party.
The aim of the violence, Hindu leaders allege, is to grab land and other property. As a result, they say, many Hindus are fleeing to India to escape harassment, intimidation and violence.
2013 — Onslaugter of Hindu started in Lakshmipur
The year 2013 also witnessed a large scale and widespread violence against Hindus in Bangladesh. All forms of violence were triggered against minority Hindus on February 28th, 2013 after the death sentence given to Hossain Sayeedi, the Vice President of the Jamaat-e-Islami.
In Lakshmipur District, five Hindu-owned jewelry shops were looted and one Hindu temple was attacked and looted in Chandraganj.
On February 28th, 2013 in the afternoon Jamaat-e-Islami and Islami Chhatra Shibir activists attacked the Hindus in Chittagong District. In Banshkhali Upazila, the attackers set fire to Hindu houses in the Dakshin Jaldi area of the Jaldi Union. 20 houses were gutted. 16 Hindus were injured in the arson, two of them died. A 65-year-old Hindu was killed in the attacks.
On the early morning of March 5th, 2013, at around 2-30 AM, the Sarbajaneen Magadeshwari Mandir at East Rupkania of Satkania Upazila was torched. At around 3:30 AM the Khetrapal Temple was burned to ashes and money from the donation box was looted[4].
Bablu Bhuiyan, whose two houses were damaged, quoted one attacker in a statement that said "Struck terror in the hearts of Hindus. Sayeedi got death sentence because of you. You cannot stay in this country". According to news Bharati, almost all the victims alleged that Bangladesh National Party (BNP) activists are directly involved in the attack.
On March 18th, 2013 more than 150 armed assailants attacked and vandalized the Pablo Sarbajanin Kalibari Temple in Khulna city's Banikpara around 9:30 PM. After blasting incendiaries, they ransacked the houses and shops of Hindus in the area.
Barisal, Bagerhat and Gazipur, Rajganj, Chittagong's Banshkhali, Bagerhat, Gaurnadi Upazila in Barisal, Kashimpur Bazar in Gazipur, Belka, Dhupni and Bangsher bazaar, Sundarganj Upazila, Morelganj Upazila are the areas where the most violent attacks took place initially.
Soon the violence spread across the country and Hindus of almost all the divisions were attacked. Upazilas like Begumganj, Begumganj, Morrelganj, Raipur, Gaurnadi, Morrelganj, Lohajung, Shibganj, Kotalipara, Aditmari, Satkania, Wazirpur, Singra, Daudkandi, Netrokona, Bamna, Burhanuddin, Sirjdikhan, Rangpur Sadar, Fulbaria, Kaliganj, Kotalipara, Juri, Patuakhali, Sherpur, Netrokona, Sreepur, Gatibali, and Gazipur were the most affected areas where violence with burning and loot of major temples took place

.
Expressing concern over the violence, the US Ambassador to Bangladesh Dan Mozena said "The United States is sad about the loss of lives and property and concerned about the attacks on Hindu temples and homes[5]".
Even after this widespread violence, the attack against Hindus continued for the whole year. On November 3rd, 2013, Bonogram bazaar in Santhia Upazila, about 40 kilometers (25 miles) from Pabna Sadar, the Hindus were attacked. A Hindu boy was attacked and his house was burned on the false allegation of maligning Prophet Mohammad under the Blasphemy Law.  
In another incident, a group of masked criminals attacked 18 shops belonging to the minority Hindu community in a rural area in the district Lalmonirhat. The attack was allegedly launched by the Bangladesh Political Party, BNP, and its crucial Jihadi ally, Bangladesh Jammat-e Islami, the largest Islamist militant political party which is sponsored by the deep state of terrorist country Pakistan.
According to Hindu community leaders, more than 50 Hindu temples and more than 1,500 Hindu homes were destroyed in 20 districts in 2013 alone.
The President of the Bangladesh Hindu Buddhist Christian Unity Council said, "Conspirators are out to create a situation so that the Hindus can be attacked." Identifying the situation, Transparency International Bangladesh, a body of the Berlin-based Transparency International says, "Onslaughts and intimidation on minorities for ill and destructive political purpose before the election are not acceptable."
2014 — Premeditated Attacks on Hindus after Bangladesh Federal Elections
The year 2014 was no better for Bangladesh minority Hindus than the previous years.
In January 2014, soon after the parliamentary voting ended in Bangladesh, the Hindus had to face the ire of the activist of the Bangladesh Nationalist Party and Jamaat-Shibir. Hindu houses have been looted, vandalized, and burned in several places like Thakurgaon, Dinajpur, Rangpur, Bogra, Lalmonirhat, Rajshahi, Chittagong, and Jessore.
 According to the New Age, "Miscreants attacked Hindu localities, temples and business establishments in Jessore, Satkhira, Thakurgaon, Panchagarh, Chittagong, Nilphamari, Kurigram, Lalmonirhat, Gaibandha, Dinajpur, Netrakona and some other districts after the national elections"[1].
On 23 February 2014, The Daily Star, a national English newspaper, published a summary report submitted by the Police Authority to the country's High Court. According to this report, around 160 incidents of attacks and atrocities on Hindus took place in 21 districts after the January 5 polls causing loss of Hindu properties worth 4 million Taka.
According to another report, almost 500 Hindu families of Gopalpur village were affected in these classes and became homeless. Besides this, at least 350 houses and 50 shops of five villages, including Pritampara, Sahapara, Profullahpara, Telipara, Madhabpara, and Ajaypara of Kornai village were damaged, set ablaze, and looted. The Hindus were also attacked and looted in the strongholds of Jamaat-Shibir and Jamaat-BNP like Satkania, Loahagara, and Banshkhali Upazilas Kaunia Upazila of Rangpur and Nandigram Upazila in Bogra.
According to Dhaka Tribune "Even homestead trees – coconut and banana – were burnt or chopped down and cowsheds were burnt, too. Idols in the houses were vandalized. Everything else was looted".
On 29 January 2014, 20 Hindu families of Satkhira district got threat letters to leave Bangladesh where it has been written that "time has come to leave your homes immediately, and this time you have been told nicely. But the next time there will not be any niceties.
According to BD News 24.com, two Hindu housewives were sexually abused in Manirampur Upazila in Jessore in the post-election violence against the minority community. They held the men hostage and sexually abused the two housewives. The sexual abuse and rape against Hindu women are also reported by International Business Times

[1].
A large number of Hindu temples were also burnt, vandalized, and looted frequently. According to reports, the Kali temple at Narayanpur village under Ramganj in Lakshmipur, Satdoha Langta Babar Ashram, and Shri Radha-Gobinda Mandir were either looted or torched. Besides these, the Kali temple at Battola and Kachubunia and the Durga temple of Ikri Union have also been attacked.
The daily Ittefaq reported that "The members of the Hindu community are living in stark fear. Two people were killed in Gaibandha and Joypurhat.The Hindu houses were set on fire in the Boalia village of Sukash union, Kushumba union of Joypurhat, Kuptola union of Gaibandha Lalmonirhat and Senpara of Shafinagar, Satkania, Loahagara, and Banshkhali Upazilas, and many of the Hindus are injured due to the violence against them". But according to International Business Times, "At least two dozen people were killed" in the violence.
NOW ONE CAN VERY WELL MATCH THE STRINGS OF PREMEDITATED HINDUS ATTACKS OF BANGLADESH 2014 POST-ELECTIONS AND 2021 BENGAL'S (INDIA) POST-ELECTIONS.
2016 — Slaying of Hindus for the false Facebook post in Nasirnagar
In the last week of October 2016, crowds of Muslims "Attacked Hindu homes and temples in eastern Bangladesh", raising concerns that the authorities are not taking steps to curb rising religious tensions. On October 29th, 2016, "An Islamic group in Nasirnagar organized a protest against a Facebook post it found offensive. The post included an image of the Hindu god Shiva appearing at a Muslim holy site in the Saudi city of Mecca".
On October 30th, 2016, hundreds of Muslims "Entered a Hindu neighborhood, where they ransacked 15 temples and the homes of more than 100 families", Mr. Deb said. He said that the mob "used long, hard sticks and locally made sharp weapons" to assault Hindus they found there and that at least 20 people, including a priest, were wounded.
Kazi Reazul Hoque, the head of the country's human rights commission, said local officials made a "Gross Mistake" by allowing the crowd to regroup Sunday (October 30th) morning. Bangladeshi newspapers offered similar criticism. The Daily Star, in an editorial on Wednesday, called the government's inaction "Baffling."
"Has the government lost confidence that the majority of the people of this country, although religious, believe in a pluralistic society?" the editorial asked.
Four other episodes of religious violence were recorded at roughly the same time: On Sunday(October 30th), "Crowds ransacked four Hindu temples and households in the nearby town of Madhabpur", the police said. On Monday(October 31st), "Unidentified men broke into a temple in Hathazari, near the city of Chittagong, stealing gold jewelry and cash left by worshipers at a Hindu festival", the Hathazari police said.
Mr. Deb, who is Hindu, said that Nasirnagar, whose population is 40 percent Hindu, has never experienced religious violence on this scale. "Even in 1971, during the Liberation War, Nasirnagar was a safe place for Hindus, when many Hindus were killed and tortured in other parts of Bangladesh," he said.
Mr. Deb added that he felt the police and local officials "Failed to ensure the security of the Hindu community, even after knowing about the tension and the rally."
The crowd demanded that the young Hindu man who created the image be put to death. Nevertheless, the group was given permission to hold a rally the next day, and mosque loudspeakers were used to mobilize an even larger group, said Anjan Kumar Deb, the vice-chairman of Nasirnagar subdistrict.
The district police chief, Mohammad Mizanur Rahman, characterized the damage as less extensive, saying that eight temples and 22 houses were damaged and that one person was hurt[6].
According to a report made by Bangladesh Jatiya Hindu Mohajote (BJHM), at least 98 people from the Hindu community have been murdered and 357 others injured across the country till December 29, 2016.BJHM Executive President Sukrtity Mandal said the report was prepared based on reports published in different newspapers and their community sources, reports the Dhaka Tribune.
The BJHM president also said that "

Around 711 people either left the country or were threatened to leave the country, while 209 idols were damaged and 22 others were stolen. He further said that 22 people of their community have also been missing while 38 people were kidnapped and 8 others are in jail

"[7].
According to the United News of Bangladesh (UNB), 1,109 Hindus received death threats and attempts were made to kill 18 others during the said period.
2017 — Rangpur rampage over Facebook Koran image
Another inhumane act against minority Hindus happened on November 10, 2017, in which at least 30 Hindu houses at Thakurpara village in Rangpur Sadar Upazila were looted vandalized, and burnt to ashes. Hundreds of Hindus were injured in the incident where a Muslim mob turned violent and launched an arson attack on these Hindu houses.
A rumor shaped and vented the anger of the Muslims in the neighboring villages against the Hindu community. The rumor was that "Titu Roy, originally from Thakurpara but currently living in Narayanganj, put up a Facebook post defaming Prophet Muhammad a few days ago. The attack was carried out by a section among the 20,000-strong crowd, that was reportedly mustered out from six to seven neighboring villages, including Paglapeer, Mominpur, and Horialkuthi, after the Jumma prayers." There was a melee of chases and counter chases between the law enforcers and the crowd. At one point, police fired tear gas shells and rubber bullets to control the situation[8].
2019 — Implicated Blasphemous post targets Hindus
On October 23rd, 2019, a Facebook post that criticized Islam's Prophet Muhammad sparked a riot in southern Bangladesh. Thousands of Muslims took to the streets in the town of Burhanuddin, 195 kilometers (120 miles) from the capital, Dhaka, to protest the offensive social media post allegedly written by a Hindu man, Biplob Chandra Baidya Shuvo.
A Muslim outfit demanded the death penalty for a Hindu man over an allegedly blasphemous post that allegedly defamed Allah and Prophet Mohammad on Facebook. Police took Biplob into custody and later also detained two Muslim youth Emon and Sharif were suspected to have hacked Biplob's Facebook account[9].
Bangladesh Jatiya Hindu Mohajote secretary-general Gobinda Chandra Pramanik said 

"In 2019, 379 Hindu families were either evicted or forced to leave the country. The figure shown by him shows that 153 temples were attacked or vandalized or set on fire in 2019".
Gobinda said that "76 Hindus were victims of abduction and 18 were forced to get converted into other religions in 2020". He added that at least "42 Hindu women and children were raped and 246 idols were vandalized". Gobinda concluded that "The total number of the atrocities happened to the Hindu community is 31,505 in 2019"[10]
Question to the world Organisations
The brutal killings of innocent Hindus in Bangladesh violate the basic notion of Humanity. Hundreds of Hindus are being slaughtered, thousands injured, and, horrified. Thousands of Hindu Women & even Small Girls are being raped in front of family members. Millions of homes and businesses are looted and burnt done. Radical Islamicists have caused despair and terror among minority Hindus.
In Spite Of Everyday Slaughter Of Hindus Going On In Bangladesh, It Is Highly Reprehensible That No Action (Not Even A Statement) Has Been Taken By World Organizations Like United Nations, United Nation's High Commission For Human Rights, European Convention on Human Rights, Amnesty International. The Awkward Silence Of These Organizations Is Highly Condemnable And Has Made "Hindus Worldwide Antsy"
[1] 2012 Hathazari violence – Wikipedia
[2] 6 Deaths, 450 Arrests and Mass Protests. It Started With a Facebook Post. (vice.com)
[3] Bangladesh rampage over Facebook Koran image – BBC News
[4] Report- on minority – sukriti.docx (live.com)
[5] US worried at violence | The Daily Star
[6] Hindu Temples and Homes in Bangladesh Are Attacked by Muslim Crowds – The New York Times (nytimes.com)
[7] 98 Hindus killed, 357 injured in 2016 in Bangladesh, says Report | Business Standard News (business-standard.com)
[8] Mob sets upon Hindu village in Rangpur over rumoured Facebook post | Dhaka Tribune
[9]Bangladesh: Muslim group seeks death for Hindu man over Facebook post – The Week.
[10] 149 Hindus killed in different incidents in 2020 (newagebd.net)
DISCLAIMER: The author is solely responsible for the views expressed in this article. The author carries the responsibility for citing and/or licensing of images utilized within the text.