Is United State getting isolated in World Diplomacy?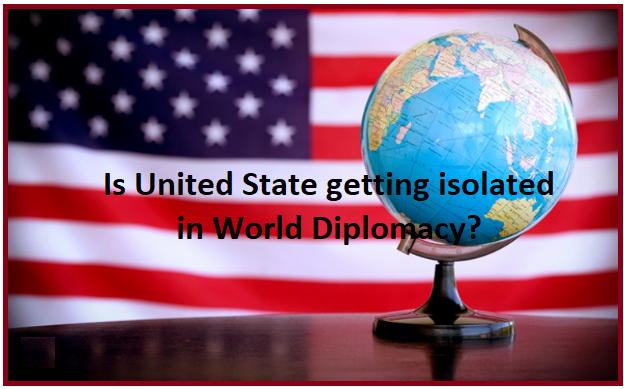 Nearly 9 Lac Deaths, over 40 million refugees and nearly drain of 8 trillion US dollar without any territorial gain could be the recorded summary of US invasion in Libya, Iraq, Syria and Afghanistan over the decades.
But has this happened?
Post Michael Gorbachev of erstwhile USSR, cold war became history. In a sense World became unipolar, led by US led NATO forces. It was around this time economic activities and bilateral cooperation started shaping. Emergence of China followed by India as the Centre of economic activity was apparent. These demand centres of consumption of Industrial output and Commodity were the new axis around which the world was set to revolve.
Seems US misread the impending challenge here. The frequent armed invasion by the United State post 90`s in Iraq, Syria, Afghanistan etc could be summarized as miscarriage of diplomacy in their own worthy and noted Diplomat`s words.
A born Jew, oppressed in Hitler`s Germany, a refugee in the United state went on to claim the Nobel Peace Prize in 1973 wrote an immortal Sentence- Diplomacy is the art of restraining Power.  Yes, He was Henry Alfred Kissinger, who held the American flag and national interest ahead of all presumed even fictitious adversity.  And the US could not carry forward his legacy.
Invasion of the Middle east nation, decades long occupation in Afghanistan, War against Islamic terror and tenuous US China relationship has not yielded something the United state can feel pride in. The outcomes which are emerging and yet to be recorded are more alarming and reprehensible. If you count the emerging pointers in the World diplomacy today,
1)     Iraq and Saudi Arabia are set for Yuan led Trade and commerce cooperation.
2)     China Mediating between Saudi Yemen and Iran, until unheard of.
3)     Syria Won the civil war and collaborated with both Saudi and UAE.
4)     Afghanistan vetoes every US Taliban accord.
5)     The China Pakistan and Afghanistan axis is a big taunt at the root of American diplomacy.
6)     American reach and influence in the Middle East is in total shambles.
7)     France and Italy setting their terms of engagement as per their domestic need.
Amidst all this, the US economy is unnerving its own capability. https://kreately.in/hypocrisy-of-credit-appraisal-reference-us/.
Statements by President Biden and U.S. Treasury Secretary Janet Yellen could be so depressing to American interest and legacy.
The US had all through the decades-controlled world narrative with Petro Dollar trade and superior defence technology. Not only are these domestic advantages getting challenged but also their diplomatic influence is shrinking.  Visible discomforting signals from former allies and challenges from emerging power centres must be unnerving US think tanks. Russia and China together were an unheard combination till date and that is apparent now in the Russia Ukraine war.
The United state has long chequered record when it comes to holding its national interest ahead of others. And it is certainly a time for them to introspect!
DISCLAIMER: The author is solely responsible for the views expressed in this article. The author carries the responsibility for citing and/or licensing of images utilized within the text.