It's Nathuram again !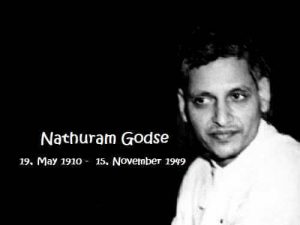 Congress and other secular parties who wrap up Gandhism are hypocrites !
30th January marks the death anniversary of Mohandas Gandhi. On this day, Pandit Nathuram Godse is discussed even more than Gandhi himself. What can one make out of this ? That's a thought to ponder upon for every Indian. Although Gandhi is revered, one can conclude that people do have sentiments towards Pandit Nathuram Godse, this leads to Godse being further conversed. Though being accused, he is discussed at large is what one can infer. After Gandhi, it was Indira Gandhi and Rajiv Gandhi who were similarly exterminated, yet their assassins are relatively less talked about. Gandhians always criticize that Godse is given more importance than Gandhi, but these are the ones that discuss Godse the most. Gandhians try to make Gandhi big by accusing Godse. However, from this, the futility of Gandhism comes to the fore and this fact is never realized by Gandhians.
It must be noted that there was an unsuccessful assassination attempt on Gandhi prior to Godse's and this did not involve Godse. Although this incident is well documented in Government's documents, this is never discussed. Various claims have been made about Gandhi's assassination. Senior BJP leader and member of Rajya Sabha, Dr. Subramanian Swamy appealed for a re-investigation into Gandhi's assassination. He claims Pandit Nathuram Godse had admitted that he shot 3 bullets on Gandhi, but in reality, Gandhi was shot 4. The big questions that remain unanswered are, where did the 4th round come from or why wasn't this ever investigated, was there anyone else who wanted to execute Gandhi ?, Dr. Swamy demands probe into these unspoken aspects. BJP must consider this plea by Dr. Swamy. It isn't surprising that such a request was unattended by Congress but a lot more is expected from BJP in this regard.
Hypocritical Gandhian Congress !
Leader of Congress Mr. Rahul Gandhi tweeted that Gandhi was killed by a pro-Hindu activist. Earlier, Pandit Nathuram Godse was an active member of Rashtriya Swayamsevak Sangh and then he joined Hindu Mahasabha. It was a well known fact that Godse was an acquaintance of Veer Savarkar. As an undeterred proud Hindu, Pandit Nathuram Godse wrote these lines in his death wish, "Bharat is incomplete without Holy Sindhu River, the day Sindhu River becomes an eternal part of Bharat, immerse my ashes into it !" People of this nation must be wondering, why neither a single Prime Minister nor a Defense Minister nor any Congress leader for that matter, ever expressed such a desire. Although a section of this country believes Pandit Nathuram Godse was a true patriot, he is also being targeted because he was a Brahmin. Further, only because Pandit Nathuram Godse was a proud Hindu, Congress, other secular parties and groups holding Gandhian ideology have constantly targeted Hindu organizations for the past 75 years. They try to project as though they are responsible to carry forward Gandhi's legacy. Self-proclaiming as Gandhians, the Congress after Gandhi's assassination, attacked, looted and killed Brahmins in the country, with Brahmins in Maharashtra suffering the most. After the assassination of late Prime Minister Indira Gandhi, Congress was accused of slaughtering around 3500 Sikhs in Delhi alone. The killing of Sikhs was supported by Rajiv Gandhi, however, Rahul Gandhi, son of Rajiv is never seen to have spoken about this. With so much blood on hands, Congress still accuses Nathuram Godse only to create an image as to how they are as clean as a whistle. Gandhi had advised to dissolve Congress after freedom, but corrupt and power greedy leaders of the grand old party turned a deaf ear to his advice and ruled for decades together. They looted our nation. Apart from Gandhi's sycophant towards Muslims, Congress never really gave a second thought to other teachings of Gandhi. Gandhi's teachings on non-violence, compassion etc. fail to be even remotely present in the vocabulary of Congress. To gain a dignified position in Tamil Nadu, the Gandhi family is often seen to be very liberal towards the assassins of Rajiv Gandhi. Note that, for Congress, these are "not" pro-Hindu activists. A discussion about Gandhi is incomplete without mentioning Pandit Nathuram Godse. Such a reference is very rare in world history. Everyone has a right to freedom of speech, those who appreciate Gandhian philosophy would never criticize Pandit Nathuram Godse. Pandit Nathuram Godse never criticized Gandhi. One should always remember, Gandhi had forgiven those who had attacked him previously. Nevertheless, Gandhi and Godse is an unending discussion.
DISCLAIMER: The author is solely responsible for the views expressed in this article. The author carries the responsibility for citing and/or licensing of images utilized within the text.