JDU workers also invited to Amit Shah's Purnia rally, know why?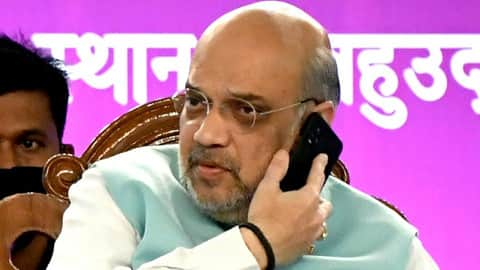 BJP has also invited the workers of CM Nitish Kumar's party JDU in the rally of Union Home Minister Amit Shah to be held in Purnia on Friday. BJP state president Sanjay Jaiswal has said that by going with RJD-Congress, Nitish Kumar has forced JDU workers to think too. It is our invitation to all such leaders and workers of JDU that they must come to Amit Shah's rally organized in Purnia.
Jaiswal said on Thursday that no one can understand the pain of JDU workers better than us because of working shoulder to shoulder for decades. In this public meeting, the honor and respect of all of them will remain the same as before.
'Nitish has no option after 2024′
Sanjay Jaiswal said on the ashram episode that former MP Shivanand Tiwari has revealed RJD's plan regarding the future of Nitish Kumar. Given the history of mutual love and loyalty of RJD-JDU, it is certain that after 2024, Nitish Kumar will not have any option. The BJP will take care of his ashram even after coming to power with a two-thirds majority in the 2025 assembly elections.
Shah's rally in Purnia, also visit of Kishanganj
Union Home Minister Amit Shah will come on a two-day visit to Seemanchal region of Bihar on Friday. He will have a huge public meeting in Purnia. After this, he will take a meeting of the BJP core committee in Kishanganj. He will also hold a meeting with SSB officials on the Indo-Nepal border. This is the first major program of BJP after being voted out of power in Bihar.
Some leaders of Seemanchal may change sides in Union Home Minister Amit Shah's rally to be held in Purnia, Bihar on Friday. This is going to be the first major program of BJP in the state after being voted out of power in Bihar. Amit Shah has instead chosen Seemanchal, a Muslim-dominated area. The area is considered a stronghold of Tejashwi Yadav's party RJD and Asaduddin Owaisi's AIMIM. Shah can play big in Seemanchal tour.
Amit Shah's rally is to be held at Rangbhoomi Maidan in Purnia on Friday. In this, apart from the four districts of Seemanchal, about one and a half to two lakh BJP workers from other nearby areas will participate. The BJP has set a target of winning 35 out of 40 seats in Bihar in the 2024 elections after CM Nitish Kumar switched sides. In such a situation, this rally is being considered important.
Some leaders of Mahagathbandhan may join BJP
There is a discussion at the local level that some leaders of the Grand Alliance in Seemanchal may switch sides. They can join BJP in Amit Shah's rally. However, the name of any leader has not been revealed so far. BJP leaders are busy making a dent in the grand alliance. Union ministers Nityanand Rai, Giriraj Singh, BJP state president Sanjay Jaiswal, former minister Mangal Pandey and other senior leaders are camping in different areas of Seemanchal.
Seemanchal is the stronghold of Tejashwi-Owaisi
The Seemanchal region of Bihar, located near the border of Nepal and West Bengal, consists of four districts namely Purnia, Kishanganj, Araria and Katihar. These four are Muslim majority districts. It has been considered a stronghold of Tejashwi Yadav's party RJD. In the last election, Asaduddin Owaisi also made his entry in this area and surprised everyone by winning five assembly seats. Now the BJP's eyes are set on registering a huge victory in this region during the upcoming Lok Sabha elections.
DISCLAIMER: The author is solely responsible for the views expressed in this article. The author carries the responsibility for citing and/or licensing of images utilized within the text.