Modi speech on the 75th independence day is an undeclared "war" on Pakistan and china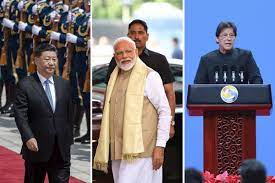 In his 88-minute Independence Day speech from the Red Fort, Prime Minister Narendra Modi spoke about the dual challenges of terrorism and Expansionism. India's resolve to strengthen the armed forces, its growing prowess in defence manufacturing and the government's full commitment to boost self-reliance in the defence sector. India and China have been locked in a border row for more than 15 months, a phase that witnessed a deadly skirmish in the Galwan Valley and saw tensions spiral between the rival armies on the north and south banks of Pangong Tso last year. Realising the threat from the two front Indian establishments expenditure incurred on sourcing equipment from domestic firms went up to ₹63,722 crores in 2019-20 out of total expenses of ₹1,08,340 crore, while the amount in 2020-21 was ₹88,632 crore. At nearly $14 trillion, China's economy is nearly five times bigger than that of India.  According to various experts, India needs to grow at eight per cent per annum to emerge as a challenger to China in the coming years.
TERRORISM AND IMPACT ON INDIA
Taliban has always remained antagonistic towards India and their recent statement a day back from Doha reaffirms the same. They have blamed India for having an impartial attitude and threatened for direct action. Since India does not have any direct channel of communication with the Taliban, there is no possibility of improvement.
PAKISTAN'S INTERESTS: Short Term win but Long term Loss
The last few months witnessed the killing of some high-profile terrorist commanders of
Pakistani origin in Kashmir. After the 5th August 2019 events, Pakistani ISI is in utter
frustration and is too eager to re-start the terrorism in Kashmir and hence is facilitating
the influx of foreign terrorists in collaboration with the Taliban into India but it will cost a hefty price for the Islamabad in the long run.
INTERNATIONAL DRUG TRADE: Matter of Grave concern
Taliban's economy is primarily based on the production of Opium, Heroin, and other drugs. It is estimated that in the year 2020, more than 85% of the world's heroin came from Afghanistan primarily from Taliban-controlled areas. It has been reported that the Taliban has established factories to produce certain other drugs too like Methamphetamine in their territories in the last two years and are poised to use the drug business as their prime source of revenue. As per a report of a UN Monitoring group, the Taliban earned more than 460 million USD in 2020 alone from the tax on Poppy cultivation which is almost 50% of its total revenue.
India's clash is inevitable with China and we have to prepare for the worse. It is economic power that determines political power, and governments become the political functionaries of economic power.
DISCLAIMER: The author is solely responsible for the views expressed in this article. The author carries the responsibility for citing and/or licensing of images utilized within the text.