NHRC Invites Victims Of Bengal Violence To Register Their Complaints With The Committee Constituted By Order Of Calcutta HC The NHRC has issued a press note on 27th June inviting the victims of the horrific post-poll Bengal Violence victims to register their complaints regarding allegations of human rights violations to the Committee formed by the Chairperson of NHRC in accordance with the orders of the Calcutta High Court as reported by the ANI on Sunday.
The said committee is headed by Shri Rajiv Jain. The other members of the Committee have been touring West Bengal in violence affected areas to inquire into the veracity of complaints and allegations of property destruction, murders, rapes, brutal attacks, rape threats, death threats and mob attacks by the ruling party cadre perpetrating retributive violence since the assembly election results declaration on 2nd May.
The note stated that few members of the Committee and of the NHRC would be available at 4 pm on 27th ( Sunday) and 10 am on 28th June (Monday) at at the Staff Officer Mess of the CRPF at Salt Lake, Calcutta to interact with complainants/ victims / petitioners / other stakeholders.
The press note also stated that those complainants or victims etc. who are not able to meet them in person on the said days can send their complaints or petitions or supporting evidences and documents by email at nhrcwrit142@gmail.com or talk to the NHRC team member on the given mobile numbers in the press release.
Notably, a five judge bench of the Calcutta High Court's order on 18th June to set up a special NHRC committee to enquire into the barbaric Bengal Violence which has left over 1 lakh Hindu Bengalis homeless, several dead, many women raped and several seriously injured was challenged by the Mamata Banerjee's government. But the TMC government's appeal against the said HC order was dismissed by the High Court on 21st June.
A PTI report stated that the Committee members and several other teams of the National Human Rights Commission "have been touring various places of West Bengal and enquiring into the veracity of these allegations," as told by one of the NHRC official. The official also said that the Committee members of the NHRC has started receiving several complaints from the victims during its on site visits and meetings with the affected people on Sunday.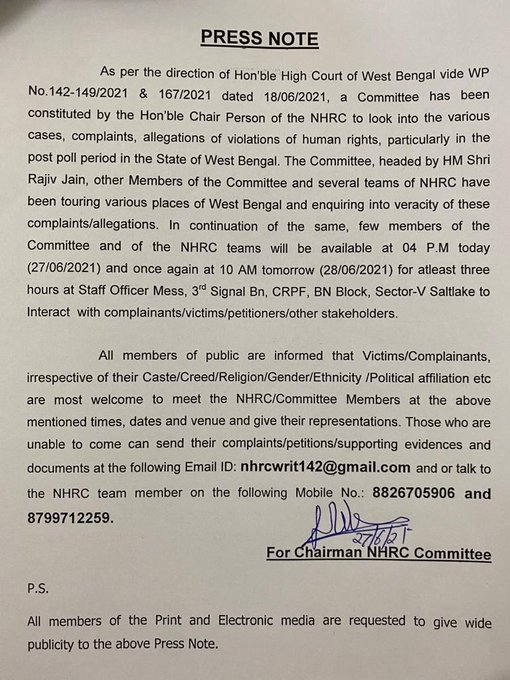 Featured image sourced from internet.
DISCLAIMER: The author is solely responsible for the views expressed in this article. The author carries the responsibility for citing and/or licensing of images utilized within the text.