Sanjay Singh deliberately posted half video of Yogi Adityanath. Got exposed by neitzens.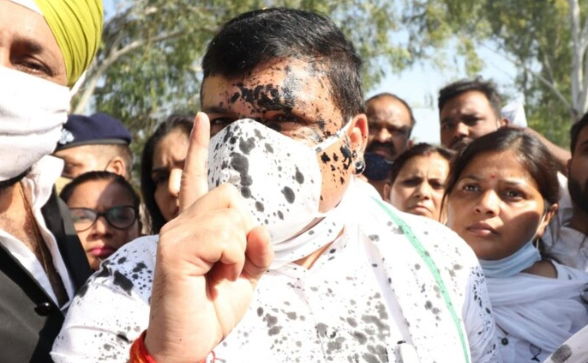 Sanjay Singh of Aam Aadmi Party deliberately posted half video of Yogi Adityanath to fulfill his petty agenda but he got badly exposed by the neitzens.
In the age of social media, fake news and fake propaganda can easily. So politicians like Sanjay Singh of Aam Aadmi Party must be careful in spreading lies within the people. Recently Sanjay Singh of Aam Aadmi party tried for the same and got badly lashed by neitzens. Sanjay Singh shared a video where he claimed that Yogi Adityanath is biased towards the Kshatriya caste. He wrote "See this. Yogi Adityanathji has cleared it that whenever somebody calls him a leader of Kshatriyas exclusively, he is not pained at all. Adityanathji, you must be the leader for 24 crore people. Is your 'Sabka Sath Sabka Vikas' call limited only up to the talks?".
ये देखिये आदित्यनाथ जी ने साफ़ कर दिया की कोई भी इनको कहे की "ये सिर्फ़ क्षत्रियों के नेता हैं तो इनको बुरा नही लगता"
आपको तो 24 करोड़ लोगों का नेता होना चाहिये आदित्यनाथ जी।
क्या सबका साथ सबका विकास का नारा दिखावा मात्र है? pic.twitter.com/pqky6jR8pi

— Sanjay Singh AAP (@SanjayAzadSln) January 29, 2022
This is half video of Yogi Adityanath which he shaded deliberately. Yogi Adityanath recently went up to give an interview to Sunita Aron who is the senior editor of the Hindustan Times. In this interview, Yogi Adityanath was asked whether he is pained whenever somebody identifies him as the leader of Rajputs (Kshatriyas) only. In this response Yogi Adityanath replied "No. I am not pained at all when I hear any such thing. Is it a crime to be born in a Kshatriya caste? This is a caste in our country in which Gods have incarnated so many times. Everyone must be proud of his own caste. But when it comes to governance in the state, our government has served equally for all the people irrespective of their castes and religions. We did not differentiate and discriminate on any basis while serving the people." But Sanjay Singh shared few minutes of the video to fulfill his agenda.
पूरी वीडियो दिखा …… या यहाँ पर भी ब्लैक करेंगा ??? pic.twitter.com/3jgX4v5Y2T

— Rishi Bagree (@rishibagree) January 29, 2022
This lie was successfully countered by the neitzens within hours and Sanjay Singh was ashamed publically. It must be noted that many a times the opposition have made attempts to wrongly show Yogi Adityanath as a leader of Kshatriya caste in order to reduce the vote bank of BJP.
DISCLAIMER: The author is solely responsible for the views expressed in this article. The author carries the responsibility for citing and/or licensing of images utilized within the text.