SHEThePeople do you still consider actor Siddharth, a feminist icon.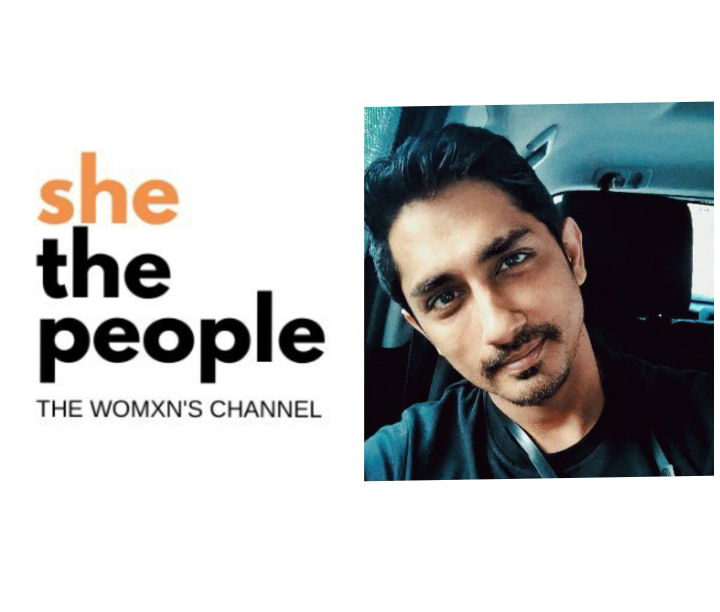 SheThePeople, the so called feminist page once hailed the flop actor Siddharth as a feminist icon. Back in 2019 SheThePeople went up to post an article where it listed down actors from Bollywood whom they consider as true feminist icon and the list also featured actor Siddharth, a long forgotten actor resorts to sexual slurs against Bharat's pride to grab limelight.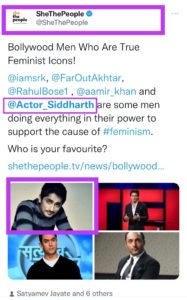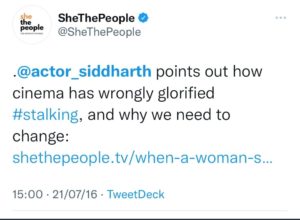 Saina Nehwal on 5th of January tweeted regarding the safety of Bharatiya Prime Minister Narendra Modi in response of which a a long forgotten actor, Siddharth resorted to sexual slurs against Bharat's pride to grab limelight. He came up with a pathetic tweet where he used sexual slurs against Saina Nehwal, Olympic medalist who made Bharat proud in front of the whole world .
Actor Siddharth wrote "Subtle cock champion of the world… Thank God we have protectors of India. Shame on you #Rihanna". Siddharth has always been rabid Hindu hater who never shies away from hurting Hindu religious sentiments. But through this tweet the people of Bharat saw an anti-women side of the flop actor.
Because of this tweet the actor had to go through the anger of the people. Many criticised him for his pathetic tweet. The Chairman of National Commission for Women, Rekha Sharma tweeted "This man needs a lesson or two. @TwitterIndia why this person's account still exists?..taking it up with Concerned police.". It needs to be noted that Flop actor Siddharth also used pathetic words for Journalist Navika Kumar.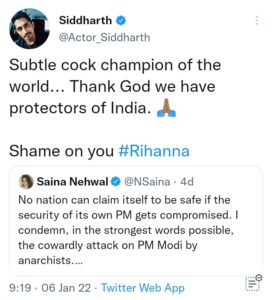 Saina Nehwal slammed the actor for this. She said "I'm not sure what he (Sidharth) meant. I used to like him as an actor but this was not nice. He can express himself with better words but I guess it's Twitter and you are noticed with such words and comments."
DISCLAIMER: The author is solely responsible for the views expressed in this article. The author carries the responsibility for citing and/or licensing of images utilized within the text.