Taapsee, Huma, Kalki end their careers as they stand by Predator Anurag Kashyap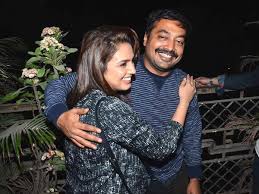 The question we should ask is — why are people like Aarti Bajaj, Kalki Koechlin, Taapsee Pannu, Siyami Kher, Ram Gopal Varma, Anubhav Sinha and other losers supporting the alleged Rapist Anurag Kashyap? Huma Qureshi has come out in support of Anurag Kashyap as well.
Another question we should ask is why Richa Chaha and Mahi Gill are Silent? Their silence makes them complicit in Anurag's not-so-sanskari behavior.
Payal Ghosh, an actress in Bollywood claims that Aurag tried to rape her in 2014 and said that women like Huma, Richa and Mahi are a phonecall away when he needs sexual services. Payal, visited law enforcement and was made to wait by the Police to file an official report against Anurag.
Anurag is said to associate with Amitabh Bachchan and Karan Johar. However, neither of them have made statements to support Anurag. Abhishek Bachchan, who has worked with Anurag has been eerily silent on the issue as well. Perhaps he is traumatized by the shenanigans of Jihadi Jaya – his mother's hate toward the likes of Kangana Ranaut.
The most ironic part is that Anurag pretends to know women, considers women to be empowered, stands for feminism and liberalism, blah, blah, blah, but Anurag seems rotten to the core who exploits women.
Anurag is also a hypocrite as he was going after Alok Nath, etc., during the #MeToo movement but now that the script has flipped (no pun intended), he seems to be losing his bearings and hiding behind his lawyer Priyanka Khimani.
His claim is that Payal's accusations are "false, malicious and dishonest." Anurag's battle with Payal will continue, but if he truly were a decent human being, he'd have the basic courtesy to apologize to those women who he claims are a booty call away.
Clueless people like Taapsee, Kalki, etc., are anti-India, but they are not talented or wealthy enough to flee India like Karan Johar did in the time of drug investigations. These pathetic women have shown that they will sell their souls when it comes to defending Rapists – though he is an alleged one, yet. Taapsee and Kalki, if you were smart you would know when to shut the hell up. Alas, you are not smart and now no one will take you seriously.
Anurag, we see that Huma is trying to clear your name – this is not surprising as the two of them have been rumored to have dated at one point. However, if you truly care about women and empowerment, have the decency to apologize to Richa and Mahi who have remained silent on the issue. Their silence speaks a 1000 words.
A real man doesn't hide behind a choli. He takes ownership of his mistakes.
Photo: Huma and Anurag, 2014 AFP.
DISCLAIMER: The author is solely responsible for the views expressed in this article. The author carries the responsibility for citing and/or licensing of images utilized within the text.