Taj Mahal – A Hindu Temple (Part 2/6)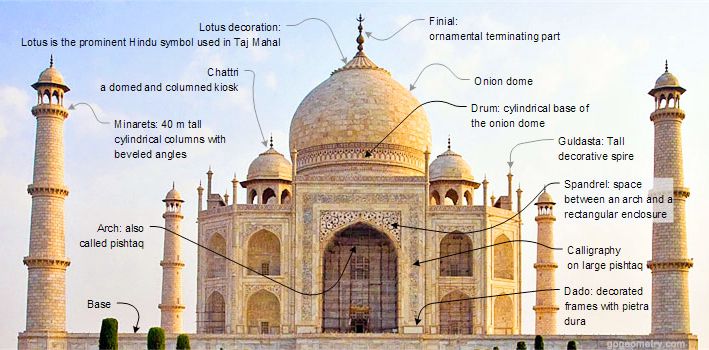 A close up of the upper portion of the pinnacle of the Taj Mahal, photographed from the parapet beneath the dome. The Hindu horizontal crescent and the coconut top together look like a trident from the garden level. Islamic crescents are always oblique. Moreover they are almost always complete circles leaving a little opening for a star. This Hindu pinnacle had all these centuries been misinterpreted as an Islamic crescent and star or a lightning conductor installed by the British. The word "Allah" etched here by Shahjahan is absent in the courtyard replica. The coconut, the bent mango leaves under it and the supporting Kalash (water pot) are exclusive Hindu motifs.
The full scale figure of the pinnacle on the dome has been inlaid on the red stone courtyard of the Taj Mahal. One may see it to the east at the foot of the riverside arch of the flanking building wrongly dubbed as Jamiat Khana (community hall) by Muslim usurpers. Such floor sketches in courtyards are a common Hindu trait. In Fatehpur Sikri it is the backgammon board which is sketched on a central courtyard. The coconut top and the bent mango leaves underneath, resting on a kalash (i.e. a water pot) is a sacred Hindu motif. Hindu shrines in the Himalayan foothills have identical pinnacles [especially noticed at Kedarnath, a prominent Shiva temple]. The eastern location of the sketch is also typically Hindu. The length measures almost 32 ft.
The apex of the lofty entrance arch on all four sides of the Taj Mahal bears this red lotus and white trident–indicating that the building originated as a Hindu temple. The Koranic lettering forming the middle strip was grafted after Shahjahan seized the building from Jaipur state's Hindu ruler.
This is a riverside view of the Taj Mahal. The four storied marble structure above has under it these two stories reaching down to the river level. The 22 rooms shown in other photos are behind that line of arches seen in the middle. Each arch is flanked by Hindu lotus discs in white marble. Just above the ground level is the plinth. In the left corner of the plinth is a doorway indicating inside the plinth are many rooms sealed by Shahjahan. One could step out to the river bank from the door at the left. The 7th storey is surmised to be under the plinth below the ground because every ancient Hindu mansion had a basement. Excavation to reach the basement chamber should start under this door.
Source: Stephen Knapp – Taj Mahal: Was it a Vedic Temple?
Part 3 – https://kreately.in/taj-mahal-a-hindu-temple-part-3-6/
DISCLAIMER: The author is solely responsible for the views expressed in this article. The author carries the responsibility for citing and/or licensing of images utilized within the text.