The Case for an Infant ram lalla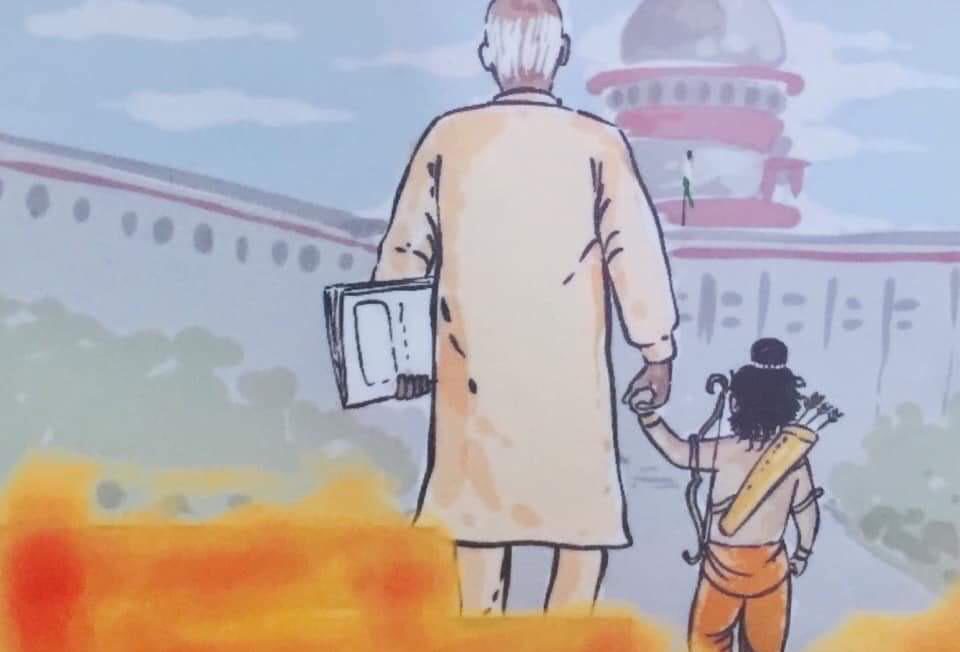 This post is a long read. It provides a very basic insight into what the entire Ramjanmabhoomi case was about. It is not authored by a student of law, but a mere student of civilization and heritage. I request everyone to trace the origins of this case, its course and conclusion, independently. This piece is merely a layman's findings.
The Case for Ram Lalla has acquired infamous traction from all sets of national and international media notwithstanding the fact that it is a civil suit in its nature and the dimension of religious dispute has been overplayed or I might say, cleverly played to drive further wedges between communities in India by vested interests, funded by anti-nationals with an utter and complete disregard for the very fabric of the case, which is that it is a property dispute between a deity and the residue of a ruler.
Through this, a very basic outline, with certain landmark evidences and not opinions will be presented in order to establish the rightful Case for Ram Lalla, taking into account the following narratives or layers it has acquired that are namely:
Media- centric
Historical
Legal- centric
.. in the very same order so that the level of manipulation, distortion and perversion that this case has acquired, might be visible.
It is interesting to note that the name of Babri Masjid has only come to light in 1717 while it was referred to by many and on official records as Masjid-i-Janmasthan. Now, Babur was born in Afghanistan, so whose Janmasthan is it? Of some Mughal/Muslim? Or is it the birthplace of Rama?

MEDIA- CENTRIC LAYER:
It comes at no surprise that the most popular media houses in India today circulate left liberal of centre narratives, with a complete ignorance of facts through sheer rejection of facts and the truth, arrogance acquired due to popularity and perversion-cum-dilution-cum-manipulation through solely, opinion.
The claim by the Muslims was that mosque land could not be given as per the Sharia, i.e. Land of the Mosque belongs to Allah and cannot be given to anyone.
• Syed Shahbuddin, one of the prominent voices of the Shah Bano case and Ram Mandir case proclaimed that mosques cannot be constructed on land by forceful demolition of another structure and that the Muslims would return the land if they found proof of a temple beneath it. But this does not hold ground for land acquired through j!h@d. Prophet says that all land belongs to God or the prophet, J!h@d restores the land to the rightful Muslims. So, this is negated.
• Why this case got heated even further was in 1986 when Rajiv Gandhi tried to extinguish the flames of the Shah Bano Case of Triple Talaq that was resolved in 2019 too. Rajiv Gandhi had opened the locks of the Ram Mandir that was locked previously due the efforts of KK Nair.
• The response to these events by the Muslims is either acceptance or deference, disappointed resignation or indifference. It was the secular brigade that erupted in hysteria over this issue. For example,
The Wire's articles:
Ayodhya Judgement and the Legislation of Hindutva Sovereignty
Five acres in lieu of citizenship
We now have to search for Ram
Ayodhya verdict: India's Muslims sought dignity, not land
This is not closure- it's a new beginning for the forces of Hindutva
How the Babri Masjid Demolition upended tenuous inter- religious ties in Pakistan
What Karunanidhi wrote about Babri Masjid and Ram Temple
The Ayodhya Judgement in India's enveloping darkness
L.K Advani: The provocateur in chief
Every political party in India was complicit in the Babri Masjid Demolition
A Dalit laid first brick for Ram Mandir. Now Modi must appoint a Dalit woman as its priest. (THE PRINT, after the verdict)
• In an attempt to secure the Hindu sentiment, the brown Sahibs of the Indian
National Congress, whose first Prime Minister had slapped sadhus who stood with folded hands in front of him, whose first female Prime Minister had shot sadhus dead, whose present intermediate President has questioned
the existence of Ram and necessity of Ram Setu, whose Prime Ministerial candidate had signed the register as 'Raul Vinci' while visiting the Somnath Mandir during 2019, had tweeted:
'Legend has it that the presiding deity, an incarnation of Vishnu, had himself appeared here to save mankind from trials and troubles of Kali Yuga. Which is why this temple is also called Kaliyuga Vaikuntam. Identify this holy spot. #WhatTheFact' with a picture of the gopuram of Tirupati.
At the height of his power, the Nawab of all-encompassing intellectual darkness, Nehru proclaimed that the "real danger to India is Hindu right-wing communalism" and RG who in 2010, to a foreign ambassador said, that Hindu extremism was a greater threat to India than Islamic terror groups like LeT.
• When faced with defeat in this case, the leftists had began spreading fear that Islam was in danger in India and carried forth a Two pronged campaign:
Proclamation that Muslims destroyed no Hindu temples except a few that
hoarded wealth and that Islam was a religion that never involved in iconoclasm this was disproved under the book, Hindu temples and what happened to them by Shri Sita Ram Goel where he lists all inscriptions in Urdu, Persian, Arabic that boast of destruction of temples and building of masjids upon them. (Arun Shourie and Sita Ram Goel's translations)
In the wonderful book called Hindu Temples and What Happened to Them, translated the literary sources of Muslim voices that boast about the iconoclasm of Islam, that are ignored in all of the popular narratives, while the Ram Mandir case is conclusive proof for this. The latest innovation by the left was that Ram worship was a phenomenon that arose in the 18th century only and a final engineered attempt was to question the existence of Rama himself.

HISTORICAL NARRATIVE:
The Ram Mandir dispute has undergone serious manipulation by historians, politicians and religious leaders.
The left denies the existence of Ram and Valmiki Ramayana and project that only the Buddhist and Jain versions of Ramayana have some significance.
• Ramayana and Rama Katha-
Rama Katha is based on shruti, i.e. oral transmission and has been transmitted orally for several centuries BCE and Valmiki Ramayana was written in a BCE and was recited by Lava and Kusha in the court of Rama- Kushilava also refer to the bards who are engaged in natya. Eg: Valmiki Ramayana has use of musically technical terms like jati, samaj, shrutisheela, laya, tantric, sangeet, sammoorchita, atyodaya and sthana. So, it was part of the shruti tradition. Now, the Natyashaastra by Bharata Muni contains these very technical terms in its various chapters which implies that, Natyashaastra must predate the Valmiki Ramayana.
Now, the tradition of poorvapar sambad, i.e a text must have been composed either before or after another text, is the Bharatiya literary tradition. If musicology is present at a particular time, then the art must have been prevalent and popular enough for it to be have written. It is known that Natyashaastra provides a format for the conduct of Natya itself and guides a Nata, and even extends to bards. Now that Lava and Kusha are bards themselves, they must have acquired this knowledge of the technicalities in music from Valmiki himself, according to Itihasa. It is said that Rama himself was well versed in instruments and was knowledgeable in the field of music- this means that he knew the technicality of music from Natyashaastra.
Hence, according to Dr.Bharat Gupt, Natyashaastra predates Valmiki Ramayana.
There are over 25 renditions of Ramayana in Sanskrit alone and over 300 versions in all vernaculars extending to non-Indian but Indic civilisations too. It predates Mahabharata and there is evidence of public recitation of Ramayana in the 2nd century AD. Ramayana is a code of morals.
RC Dutt in 1899 while addressing the Lahore session of INC had translated the
Ramayana into English and says that it contains moral instructions for the nation.
C.Rajaji translated the Ramayana and in his second edition, he writes that the youth must take guidance from Ramayana and namely from characters like Rama, Sita, Lakshmana, Kumbhakarna and Hanuman.
Aurobindo says that there is an incalculable power in the ability of the Ramayana to mould one's personality.
1st art depiction of Ramayana was in 2nd BCE in terracotta that speaks about Sita's kidnapping; 2nd to 3 rd AD in Kashmir, there is a terracotta inscription of Ram Siya in Brahmi; Rama with his quiver full of arrows and on his garment, Ram is written. Full scene of Ramayana in temples comes around the 12th century AD where 3 exclusive temples where full Ramayana panels were built- Ayodhya, Raajim and Tripuri in Raipur where inscriptions are found. In present days, a meme from a particular pop cultural phenomenon only when it is popular, this means that Ramayana was popular enough to be immortalised.
• Babur's Masjids were built at Panipat as he won the battle there.
Sambhal- it is believed that Kalki avatar of Vishnu will be born at Sambhal and a temple was constructed there. It was destroyed by his generals- inscriptions state that the masjid was built on his instructions and that the temple materials and structures were used in construction of the masjid. Abul Fazal, the official historian of Akbar writes that Sambhal temple was destroyed but doesn't mention by whom.
• Literary evidence:
The historical documents in 18th and 19th century that are written in Persian, Urdu and Arabic clearly state that Babri Masjid was not built on vacant land and he ordered his demolition. Tariq-e-afti in 1869, published in 1960 was written by an eyewitness to the developments of this case, Hindus paid bribes to those in Babri Masjid who worshipped there.
Abul Fazal wrote a Persian piece that states that Ayodhya is a sacred land and on Rama Navami, homage at Ayodhya was prevalent. In 1600, Akbar gave 6 bigas of land to Hanuman Quila and it was renewed in 1723; the scribe writes it from the Janmabhoomi of Ram which is inscribed in that document itself.
• William Finch has noted that Hindus come to Ayodhya, bathe in the Sarayu river and Brahmins record the names of those who came for this.
Jesuit father Joseph Tiefenthaler makes detailed drawings of the buildings at
Ayodhya- he notes that there was a vedi or a cradle that was constructed by Hindus and a parikrama was constructed and that there were celebrations conducted on Rama Navami.
This means that there is no account of Muslims or namaz which means that no Muslim wanted to appropriate the mosque. – (1)
• TIMELINE OF IMPORTANT EVENTS THAT HAVE BEEN HIDDEN FROM POPULAR
NARRATIVE:
1822- In the district court, Hafiz Sola, a Muslim, submits that Babri Masjid was
built after destroying Ram Mandir built next to Sita ki Rasoi.
1855- British writes to Nawab of Awadh that a Sunni leader named Gulaam
Hussain who plans to attack Hanuman Garhi and wanted to send forces to attack them. In July, a serious skirmish occurs where Hindus fight against and 70 Muslims are killed. The Muslims' claim was that there was a mosque in
Hanuman Garhi that must be handed over to them.So 2 bonds are sent to the
Nawab of Awadh that was secured by Bairagis of Hanuman Garhi- they state
that they have no enmity with the Muslims despite the attack; if an independent enquiry shows a masjid, they will hand it over.
It was revealed by the independent committee that the Nawab of Awadh had
given the land to the Bairagis; if there was already a masjid there, then he
couldn't have donated the land and there was no proof of a masjid. After this,
Amir Ali, a J!h@di decides to gather larger forces and the British decide to kill
him and it happens, so that he didn't attack Ayodhya.
1870- Patrick Carnegge reports that Hindus had free access to the masjid before the dispute, then British put railings after this dispute. So, Muslims prayed inside the masjid and Hindus prayed within the complex, in the courtyard. —(2)
So, keeping all this leads to the handing over of the case from Faizabad District Court was handed over to Allahabad High Court.
A. 1852- Superintendent of Babri Masjid complains- Ram Navami and Kartik Mela festivals happened in the masjid and shops were set up to sell prasad etc. they would divide the profits equally, derived from sale- The Mehans changed the ratio of proceeds and the British said that they can't interfere- NO NAMAZ WAS PERFORMED THOSE DAYS —-(3)
B. Application by Sup. In 1860, a Chabutra must be demolished- when maulvi calls for azan, the Hindus blow conches- NOT USED BY BRITISH FOR HINDU-MUSLIM DIVIDE AND RULE THEORY— (4)
C. 1861- a revenue report is prepared by the British for Babri Masjid- no mention of Babri Masjid in Ramkot Revenue Records- it is recorded as govt land with the Mehanas as under proprietors while nobody challenges this from the pro-masjid side —(5)
D. 1866- Superintendent. Complains that a kotaadi was constructed inside the masjids to place idols of Ram Lalla etc.
E. 1877- Superintendent, complains that 5 years ago, Charan paduka of Rama have been put illegally and a jhoola was added there- NO PEACE, CONSTANT TUSSLE —(6)
F. 1877- Deputy Commissioner of Faizabad- constructed another passageway to accommodate the rush of pilgrims during Rama Navami
G. 1885- Mehanas wrote that the chabutra was 21×7 feet and that they faced calamities due to weather and that they wish to construct a minor temple to protect the deity. But the British do not allow this as they wanted to be unbiased.
H. 1885- deep depression outside Babri Masjid boundary is of pilgrims' footprints which establishes a prakaram.
I. 1912- riots in Faizabad and Ayodhya due to cow slaughter
J. 1915- Lieutenant Governor reports that it is difficult to understand the depth of the sentiment for the Hindus over this area.
K. 1934- riots due to cow slaughter in Shahjahanpur, damage done to Babri Masjid and a penalty of 85000 rupees imposed on the Hindus.
L. 1943- Superintendent of Babri Masjid writes to Sunni Waqf Board as they cannot offer namaz in the masjid anymore, it is only opened on Friday and mats are brought from outside each time; security measures are in place in the form of locks.
M. 1944- Govt of United Provinces publishes a list of mosques with the columns of name, year of construction, constructor and the waqf created for it. In the case of Babri Masjid, it was constructed by Babur, in 1528 while waqf column remains empty. Important weak point — (7)
N. 1946- tampering with these revenue records- there never existed a structure named Babri Masjid and it was known as Masjid-i-Janmasthan- Babri Masjid is added to Masjid-iJanmasthan- proof of tampering: different ink colour, thickness of pen and handwriting is different. The other set of records kept in a different location do not have these changes.
O. 1948- reports of the inspector of the waqf- Muslims are afraid to use the complex as shoes are hurled at them each time they enter the place and only a weekly namaz is offered there and only once. —-(8)
P. 23.12.1949- the idol of Ram Lalla is placed in Babri Masjid and no Muslim comes forward to file a complaint. Nehru wrote a letter stating that this issue would affect their relations with Kashmir and Pakistan to the CM of UP. Deputy Commissioner KK Nair writes to the CM and CS that the Commissioner conspires to silently remove the idol of Ram Lalla from the masjid- he appeals to deny access to both parties and let the court decide on this disputed land. —(8)
Q. ON 28.11.1958- An FIR was filed by the Thanedhar of Awadh where he complains that 25 Sikhs had entered Babri Masjid and did Havan and Pooja there.
R. 30.11.1958- Superintendent of Babri Masjid complains about it too and states that the Sikhs wrote Ram all over the walls which implies that Janmasthan worship extended to inside the masjid.
S. 06.12.1992- Babri Masjid is demolished.
• This act has revealed a Vishnu-Hari inscription from one of the walls to come to light and it was deciphered by KV Ramesh, an epigrapher and was accepted by the court.
The inscription reveals that the temple was built by King Govindachandra in the 12th century and the lefts began a campaign that this inscription was planted there. Prof Irfan Habib states that it was the Treta ka Thakur that was destroyed by Aurangazeb and that it was stolen from the Lucknow Museum.
Kishore Kunal, an officer on special duty went to Lucknow Museum and snapped a picture of the Treta thakur inscription and the entry record which says that it was different from Vishnu Hari inscription as the metres are different, the content of the inscriptions are different, the salutations are different and the length of the inscriptions are different.
Hence, the argument by Prof.Irfan Habib has no stability.
(It is very common to use temple structure in construction of mosques as clearly evidenced by the Gnanavapi mosque that is half temple, half mosque. Prof BB Lal reveals that the bricks used by the Hindus has inscriptions and figurines of Hindu motifs that is used by the Muslims to construct mosques either by flipping the bricks or keeping them intact and white
wash them)
• 2003: Allahabad HC orders ASI to excavate the disputed site where they would be representatives from both sides every day and they would sign the day's excavation. It was established that there were various levels to the peripheral walls behind Babri Masjid which dates to medieval, Gupta, Kushana, Shunga and 3rd-4th BCE levels. The lowest deposit dates to 700 years BCE. 14 places were excavated which point to the same evidence. 25-30 cm below walls, a series of pillars were found that are likely to have carried stone pillars in the mosque which were oriented towards the cardinal directions dating to 1100 AD where Hindu motifs on the stone pillars.
The temple faces the east direction and not Kaaba. This is because, the garbagriha must face east as it must have existed under the central dome and not the ditch behind the mosque as the Sarayu river flowed there. The pillars revealed that the motifs of yakshas, dwarapalakas, kalasa were found all indicating that a temple devoted to Rama or Vishnu was built.
• It was found that there was a temple built in the 10th century for that was
destroyed as the Turks were active in the area then and subsequently, a bigger
temple was built on top of that temple in the 12th century which was then
demolished in the 16th century. The reason for the demolition of the first temple can be attributed to the fact that the Turks were active in that area at that time.
Nevertheless, it is a fact that below the Masjid, there is a temple. —(9)
• An Anti ASI Campaign was launched by the lefts like RS Sharma, Romila Thapar, Irfan Habib, DN Jha who would send students to make statements in court.
A few of the statements of some of their students, who are professors in Delhi University themselves are evidenced below.
Note that all have testified under oath, on the Holy Book, the Bhagavad Gita.
Supriya Jaiswal- an expert in ancient Indian history who had not studied the Muslim rulers' construction of masjids after destruction of temples, not read the Baburnama and relied on opinion and secondary proposition under oath for testimony. Her PhD research showed that Ram was recognised as an incarnation of Vishnu in the 1st century AD while her professors tried to establish that Ram worship was an 18th century
phenomenon.
SC Mishra- Mir Baqi built Babri Masjid, the birth place of Ram was not Ayodhya but is in between Ayodhya Brahmkund and Rishi Mochanghat. Doesn't remember why jizya was levied and said that it was levied on Hindus only, Aurangazeb did not build Gnanavapi Mosque after destroying Kashi Vishwanath Mandir
One didn't know how to read, write Persian, Arabic, Urdu, Sanskrit and has not studied calligraphy and epigraphy
MA Sanskrit scholar who cannot speak, read or write Sanksrit and did not study medieval Indian literature and was not an expert in major areas
D Mandal- never visited Ayodhya, had no knowledge about Babur, no degree in
archaeology but has acquired the knowledge of archaeology.
In my humble opinion, the court must have issued penalties on these experts for delaying the discourse with the most foolish of arguments in the name of evidence or testimony.
Remember that NONE of this utter foolishness of the lefts has been brought under the nose of the public, otherwise it would be an open armed welcome for Lakshmana to cut the nose of Surphanaka. One might argue that these lefts can be an incarnation of all the adharmic characters prescribed in itihasa and that attribution of a single character from itihasa might be an act of compassion, generosity and deep kindness.
Lefts hoped that SC would over rule Allahabad HC's decision- last smear campaign was if Rama ever existed- the British and the Indian judges decided that they cannot test the scientific depth of belief and depends only on the strength of the faith- millions of Hindus believed that Rama was born there
in Ayodhya, hence their case was stronger enter Dr.Subramanian Swamy and his petition that claims that it is the belief that Rama was born there in Ayodhya and not anywhere else.
One might wonder why the Sunni waqf intervened at all because they had no evidence on their side that could tip the balance in their side. This is because the lefts made them believe that they had a strong case- Prof KK Muhammed wrote in his autobiography that the Muslims were ready to surrender the disputed land to the Hindus but it was only due to the left that they didn't do it- false promises.

LEGAL NARRATIVE:
It is highly interesting to not that this issue being a civil dispute, has a statute of limitations of 12 years to file a complaint. Now, the Muslim side had finally filed a complaint only 5 days before the 12 year anniversary of the placing of the Ram Lalla idol in the Babri Masjid. Need we guess why they waited for the stars to align to file the complaint over the land that is theirs as they claim? Doesn't it prove that they have very little attachment for that particular
piece of land?
Now, the property belongs to Shri Ram Lalla, a minor as he is the infant form of (LORD) Rama. Why does it not belong to the Mehanas or the Hindus? This can be understood as follows:
• While the Hindu Code Bill codifies Hindu Personal Laws, it cannot impregnate itself onto the religious practices as it would openly engage in a violation of Article 26 and thereby have a domino effect on Article 25 (for the deity is a juristic person too).
While it is up for separate discussion as to how the state has found a way to
interfere with the Hindu practices under various pretexts ever since the Shirur Mutt Legislation of 1954 that the state openly defies till date.
In Hinduism, worship of a deity is practised. A deity is not deivam but a form of the deivam. Once the pranaaprathishta is done, i.e after moolamantra is recited onto the figure, it assumes life and is a juristic person that enjoys rights under various articles as per the Indian Constitution.
Depending upon the form of the deity, the extent to which certain rights and law are enjoyed and applied respectively, differ. In this case, Ram Lalla is an infant, hence is a minor so he cannot sue or get sued. So it is upto the legal guardians of the deity to fight on behalf of Ram Lalla. The legal guardians are either the priests, or the trustees of that temple or if these two fail, then the devotees- it is perfectly justified under the constitution for such representation to occur.
(This argument can extend even to the recent case of demand for the temple gold to be used to fight COVID-19 in India. Now, the wealth of the temple is received by donation under the name of the deity. So without the consent of the deity, none of the property of the deity can be touched nor distributed nor appropriated. The deity's rights play an important role. There are only two ways in which the temple gold can be touched- a request by the Prime Minister for its usage or by the exit of the state from the administration of the temple affairs. A communist approach to this matter is unthinkable as that approach violates dharma and is unconstitutional.
If one wishes to know of the extent of the generosity of the Hindu community, here is the perfect example- In the 12th century, a terrible famine hit the city of Madurai and the temple priests decided to melt the huge golden chariot of the Madurai Meenakshi Temple in order to arrange for money for food. It is only due to such intervention that the famine was averted and the surplus of food was used to feed the mouths of hungry travellers.
BOTTOMLINE: IF NON-CONSENSUAL SEX IS RAPE, THEN NON-CONSENSUAL
APPROPRIATION OF PROPERTY OF THE DEITY IS ROBBERY AND THEFT)
To dimensions of a civil suit are three-fold
Title
Possession
Adverse Possession
These will be explained as follows:
TITLE- This dimension mandates that the party must prove that the land is theirs to claim, to begin with. Since it was called Masjid-i-Janmasthan before and the nomenclature of Babri Masjid was recent. (Refer N)
POSSESSION- This dimension mandates that one must prove that he has acquired the property. From (7), we learn that there is no waqf created for the Babri Masjid. A waqf's nature is that it is the governing body that oversees the acquiring of documents that states that a particular piece of land, in this case, 2.77 acres, was endowed to them or received by them. The Sunni Waqf board has not been able to establish this.
ADVERSE POSSESSION- If the case is made on adverse possession, it is the strongest dimension that it can uphold. This dimension mandates that the party admits that it has acquired the land it is fighting for illegally and has to prove that even though it has acquired it illegally, it has been able to enjoy the benefits of acquisition without any disruption. From 1-9 except 7, it is with no doubt that the Muslim side has never been able to enjoy the acquisition of the 2.77 acres peacefully. Why was it also challenged by Ram Lalla petitioners? Because the Allahabad High Court had given 1/3rd of the disputed 2.77 acres of land to the Muslims when it had been proven that the entire land belonged to the Hindus. The furore created by the left with this ruling was that the 2
judges out of 3 who delivered this verdict, were Hindus while conveniently ignored. (Note: possession and adverse possession are mutually destructive arguments. One cannot be held onto upon the failure of another.)
On 16.09.2020- Ram Lalla wins and he returns to this rightful janmasthan at Ayodhya. The Supreme Court of India has come to the following conclusions:
• A mosque is a place meant for assembly for conducting prayer or namaz. It does not have to be offered at a designated spot and can be performed anywhere, due to the absence of iconography in Islamic traditions.
• Whereas, a temple is a place for worship as it involves rituals and iconography apart from prayer- worship requires a designated spot in order to invoke the deity and his/her grace, in the form of a temple.
• The attachment for the very specific 2.77 acres of land at Ayodhya makes clear that there is a deep sentiment associated with that land for the Hindus, as it constitutes the strength of their belief and worship.
• The juristic personality of a deity in Hinduism is clearly established and
acknowledged.
So when all the three landmarks of a civil case have not been able to be evidenced by the Sunni Waqf Board, how can one legally rule in favour of the Sunni Waqf board? If we wish to base it on secularism, we must ask ourselves the question- if there is no legality on the side of the Muslims, should we show our "repentance for violence" by giving away the sacred land? Do we consider the Muslims as equal citizens of this country or as guests or maliks of this country and yield to them? Does not this sound similar to one being identified as a zimmi or an inferior? Where the shreds of self-respect if we yield what is rightfully ours?
It is a known fact among those who are humble, that our education ministry was taken over by the Communist Party of India in 1969 when Mrs/Ms. Indira Gandhi won the elections. The re-writing of the white washed version of history that was previously written by historians of Aligarh Muslim University was undertaken by Dr.Meenakshi Jain and in 1969, this too slipped away. If one wishes to understand the amount of dirt brushed underneath the carpet is, one need just read the works of the truly subaltern historians such as Sh. Arun Shourie, Sh. RC Majumdar, Sh.Sita Ram Goel, Sh. Dharampal, Sh. Ram Swarup, Dr.SL Bhyrappa etc. who were hounded for their views by the side that is "liberal".
For the side that screams for Freedom of Expression under a fascist rule, it conveniently forgets the imposition of Emergency, the first constitutional amendment by Nehru with respect to Freedom of Expression, who banned umpteen number of books and films that spoke the truth and jailed the historian Sh.Dharampal ji. For we have forgotten what India truly was, i.e Bharat. Freedom of Expression is not a concept that originated in the west as it was in the Natyashaastra, Chapter 4, Karanas that we find the first evidence for this. Now that we have read that Natyashaastra predates Valmiki Ramayana, isn't it clear that Bharat was a superpower already? Max Mueller in his book, 'India and what it can teach us' admits that there is not a single thought that prevails in this world that has not been taught, practiced,
discussed, debated, propounded and thoroughly explored in India (i.e Bharat).
From the true understanding of history, a humble person understands an underlying theology of Abrahamic faiths viz. Darul-i-Islam and Darul Harb and the concept of Jahiliya. While the Christian religion has not explicitly stated this in their theology, from the talks of Dr.Koenraad Elst, it is clear that they wish to convert one as they "love" you.
Succumbing to the whims and fancies of Abrahamic faith have proved detrimental to the heritage of Bharat as we are subject to constant perversion and manipulation by them that is forgiven by us in the name of secularism, notwithstanding the origins of secularism from Henry VIII.
A highly woke individual might argue that we needn't build either a masjid nor a mandir on the 2.77 acres and instead build something more useful. These arguments must not be considered as that individual has no idea of the depth of the sentiment associated with a janmasthan or a punyabhoomi. Only an individual who has respect for the rituals, practices and sentiments of different faiths can understand the gravitas of this 2.77 acres of land. A hospital can be built on any land, but a Janmasthan mandir can only be built on a Janmasthana, otherwise, we would not have the 12 Jyotirlinga temples, the Shakti Peeths or 106 mortal divyadesams of the 108 divyadesams. It is only for a dharmic-minded individual or a theist to influence discourse in this matter.
In conclusion, the intricacies of this landmark case have not been brought to the attention of the public and only the events of 06.12.1992 have been discussed repeatedly. In a meagre attempt to show the three layers to this issue, I have written this minor piece while not having read the case myself, but taking certain key features from it which I have acquired through videos of those who have testified in court and argued in court, apart from some
independent research on my own. I am sure that when I read the 4000 page judgement myself, I shall experience a mixture of emotions. I might in fact wish for a movie to made on this issue, especially the events in court, for it makes for astounding drama. Who knew that the in this modern day "Rama(lalla)yana", there is room for enough dramatic element that
elevates it to the grandeur of Mahabharata?
This case restores hope for Dharma and metes out justice to an infant that has been kicked out of his own house by a ruthless fanatic.
JAI SHREE RAM
References:
Dharma Dispatch on Ram Mandir dispute
True Indology Facebook posts
Advocate J Sai Deepak on Ram Mandir Case and Sabarimala Case
Dr.Prof Meenakshi Jain on the Case for Ayodhya
Hindu Temples and What Happened to them Vol.1 by Sita Ram Goel
How I became a Hindu by Sita Ram Goel
Natyashaastra course by Dr.Bharat Gupt
P.S: A tribute to the most honourable and venerable Shri K Parasaran is in order. Without him, the infant might not have returned to his home. I will be writing a minor tribute to him separately, soon. The entire Hindu community bows down to Shri K Parasaran. Like there could have been no retrieval of Maa Janaki without the efforts of Hanumanji, there could have been no Bhavya Ram Mandir at Ramjanmabhoomi without the efforts of Shri K Parasaran.
DISCLAIMER: The author is solely responsible for the views expressed in this article. The author carries the responsibility for citing and/or licensing of images utilized within the text.