Why Do Indians Deserve Better Bharatiya Maths? progress & Prosperity!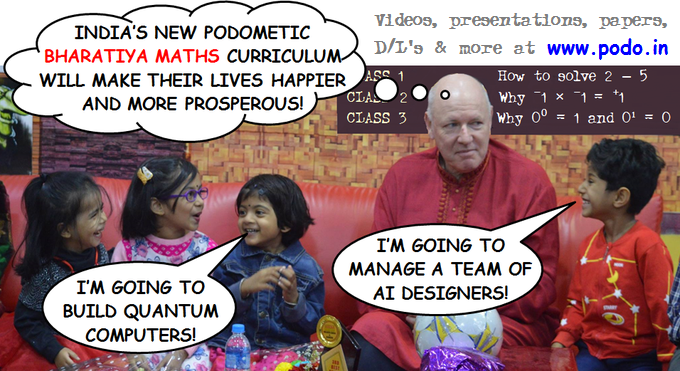 Podometic is India's new Bharatiya Maths upgrade from inferior British arithmetic.
Bharat (India) used to lead the world in maths and share of GDP. Yet Bharat's cultural and scientific wealth took a battering, first by the Mughals, then by the British. If India is to be the successful innovator it once was it will only be with innovation in mathematics education.

HISTORIAN & RESEARCHER JONATHAN J. CRABTREE
India's much-needed education innovation is re-introducing the original and ingenious ideas of Aryabhata and Brahmagupta that were lost in the Medieval Arabic world more than 1000 years ago. As Europe got its version of Hindu mathematics via the Arabs, the world today has simply never known the true brilliance of Bharatiya mathematics!
The solutions to India's problems of drought, congestion, pollution and poverty rely on science and science relies on maths. Yet Indian maths students ranked 2nd last in a global test. So, India must and now can return to its heritage of Bharatiya maths, consistent with laws of modern-day physics!
INDIANS WANT BETTER BHARATIYA MATHS!
With little publicity, a petition requesting Bharatiya maths be taught in Indian classrooms has already received hundreds of messages of support and more than 4000 signatures.
The petition, along with an explanatory video and research report detailing the superiority of Brahmagupta's zero-based mathematics can be viewed and signed at www.change.org/Brahmagupta
INDIA ASLEEP YET CHINA ALERT
In February 2020 letters offering a proven powerful new Bharatiya Maths curriculum were received by both NCERT and Union Cabinet Minister for Education Dr Ramesh Pokhriyal 'Nishank'. Other letters gifting this refound Indic knowledge back to India have been sent to the BJP's Narendra Modi and RSS's Dr Krishna Gopal. As yet, no response has been given to my no-cost no-strings-attached offers of assistance. (Have these letters been lost in layers of bureaucracy? *)
In China Twitter is banned. Yet more than 300 accounts follow my Twitter account @jcrabtree from Beijing! This suggests these accounts are official members of the CCP, Chinese Communist Party.

As soon as I make India's new and improved Podometic maths curriculum public, will the Chinese government copy it to teach this knowledge to gain an unfair and undeserved economic advantage?

Tweetsmap Data
EVERYTHING FUN FAST FREE & EASY!
Having set out to fix maths and make teaching its concepts simpler in 1983, all my research, lectures, papers and more are being made available free to India.
PEOPLE POWER WILL MAKE THIS HAPPEN!
OTHER BHARATIYA MATHS ARTICLES
DISCLAIMER: The author is solely responsible for the views expressed in this article. The author carries the responsibility for citing and/or licensing of images utilized within the text.