Trump Welcomes Nigeria's Twitter Ban And Urges More Countries To Do The Same. Is India Listening?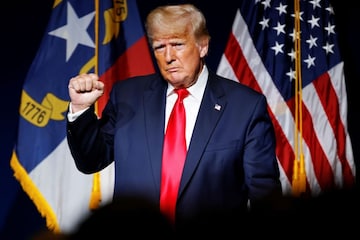 The former US president Donald Trump has welcomed Nigeria's move to ban Twitter and urged more countries to do the same. As per reports, Trump issued a statement on Tuesday, lauding the Nigerian government's decision to suspend Twitter activities.
Trump said, "Congratulations to the country of Nigeria, who just banned Twitter because they banned their President. More COUNTRIES should ban Twitter and Facebook for not allowing free and open speech – all voices should be heard. In the meantime, competitors will emerge and take hold. Who are they to dictate good and evil if they themselves are evil?"
He also added, "Perhaps I should have done it while I was a President. But Zuckerberg kept calling me and coming to the White House dinner telling me how great I was. 2024?"
Notably, Trump has been banned arbitrarily by social media platforms Twitter and Facebook which has a penchant for crushing freedom of expression of views contrary to the leftists.
Nigerian Minister of Foreign Affairs Geoffrey Onyeama had on Monday announced the country's decision to suspend Twitter in the interest of national security and peace.
The Nigerian government on June 4 said it was indefinitely suspending Twitter's operations in the country, two days after the social media network deleted a Tweet by President Muhammadu Buhari where he made a reference to the country's 30-month civil war in 1967-1970, warning "those who wanted the government to fail" to desist from fomenting trouble.
Pertinently, other countries like China and Iran have banned Twitter; Russia has also put Twitter on a slowdown mode in its country for not following the law of the land and its courts have slapped huge fines on the social media giant for violating Russia's laws.
Twitter in its operations and practices of suspending accounts and deleting Tweets has a history of being biased, it has shown a tendency to selectively suppress voices against leftist and Islamist violence and Fascism.
It has been accused of interfering in internal politics of various countries and trying to effect regime change of its choice by suppressing certain lawful voices while amplifying voices sympathetic to secessionists and terrorists.
In India it has not yet complied with the new IT regulations even on expiry of the due date, which would make it liable for being sued for third party actions on its platform. India should also consider doing away with Twitter and promote its own Indian made social media platform Koo which has now been formally adopted by Nigeria after it indefinitely suspended Twitter. The central government led by BJP should heed to Trump's advice if it does not want to be a victim of the global Hinduphobic forces' conspiracy to crush BJP by hook or crook in 2024 General Elections.
DISCLAIMER: The author is solely responsible for the views expressed in this article. The author carries the responsibility for citing and/or licensing of images utilized within the text.