Twitter kneels down to Aarti Tikoo.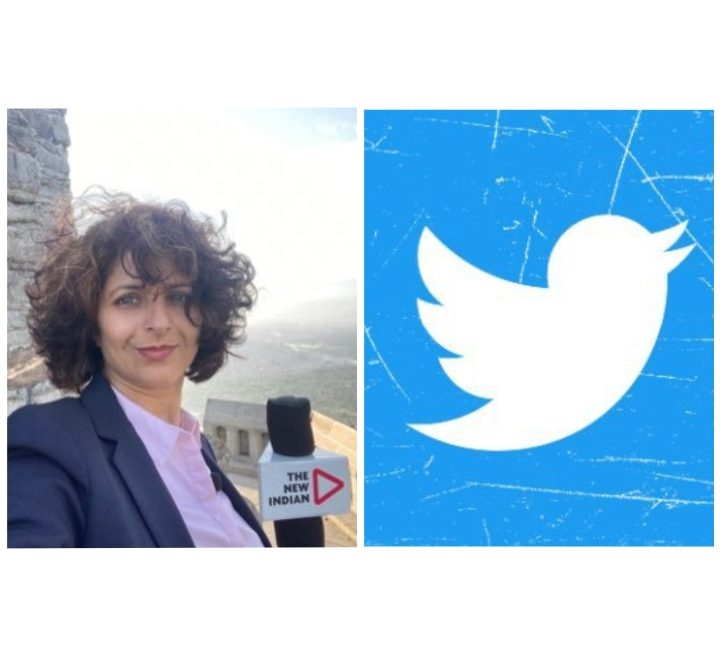 Journalist Aarti Tikoo through her courage, valour and determination has made the social media giant Twitter kneels down in front of her.
Journalist Aarti Tikoo took social media giant Twitter to the court after twitter senselessly blocked her handle for her tweet, where she is looking out for her brother Sahil Tikoo whose life is being threatened by Islamists. It was quite strange and unbelievable that Twitter indefinitely blocked her because she sought protection & safety for her brother Sahil Tikoo who is being threatened by Islamists. She not only fearlessly went for a battle with twitter in court but also made sure that she wins the case. Just two days after Delhi High Court issued notice against Twitter on her plea, it accepted it's defeat. On 13th of January, Twitter restored her twitter account after it blocked the account for 3 weeks.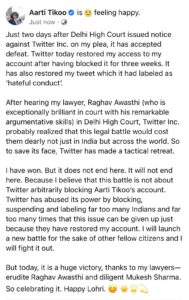 Aarti Tikoo is Kashmiri Hindu Journalist who is the founder and editor in chief of "The New Indian". Her brother Sahil Tikoo is the spokesperson of Bhartiya Janta Yuva Morcha, Jammu and Kashmir. Sahil Tikoo was being openly threatened by Islamists and therefore Aarti Tikoo came forward to seek protection and safety for her brother. She tweeted "My brother Sahil Tikoo who lives in Srinagar is being openly threatened by jihadis terrorists sitting in Kashmir-India, their handles in Pakistan, UK,US. Is anyone watching? Are we sitting ducks waiting to be shot dead by Islamists or will you crack down on them? HMO India.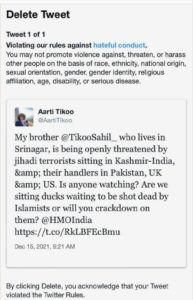 In another tweet she put forward a video where Islamists could be seen using Twitter Space as a medium to hatch conspiracies to kill Kashmiri Hindus. She wrote "Quite clear Twitter, Twitter India is allowing Pakistan sponsored terrorists to use Twitter Spaces for terror related activities, to threaten Indians & to hatch conspiracies to kill Kashmiri Hindus like Sahil Tikoo in Kashmir. India @GoI_MeitY @MIB_India is sleeping & paralysed."
DISCLAIMER: The author is solely responsible for the views expressed in this article. The author carries the responsibility for citing and/or licensing of images utilized within the text.