Vanishing Waters of Patan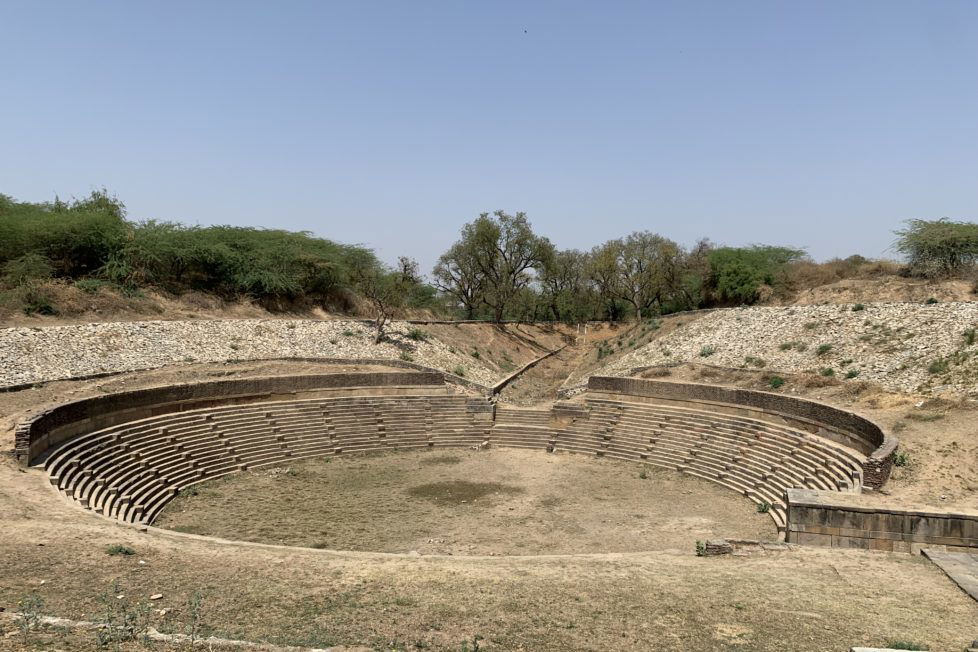 Gujrat the western boundary of India, has a unique relationship with the Arabian sea. The Saurashtra is like a cradle, held by two gulfs on each side and its entire south side is unbroken sea face. Gulf of Canbay( Khambayat) and Gulf of Kutch make incisions in mainland and more over form a 'Rann', the twilight zone. It is sea merging with land and land merging with sea, sometimes together and sometimes separate, the region is bound by Thar desert in the north..
These geographical features have shaped Gujarat's history since last several millennia and it is evident from several footprints of past era.
The land of Gujarat, dry and at times saline, sun-baked by scorching heat, is home to beautiful temples, stepwells and flourishing crafts all owing their existence to a brilliant past. Gujrat itself is home to almost 100s of stepwells. These are not just steps leading to a water source deep in the earth. But many of them are elaborate floors descending gradually and in phases towards the water, lined with ornately carved walls and adorned with sculptures, these are like inverted temples. Gujarat also has water reservoirs and tanks excavated by former rulers. These are equally elaborate and large structure, surrounded by small and big shrines and provide platforms to religious rituals and social connections.
Patan and Rani ki Vav
Patan, originally known as  AnhilPatan stands on the north-eastern periphery of 'Rann', where  sea and land merge together for miles. This prosperous former capital is supposed to have built by Vanraj Chavda in seventh century AD.  Solankis (also known as Chalukya) , the prime dynasty riling this 'Lat' country added to the grandeur of Patan in the further centuries , till middle of thirteen century AD.
Since then, Patan and its vicinity is dotted with some exquisite temples and stepwells.  'Rani Ki Vav' is one such celebrated stepwell located in Patan. Built by the queen Udaymati for her late husband in 1063 AD, this is a superb specimen of sculptural beauty. This Vav had gone into oblivion for centuries. It was covered by sand till as recent as 1980 when it was re-excavated by ASI and then made open to public. This protected the sculptures as they were out of sight for invaders who rampaged this land during medieval times.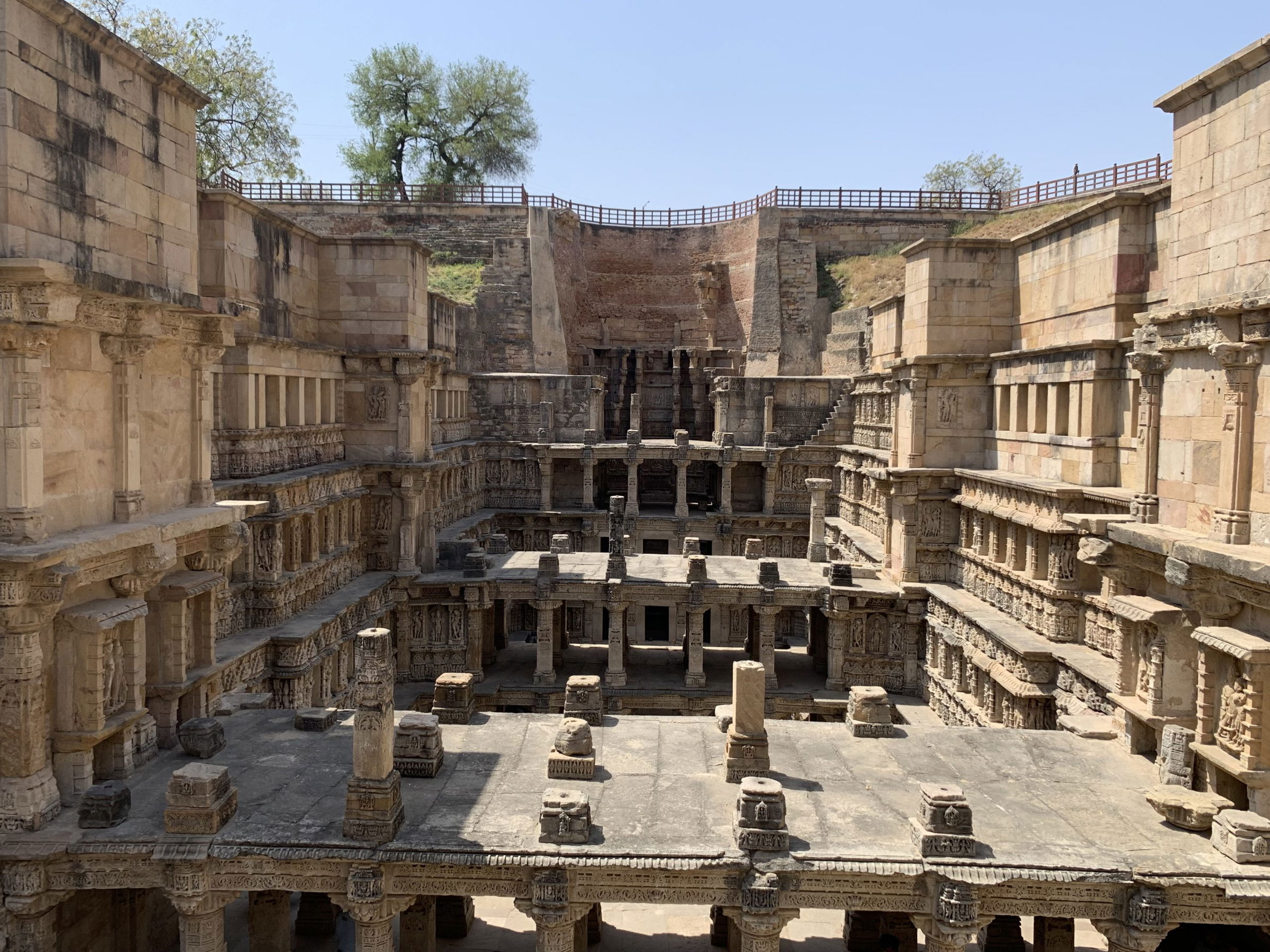 The Vav is 7 stories deep and has 5 phases of gradual descent. The actual water source or the center of well, has tall uprising circular walls, sculptures decorating the insides of the wall.  Overall, there are 200+ sculptures in the entire Rani ki Vav.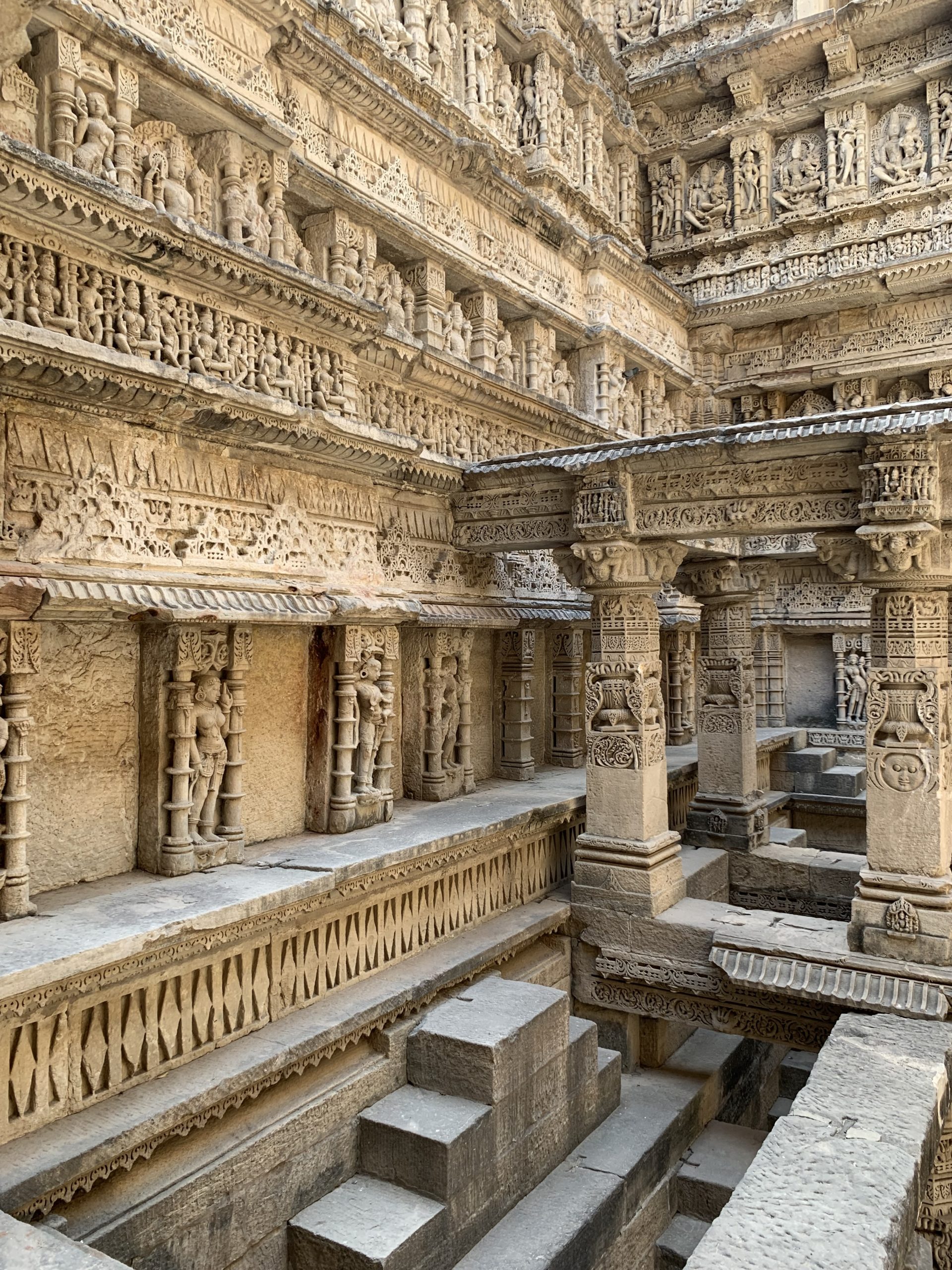 The initial floor walls have 10 reincarnations of Vishnu depicted along with Durga, Parvati and other deities. The main wall of the well has three sculptures of Sheshshayi Vishnu (Vishnu reclining on 'Shesh' the serpent), one above the other.  The very beautiful designs on these walls have been an ongoing inspiration for the famous Patan-Patola makers. Surprisingly there are some empty niches and blanks on the walls. It is not clear if they were empty at the excavation or some of them were cut and taken away.
As per literary references, Rani ki Vav was built to surpass the glory of 'Sahastralinga' lake. Just a small distance away you will discover this treasure which has faded from public memory.
Sahastralinga lake
Scorching heat mingled with light breezes, a quiet sun soaked afternoon and a vast spec of land , dotted with tall trees, the horizon merged with green shadow, the bright blooms of spring flowers interspersed to make the landscape enchanted !
That is how you enter the premise of Sahastraling Tank. Earlier known as 'Durlabh' Sarovar, this tank was rebuilt, enlarged and enhanced by Jayasimha Siddharaja in early 12'th century AD.
A little brisk walk and you see a wide canal, lined with steps designed to perfection.  Inside the canal you see platforms, must have been covered, as some pillars are still visible. As you walk further along the bank of stepped canal, through canopy of overgrown trees and chirping birds, the scene unfolds into something magical. A gigantic built step well, fed by a remote channel from nearby Saraswati river, and emptying into another huge channel is sight that captures your eyes and imagination. At a distance one can notice 3 huge outflows to direct the flow of water in different directions.
Then comes the disappointment. It is all dry … not a drop of water, only silence accentuated by rustling of leaves. The tank was lined with thousands of Shivlinga and hence the name.  The purpose of the tank was religious as well as social.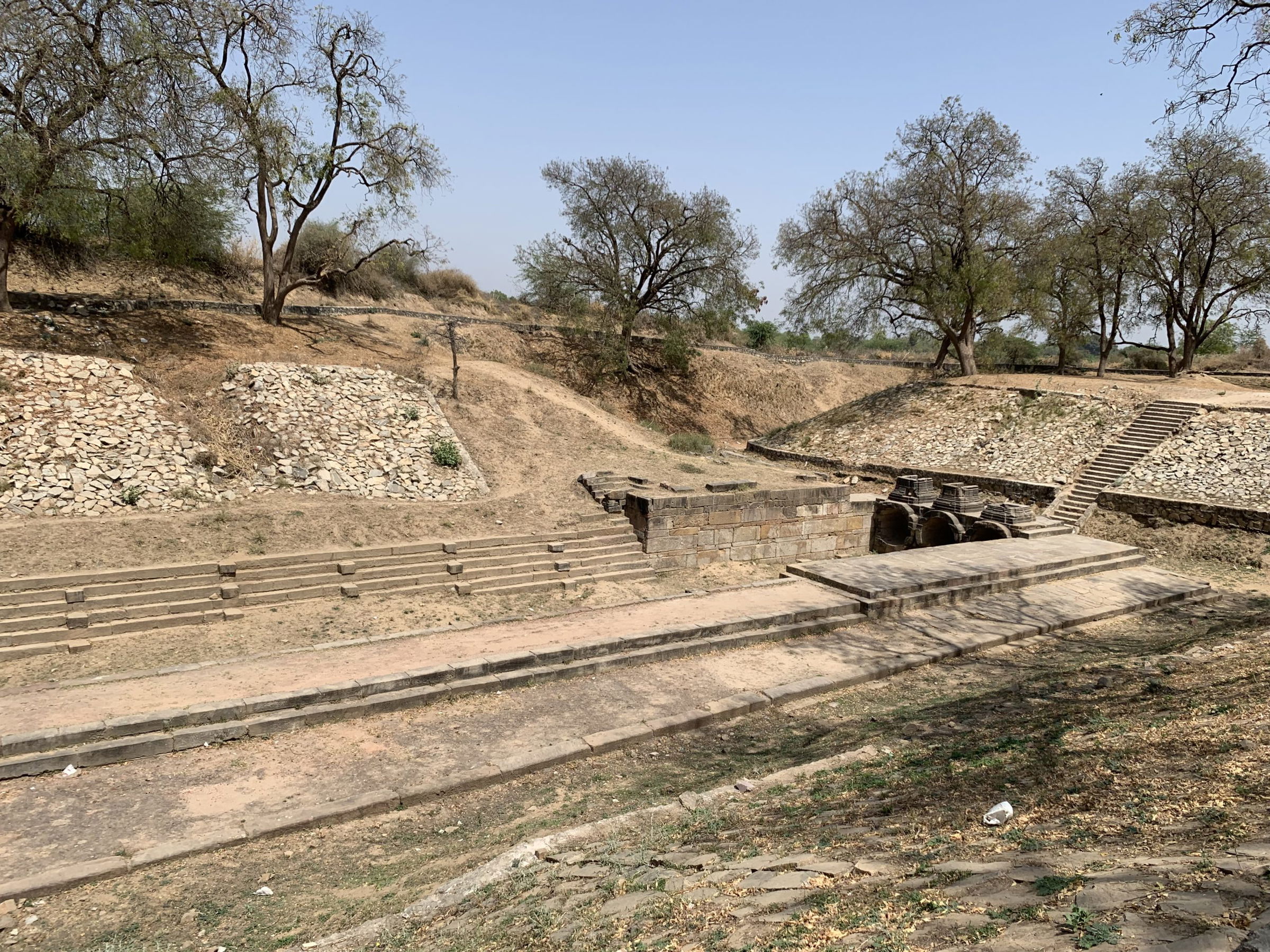 However, none of those are visible and no small or big temple is standing now. The Islamic invasions from 12'th century ensured that such an important religious monument gets destroyed.
Such a dramatic setting and such a marvellous monument.  What a serene morning and lively evening would be on the bank of the Roodrakoop when it would be alive with water and people around ! How the summers would be fragrant and soothing when afternoons could be spent under the ornate stone pavilions surrounded by flowing waters.. We can just imagine.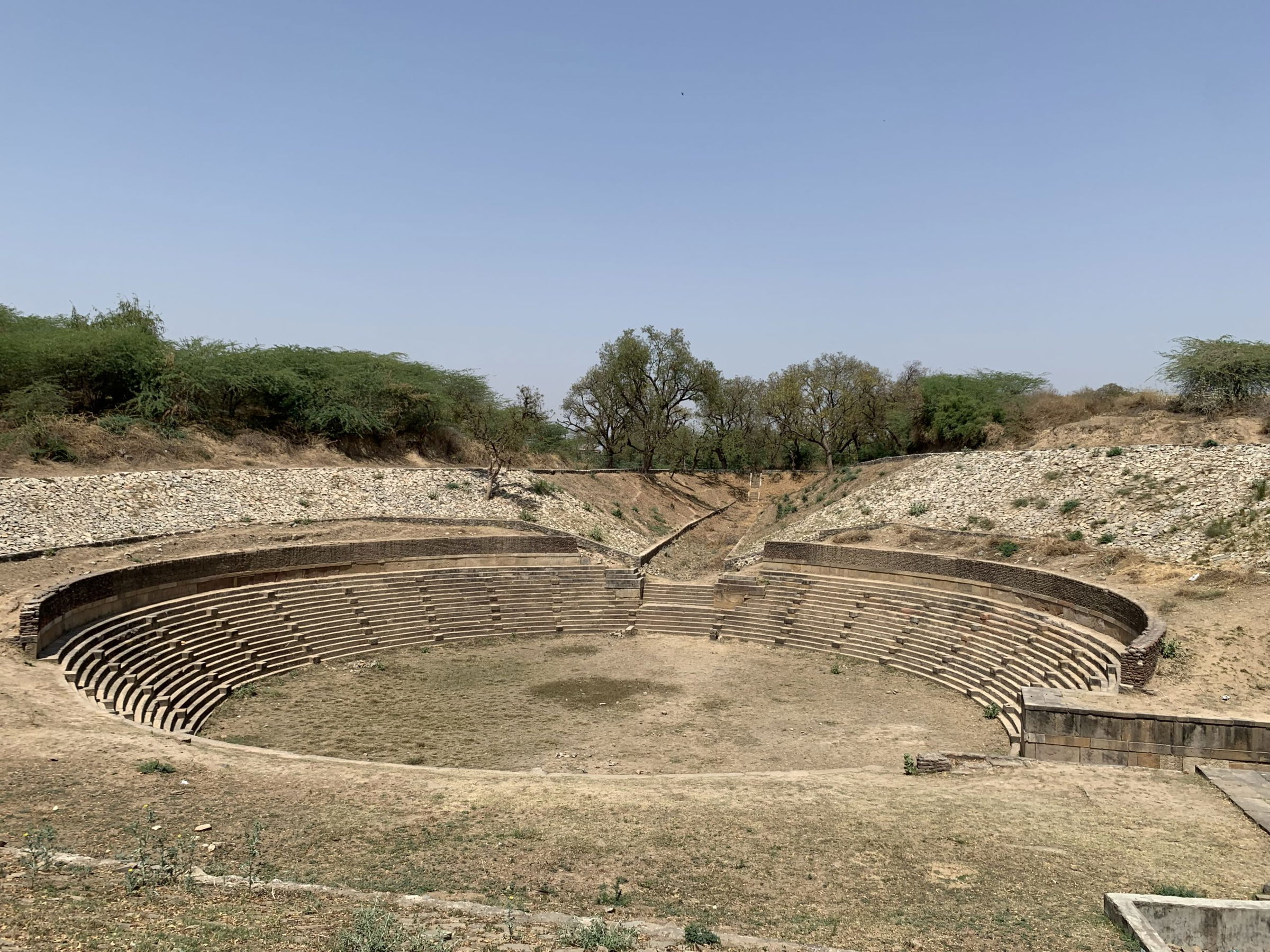 But the reality is stark and unyielding. A little closer to Saraswati river is resting place of Bairam Khan, King Akbar's tutor. The grave sitting in the centre and surrounded by broken pillars of erstwhile temple, is intriguing.
The Saraswati River
The Saraswati River, the lifeline of Patan is all dry and does not even reach sea in todays' times. Its origin is traced near Mount Abu.
But there must be a time when the Saraswati was a force to recon with, when it commanded such elaborate water management structure.. It is possible that Rani ki Vav which is very close, also received Saraswati groundwater.
Saraswati river is mentioned in Vedic literature as one of the prominent rivers and it is placed between Yamuna and Sutlej.  As per Mahabharat, the river vanished in desert, reappeared at some places and disappeared again.  The cultural legacy of Saraswati remains with us through several scriptures, anecdotes, and places which are still flourishing with devotees. The scientific studies have concluded that a major river once flowed from Shivalik to Rann of Kutchh.
Another Saraswati river forms a triveni, a trio with Kapila and Hiranya at Prabhas Teerth, at the southern end of Saurashtra. It can be a topic of research to put all these 'Saraswati' threads together to form a cohesive narrative. These could be distributaries of original river, or geography could be telling us how the course changed from East to west. The Nal Sarovar in the south of 'Rann' could also be remnant of Saraswati water system as per experts.
Around Patan
Upstream from Patan, on this Saraswati River is another place called Sidhhapur. Referred in Mahabharat as 'Shreesthal', Siddhpur is a prominent religious place. This is the only place where mother's remembrance ritual (Matrus-Shradhha) is performed and that too on the banks of Saraswati river.  Sidhhpur also has a ruined Mahadev temple called RudraMahal. The scale and craftsmanship of this temple is outstanding even when it is in ruined stage.
South of Patan is magnificent sun temple of Modhera. It has a tank known as Suryakund with exquisite masonry. Crisscross steps leading to emerald water of this rectangular tank, also has several small temples and deities instated therein.
Another tank built in Viramgaon further to the south can give a fair idea of what Sahastralinga tank could have been. This water tank at Viramgaon is asymmetrical but has ornate shrines all around.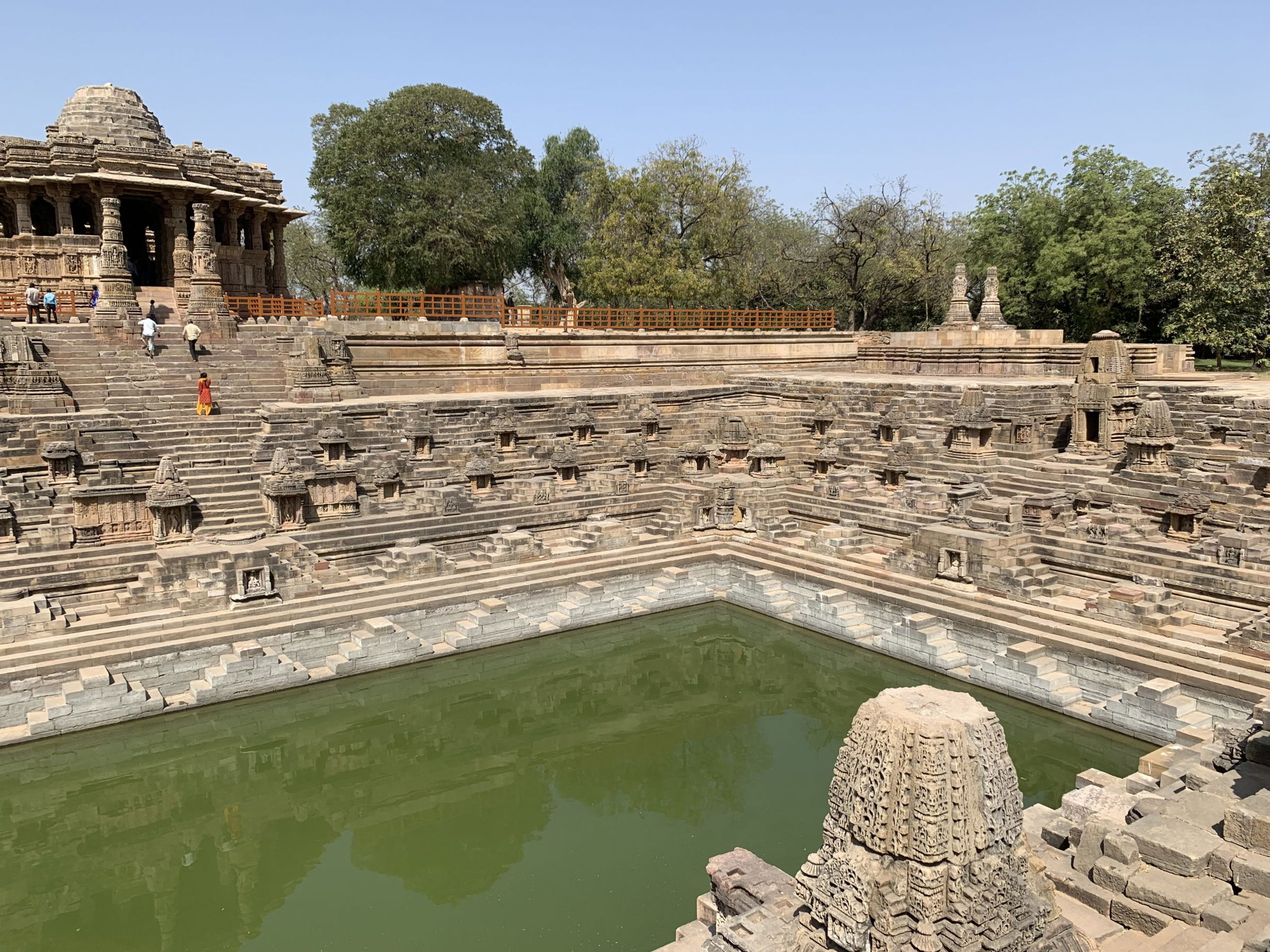 One can conclude that the Saraswati River with sufficient water in it, must be the backbone for this area, giving rise to kingdoms and cultures. Also, it is interesting to note that these water management architectures are constructed in last 1000-1300 years. Hence Saraswati river which vanished in 1900 BC, must be a measurable flow even in recent times as 700-1100 AD.
Water is our eternal thirst. We rejoice the flowing rivers, we dam them and channelize them to nurture us. We drill the earth and create lakes, wait for the rains or live stream underneath to bless us with brimming water. We go deeper into the earth to find the coolest fabric to soothe our senses, we build wells.
And then we add poetry and music to these essential structures by means of sculpting them, building steps around them, making life more beautiful, more coveted.
Despite the ruins, we can read this desire in these age-old structures making us sad and happy at the same time…
DISCLAIMER: The author is solely responsible for the views expressed in this article. The author carries the responsibility for citing and/or licensing of images utilized within the text.