Modi is not afraid of China!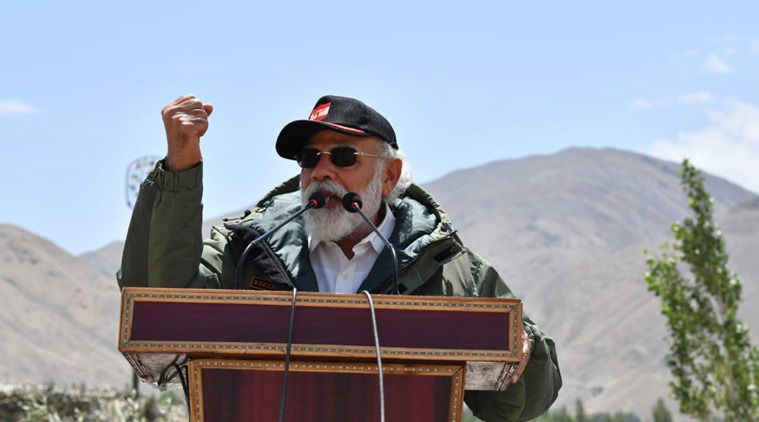 Today 3rd July, 2020 will be written in the memory of every soldier who guards the borders of Bharat. Today is the day when our Prime Minister Narendra Damodardas Modi paid a surprise visit to Nima, a border post in Leh-Ladakh. At 11,000 feet, Nimu is among the toughest terrains, on the banks of river Indus and surrounded by the Zanskar range. PM Modi was accompanied by Chief of Defence Staff (CDS) General Bipin Rawat and Army Chief General Manoj Mukund Naravane. In his very short speech to the Armed Forces there, he covered such a wide range of topics and emotions, that every word, every sentence must have stirred all Bharatiyas, not just the soldiers present. In fact it is a speech that would stir even our neighbours to revisit their elaborate plans of attacking Bharat.
"Valour, Dignity, Drawn out Divine path of elders, Confiding and Giving Confidence to Commander". PM Modi quoted this from Thirukural to mention the 4 qualities of Winning Army. It is no secret that our Army has always fought every battle and war in a manner which was morally and ethically correct. This is precisely why our Armed Forces are among the most respected Armed Forces. Their strength, valour and dignity reflect this. When PM Modi pointed this out through his speech and emphasised on the support of every single Bharatiya to the Armed Forces, he was giving them Respect and Confidence – something which only a Leader can do.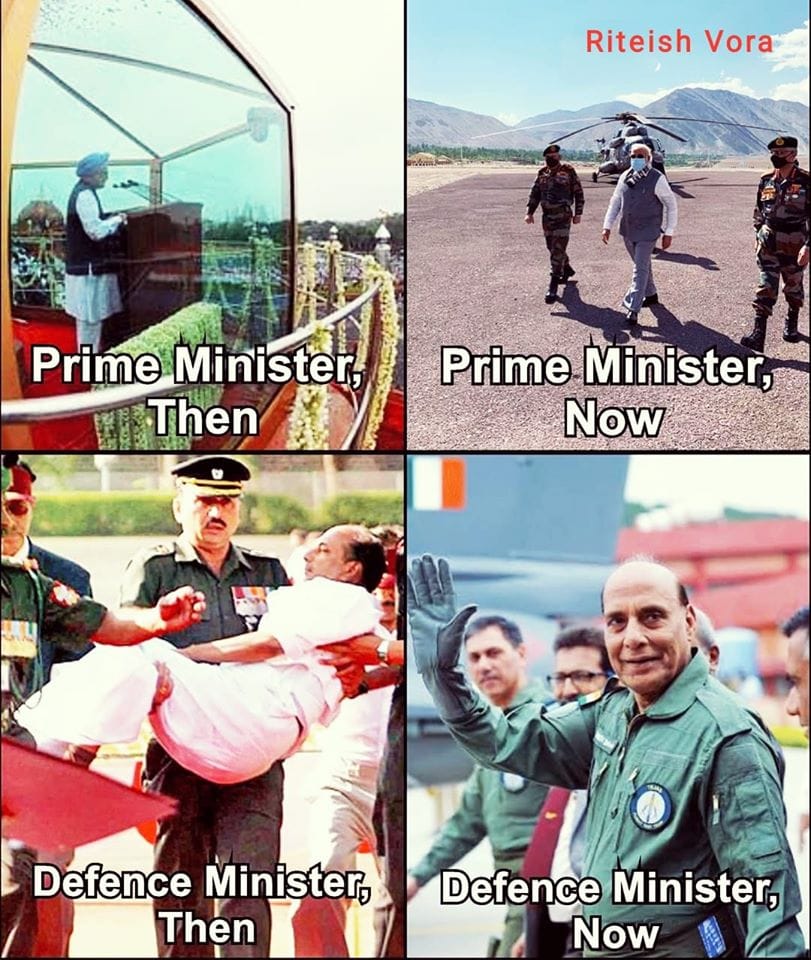 With his visit today, PM Modi laid rest to many ghosts of the past …
The ghost of India being a weak nation which can be troubled by its neighbours very easily. Sorry, but India is no longer the India of 1962, which went by the narratives that sold-off PMs, politicians and Western Nations decided on. The new India sets her own narratives. She is strong and has no fear in taking decisions which reflect her strength.
The ghost of the Armed Forces being forced to hide facts about their successes to please China or any other Nation. In 1962 also India had fought valiantly against the Chinese, but we were constantly told that we were badly defeated. No more. We taught a lesson to the intruders at Galwan and we will very well flaunt it. China can go take a walk and count the numbers of soldiers dead or injured and decide on whether they want to let the world know the figures. But we will boldly state how many of our soldiers attained "Veer-Gati" and will publicly show our respect to them and to their families.
The ghost of our Politicians not trusting the Army's version of facts. PM Modi not just trusted his soldiers, he went and visited them boldly so close to the border LAC and also spoke to them and built up their confidence.
The ghost of not using Dharma in public speeches. Narendra Modi proudly wears his Dharmic teachings on his sleeve and quotes them very eloquently. His statement that we know when to worship Sri Krishna with the Flute and Sri Krishna with the Sudarshan Chakra, alluding to Peace and War, was classic.
The ghost of not warning China to beware of stepping on Bharat's toes … When Modi ji spoke about the World not accepting expansionistic empires and regimes anymore, he was giving a clear warning to China to stay off our borders.
Wah Modi ji Wah … Aur kya chahiye … Vande Mataram _/_
DISCLAIMER: The author is solely responsible for the views expressed in this article. The author carries the responsibility for citing and/or licensing of images utilized within the text.