What is Khαlιsταn…?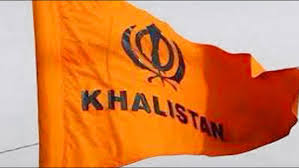 What is Khαlιsταn..? Through my detailed Article I am going to make some shocking revelations to you all. It may send shivers down your spine. Conspiracy is much bigger than what you imagine This Article is based on journalist Conor Cruise O'brien report for The Atlantic in 1988.
First we need to understand where did the idea for Khαlιsταn come from. Sικhism was formed in 15th century by Guru Nanak who was a Hindu & his followers were also Hindu, to unite against Mυghαls. But it was the 6th Guru which made religion enter into politics, later into military 6th Guru 2 terms Miri & Piri, 10th Guru Gobind Singh is called as Miri Piri ka Malik, means he brought military & spirituality in Sικhism, he said God is sword & sword is God. Hence, Khαlιsταnιs chant Raj karega Khalsa Hence these words are used by Khαlιsταnιs to justify violence.
During British Raj, Sικhs started considering themselves as partners in governance. British were impressed by courage & martial powers displayed by Sικhs in Anglo-Sικh war, they recruited Sικh in military & Sικhs supporterd British in 1857 mutiny by going against fellow soldiers.

During the time of independence, Sικhs were in dilemma coz MυsIims didn't want Sικhs, in independent Khαlιsταn they would have been outnumbered by Paxtαn whereas India offered them equal rights, hence they decided to join India. But they always wanted autonomy from India. Sικh seeking autonomy had put Indian gov under serious concerns, India decided to further divide East Punjab, where north Punjab would stay with Sικh & south Punjab dominated by Hindu Jaat will be the state of Haryana. The idea was to design a province where Sικh enjoy majority

Very important to note, O'brien writes that Sικh majority was protective about Khαlιsταnι & they would continue to protect them If u Google, u will find several human rights violation reports filed against India in favour of Sικhs but no one ever cared for human rights of Hindus
After operation blue star, Golden temple use to get few visitors. Most visitors were scared of the Mιlitαnts & they use to abduct & rαpe female visitors. Several bodies were found outside the temple gates, hence no one dared to visit Akal Takht those days. Shocking atrocities.

O'brien met Narvir Singh at Golden Temple who was a High Priest at Damdama Temple.
-O'brien asked him What is Khαlιsταn?
-Narvir gave a map which was in Gurumukhi
-O'brien said this map of India
-Narvir said, no this is map without Jammu & Kashmir
This is now very alarming point
Map said Delhi will be renamed as Guru Govind Singh City & Delhi Airport will be named as Sant Beant Singh Airport. They omitted J&K, coz Paxtαn claims it & Paxtαn is the ally of Khαlιsταnιs in this battles against India. I always thought Khαlιsταn was Punjab, but this is serious

O'brien was shocked to learn this from Narvir than Khαlιsταn is not secessionist movement but to annexation of India. He asked how can you do it 2% population. Narvir said its like a boy entering the room then having the whole house. Their plan is to capture & rule India. O'brien says Khαlιsταn project is designed to bring destruction to India. Sικh population is just 2%, how will they achieve victory, Sικhs found allies in Nαxalities who had helped them in 84 & in 1987 Ludhiana rally had sizeable Ind MυsIims which was symptom of Paxtαn connection.
O'brien concludes saying insurgency is deep rooted in Sικh religion & tradition. If they continue to attack Hindus then they will face backlash across nation like faced in Delhi which will further alienate Sικhs from India. Indian gov is still looking at ways to keep them happy This is wht O'brien wrote after his research in 1988. Now lets look at 2021 & the situation around us. We have already seen Commies trying to incite violence in diff parts of country. Red flags were visible on 26th Jan Delhi rιοτs. Shaheen Bagh & Sικh alliance is also known to us Jai Bhεεm Jai Mεεm rαdιcalisation is already known to us, Congress is trying to rαdιcalise Rice Bags in South India now Khαlιsταn movement is reginited So its
Bhεεm
Kh
MυsIims
Rice Bags
Commies Vs Hindus
My hands are shaking while writing this, unimaginable. I said few months ago that a CW is coming, but this seems to me far more dangerous than wat I had anticipated. In such a situation we will be wiped out as we would be caught off guard Just can't imagine wat Govt is facing today, internal & external enemies.
Believe it or not but CW is cmng & you will be caught off guard… Better get ready, the first thing which we all can do is Unite. Shall we Unite….?
Not a single word from this article is fabricated. Here is the entire report from Conor Cruise O'brien published in 1988. If you now understand the depth of the problem then please share this with others & educate ppl against this sinister conspiracy.
Article link :- https://www.theatlantic.com/past/docs/issues/88aug/obrien.htm
DISCLAIMER: The author is solely responsible for the views expressed in this article. The author carries the responsibility for citing and/or licensing of images utilized within the text.