Why are the western governments turning a blind eye to migrant crimes in their countries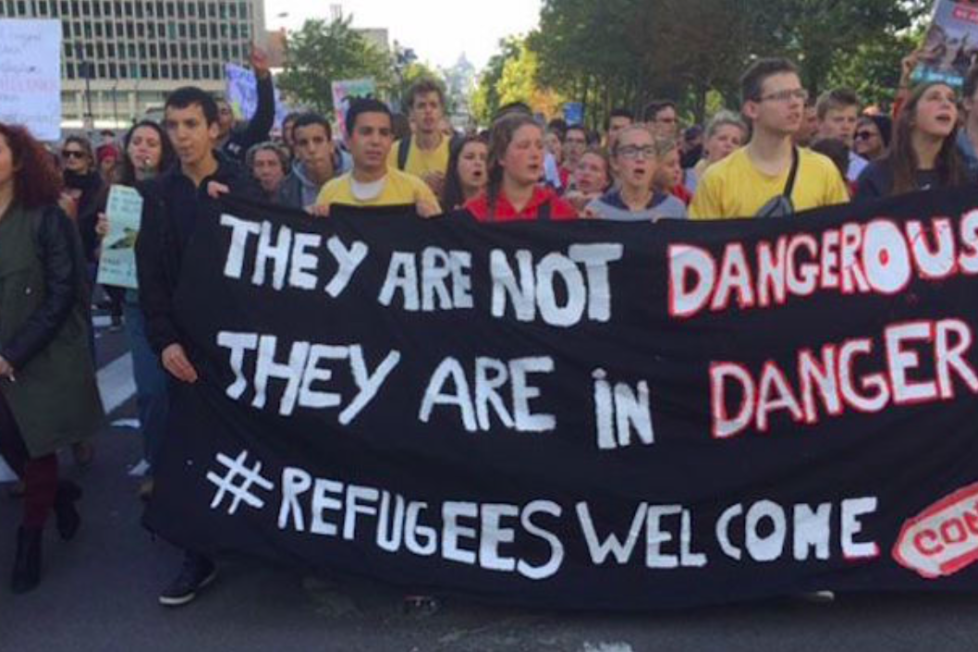 In Germany,  all criminal suspects were required to record if they came from a migrant background, even if they had a German passport.  This law was in place since 2011.  However, it has just come to light, that this important data point was secretly abolished, on 3rd August 2022. According to the German newspaper Berliner Zeitung,  Berlin's red-red-green Senate, considered one of the most left-wing state governments in Germany, secretly decreed "that the registration of migrant background should be stopped as soon as possible." The left-wing government of Berlin wants to keep this information from the eyes of the general public, which is why the procedure for preparing criminal records was changed.
According to data released by the Federal Criminal Police Office (BKA) in Germany, the proportion of non-German suspects continued to increase.  In addition, Berlin has been plagued with clan crime in recent years, including a number of high-profile murders. In fact, the city's prosecutor in 2020 said that migrant clans are a key factor behind the city's high crime rate. The police were better able to monitor these groups and understand their structures with accurate data about the migrant background of suspects, which has now been modified.  The reason for this as mentioned in a letter to the chief of police stated, that "recognizing undesirable social developments such as poverty, unequal educational opportunities, and discrimination and taking preventive measures to counteract them."  In other words, typically, the Left wingers have decided to absorb the criminal element within their society, in the name of inclusivity and liberalism.  According to the data presented for 2001, there were a total of 164,646 cases of violent crimes, out of which,  37.7% of these suspects were foreign nationals.  Of the 1,483,566 cases of theft, 37.6% were foreign nationals.  Mind you, these percentages do not include immigrants who now have a German passport.  As a synopsis, in recent years, approximately three-quarters of all suspects under the age of 21 arrested for serious crimes such as murder, manslaughter, rape, sexual assault, and assault have a migrant background. Only a quarter of suspects in this age group actually have parents who hold German citizenship. The sex and child pornography crimes, which are also a very large issue, where 23.5% of the suspects were listed as foreign national. According to another report, there are a average of 2 gang rapes daily in Germany, and 50% of these suspects are migrants, when they form 13.7% of the total population of the country. As of 2018, Afghans made up 0.3% of Germany's population but were suspected perpetrators in six% of the country's recorded gang rapes. The majority of the rapes took place while the migrants were in the process of applying for asylum.
Italy has already experienced a drastic 150 percent increase in illegal migrants arriving at the country's coast.  The sex related crimes are ghastly and appalling, where the age of the victims ranged between the ages of 15 to 67! A 28 year old Middle Eastern who had been in the country for 5 years, raped a 67 year old woman on an intercity train, and was arrested when the staff heard screams of the woman. The rapes involving foreigners were not isolated incidents. Statistics from Italy's interior minister's office showed that 42 percent of all rapes in Italy are committed by migrants despite only being 8 percent of the Italian population.  It was only in May 2022 that Italy absorbed another 60,000 immigrants mainly from the Middle East and Some Africa Muslim countries. 40% of all rapes were committed by foreigners who constitue of 8% of total population.  The recent elections have brought in the non-Left Prime Minister Georgia Meloni.  From her addresses to the public as well the response she has received from the western liberal media (calling her Mussolini etc) looks very favorable.  If she is able to keep true to her current convictions, then  there might be a small chance that Italy can be saved.
In Norway, a 42- year-old man and his accomplices were arrested for an attack at the London Pub which is a popular LGBTQ+ venue. He was charged with murder, attempted murder and terrorist acts.  The incident took place in June, and the convict managed to run away to his home country Pakistan to avoid jail time.  Arfan Bhatti was arrested this week and will now be brought back to Norway where he will be sentenced.  Two people died and 21 were wounded and the police called it an "act of Islamist terrorism".
On October 13 2021, a man armed with a bow and arrow killed five people and injured two more including an off-duty police officer in Kongsberg, near Oslo, the capital of Norway. The man who was arrested by the Norwegian police after the deadly attack had earlier converted to Islam.  Lately, the government of Norway has come with a law, under which, migrants who are convicted of crimes, face deportation.
In 2014, Mark Harbers who was the Migration Minister of The Netherlands at the time, met with a huge outcry of the public, after it appeared that the crime statistics from migrants shared by his Ministry, were downplayed.  The report did not have a separate row for sex crimes, pedophilia and pronography production.  Instead, these were shared under the row called 'Others'.  The issue of increasing crime and the intent to occupy areas within the Netherlands have been flagged for nearly 20 years by former Minister Greet Wilders.  In 2011, a report by the Dutch General Intelligence and Security Service revealed that young Muslims belonging to the second and third generation of Moroccan immigrants (primarily, but not exclusively, boys) have become easy to recruit for violent jihad, and are attracted by Salafist and jihadist groups.  The document went on to explain, that the policy of Dutch authorities is based on the assumption that violent radicalization is the byproduct of a lack of integration into mainstream society.  The report goes on to explain that the rising Jihadi trend among these young people was dysfunctional family backgrounds and the fact that their families were uncomfortable with them consuming alcohol.  Additionally, in their publication "Dangerous boys or boys in danger",  the Dutch psychologists Lahlah, Van der Knaap and Bogaerts of Tilburg University demonstrate that Moroccan-Dutch boys are significantly more likely to report exposure to severe child abuse than Dutch boys.  All of these elements also make an impact.  However, they also clearly show that even after 3 generations, the 'integration' that they were expecting, is not happening.  
There have been countless incidents of migrants sexually assaulting local women while quoting from scripture.  A few times, these criminals have been able to get away from harsh sentencing because the Judge is convinced that the convict is doing what is considered culturally acceptable in his home country.
Some of the European Governments are trying to take measures to stop the inflow of migrants, but they are not addressing the issue directly.  Their countries are already facing disproportionate demographics and a number of other issues related to this.  The time has come when all the European countries come together and take some concrete steps if they want for the situation to change for the better.
DISCLAIMER: The author is solely responsible for the views expressed in this article. The author carries the responsibility for citing and/or licensing of images utilized within the text.