Another Lavanya in Making, This Time Islamists Replaces Missionaries?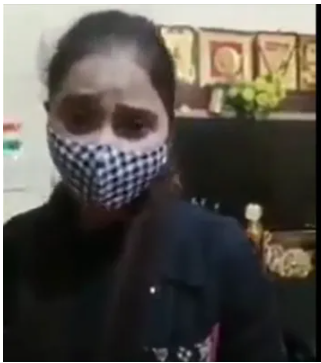 A Young Girl is probably on the verge of committing suicide due to harassment for not converting to Islam.
A young female journalist's video recently went viral on social media, in which she mentions being the former employee of News Action Network a YouTube news channel. In the video, she is pleading for help against harassment from the Managing Director (MD) of the channel Shan Chaudhary who continuously pressured her for converting to Islam.
As per the video the young girl claims "I am a female journalist and use to work for News Action Network office located in Delhi's Preet Vihar. MD Shan Chaudhary use to force me to convert to Islam by saying 'You look like a Muslim girl and if you convert I will raise your salary from 25,000 to 1 Lakh rupees.' She also claimed "I did not use to like him forcing me so I decided to quit my job after which company holds salary for 45 days. However, I was called to the office after 4.00 pm on the 47th day. When I reached the office, I was called in Shan Chaudhary's cabin where Ria Gupta, Roshni, and Bushra were already present. Chaudhary behaved rudely, used abusive language even threatened to kill me."
In a shocking revelation, a female journalist from a Youtube News Channel based in Delhi's Preet Vihar alleged that the MD of the News Portal 'Shaan Chaudhary' forced her to convert Into Islam. #ForcedConversion #Islam #Delhi #PreetVihar #DelhiPolice pic.twitter.com/7CI17VIfNV

— Organiser Weekly (@eOrganiser) January 26, 2022
The video further mentions "After that, I somehow managed to escape from the office with the help of my colleagues and reach Preet Vihar Police Station. I tried to register an FIR at the Police station, but ASI Sohangir refused to file my FIR." He made me run for two days to file the complaint. Even my statement was recorded under section 164 (Recording of confessions and statements) only after I contacted social activists Rajesh Bhasin and Aastha, who raised the issue on social media and helped get my statement recorded. It has been two months now, still, there is no action or arrests made in the case nor the police had collected any evidence. Three investigating officers had been changed, but then there is no progress in the investigation."
The girl pleads to the "cyber soldiers" for help and requests to get justice if not "I will be left with no option and take a drastic step and commit suicide." 
DISCLAIMER: The author is solely responsible for the views expressed in this article. The author carries the responsibility for citing and/or licensing of images utilized within the text.