Can @GemsOfBollywood Match The Speed and Frequency of Urduwood?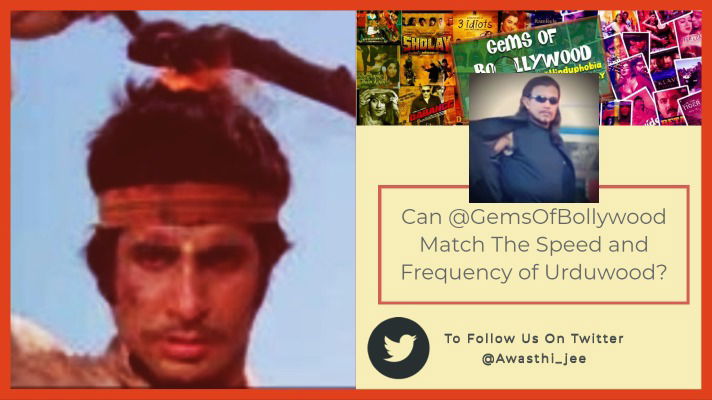 Gems of Bollywood is a social media research group having its presence on all the famous social media platforms. They have exposed the whole of the Urduwood, also known as Bollywood serving anti-Hindu content in movies, serials, and web-series for entertainment since independence.
Recently they have exposed Akshay Kumar and Producers of the movie Laxmi-Bomb promoting love jihad and vilifying Hinduism. Gems of Bollywood has exposed them as much as they had to change the movie's name to Laxmmi.
However, the content remained the same, for which also Gems of Bollywood has exposed them among its followers and Hindus. It has yielded the movie a big flop. Then Gems Of Bollywood have taken one more research project to expose the Mughal producers of the web series Aashram.
As they have exposed their abusive content on Hinduism, the Mughal producers of the web series Ashram have blocked them. However, till then, Akshay Kumar came up with one more anti-Hindu movie poster on Ram-Setu.
On the other hand, Mirzapur 'a Mughal named district' titled web-series came up with Rs. 100 crores of investment to develop their third lot of the series. The south Indian star Prabhash's Adipurus movie with Mughal actors also raises doubts on its content.
One can understand by reading all this that there is a vast amount of anti-Hindu content been produced by the Urduwood and truckloads of content and frequency of content are in the pipeline.
This could be enervating for Gems of Bollywood in exposing the Urduwood. However, since Urduwood earns millions by abusing Hindus in movies, they get more encouraged. They produce one after another anti-Hindu content.
Though I wholeheartedly support the work of Gems of Bollywood, I am surprised by the central government's lull on this issue for not taking any action visible on the ground.
Therefore, it becomes crucial to match the speed and frequency of Urduwood for Gems of Bollywood. The other measure can be the right-wing movie producers, which can be counted on fingers right now. Therefore, they can not take on the thousands of Mughal producers and their vast ecosystem.

Hence, Gems of Bollywood exposing the Urduwood Mughals and Central and State government action against these crooks offer great hope.
Take the example of the UP government, which has shown significantly fewer concerns on Mirzapur web-series despite having clear laws in the constitution to take action against such digital content.
Hence, organized timely Hindu outrages, governments, and groups such as Gems of Bollywood's role becomes supper important to discourage Urduwood from producing more Hindufobic content.
_________________________________________________________________________________________
Liked the Article?
Don't forget to follow me on Twitter @Awasthi_jee to read my other articles.
DISCLAIMER: The author is solely responsible for the views expressed in this article. The author carries the responsibility for citing and/or licensing of images utilized within the text.