Cost of Pakistan's Blasphemy Law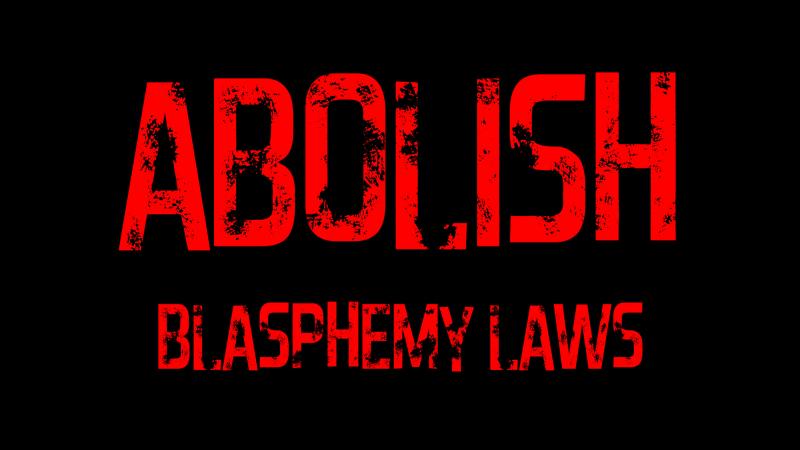 Social Justice & Humanity are myths in Pakistan. The everlasting radicalization of Pakistan's society is threat for entire globe. The blasphemy law & the misuse of such law is at peak. The survival of communities in Islamic Republic of Pakistan is questionable.
The Constitution of Pakistan:-
Article 2:- Islam is the state religion.
Article 31:- foster the Islamic way of life.
Article 33:- discourage parochial, tribal, sectarian.
Religion-related offences were fisrt codified by British Raj, 1860 & were expanded in 1927 as "Hate speech law 295 (A)". General Zia-ul Haq added more severe clauses in the laws during 1980-1986.
On 12 January 2011, Prime Minister of Pakistan Yousuf Raza Gilani once again said that there would be no amendments to the blasphemy law.
National Commission for Justice and Peace (NCJP) shows a total of 776 Muslims, 505 Ahmedis, 229 Christians and 30 Hindus have been accused under various clauses of the blasphemy law from 1987 until 2018.
Those who want to change the law were killed brutally or disappeared or ran away from Pakistan.
Shahbaz Bhatti, a Christian Minister, was killed in an ambush for attempting to reform the blasphemy law. The house of Shahbaz Gurmani, a lawyer defending a university lecturer accused of blasphemy, Junaid Hafeez, was raided by gunmen on motorcycles warning him to withdraw from the case. The lawyer of Asia Bibi, Saif-ul-Mulook, had to flee the country in fear of his life. When Punjab Governor Salman Taseer – a prominent critic of the law – was assassinated by his bodyguard in 2011, Pakistan was divided, with some hailing his killer as a hero. PPP – Sherry Rehman tried to introduce amendment in Blasphemy Law but She withdrew the bill under the pressure of religious groups in 2010.
The Majority of blasphemy cases are based on false accusations stemming from property issues or other personal or family vendettas.
Shagufta Kausar & Shafqat Emmanuel – They are a Pakistani Christian couple convicted of blasphemy by a Pakistani court, and sentenced to death by hanging back in 2013. They are alleged to have sent a blasphemous message against the Prophet. Despite the couple being illiterate and the message being in English, the couple did not stand a chance of succeeding in their defense against the dangerous blasphemy provisions and a failed legal system.
April 2017, Mashal Khan, a Muslim student, was killed by an angry mob following allegations that he posted blasphemous content online.
An eight-year-old Hindu boy is being held in protective police custody in Pakistan after becoming the youngest person ever to be charged with blasphemy in Pakistan
Pakistan's relation with Europe is at stake because of Blasphemy Law.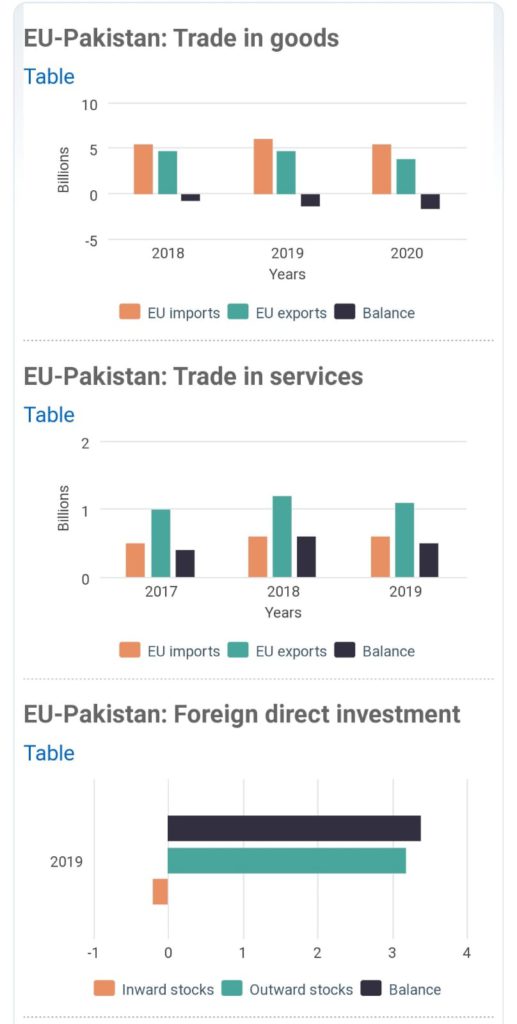 The EU supports Pakistan's integration into the world economy and its sustainable economic development by granting it GSP+ trade preferences.
From 2010 to 2020, EU27 imports from Pakistan have almost doubled from €3 072 to €5 537 million.
The EU is Pakistan's second most important trading partner, accounting for 14.3% of Pakistan's total trade in 2020 and absorbing 28% of Pakistan's total exports.
EU stands – On April 28, 2021, the European Parliament adopted a joint motion for a resolution on the blasphemy laws in Pakistan calling for more comprehensive approaches to address the abuses of blasphemy laws in Pakistan.
Pakistan is a part of International Covenant on Civil and Political Rights (ICCPR). Pakistan has made a commitment to respect, protect and fulfil these rights and to put in place the necessary legislative, judicial, administrative, and other measures but Blasphemy Law and current incidents are stating something different.
EU wants to reassess trade ties with Pakistan over human violation and Blasphemy Law.
Today, A Srilankan guy posted General Manager at Rajko Industries has been burnt alive on the street of Pakistan.
This will ruin the economy of Pakistan. Blasphemy law and Radicalization in Pakistan will bring losses to the country.
Pakistan's blasphemy laws violate its international legal obligations to respect and protect the rights to life; freedom of thought, conscience, and religion or belief; freedom of opinion and expression; equality before the law; and the prohibition on discrimination.
DISCLAIMER: The author is solely responsible for the views expressed in this article. The author carries the responsibility for citing and/or licensing of images utilized within the text.