VHP's slogan of 'Jai Valmiki-Jai Shriram' in response to 'Jai Bhim-Jai Mim'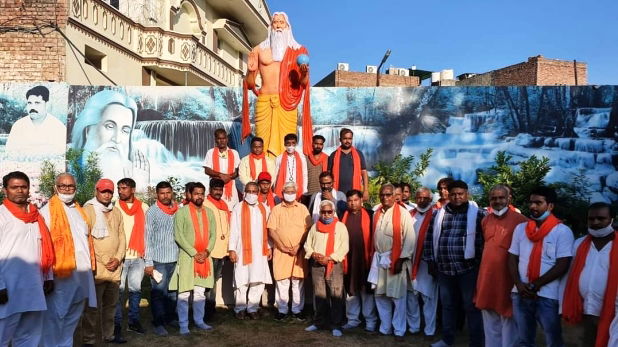 Jai Valmiki-Jai Parshuram Is Better To Listen Jai Bheem-Jai Meem
In response to the slogan 'Jai Mim-Jai Bhima' launched by some political parties for Dalit-Muslim unity, the Vishwa Hindu Parishad (VHP) has given the slogan 'Jai Valmiki-Jayshriram'. The Vishwa Hindu Parishad has started this campaign in a big way from Haryana. After the efforts of VHP in Gohna, Haryana, the people of the local Valmiki society have also built the Social Harmony Building. According to VHP CEO Alok Kumar, Scheduled Castes are unbreakable part of Hindu society. No plot can separate them.
The Central Joint Secretary General, Dr. Surendra Kumar Jain, says, "Dr. Ambedkar had told Guruji, the second Sarsanghchalak of the Sangh, that if the Hindu saint declared that untouchability was not a part of Hindu society, the spirit of untouchability could be erased, after which the Vishwa Hindu Parishad's 1969 conference in Udupi society The proposal to eradicate the discrimination of high and low was passed. Since then the Vishwa Hindu Parishad has been working to eliminate untouchability from the country. "
Youth resolve to take up Sanatan Dharma
Vishwa Hindu Parishad national spokesperson Vinod Bansal said that at an event held on August 23 in Gohona, Haryana, a total of 104 youths of Valmiki Samaj wore blue saffron and wore saffron stripes. Two youths from every village in the tehsil were called for this event. Except for the organization of Chandrasekhar Ravana, all the youth of Valmiki society pledged to take up the heritage of Sanatan Dharma with VHP for Hindu unity.
Continuous efforts to bring Dalits into the mainstream
He said that under the Vishwa Hindu Parishad's Social Harmony Campaign, efforts are on to bring the people of Dalit society into the mainstream. In Haryana, a campaign is underway to connect the youth of Valmiki Samaj with the VHP under the leadership of Vishwan Hindu Parishad vice-president and retired Judge Pawan Kumar.
The Vishwa Hindu Parishad national spokesperson said that "leaders like AIMIM chief Asaduddin Owaisi chant 'Jai Bhim-Jai Mim' while trying to seduce and incite Dalits." The youth of the Valmiki Samaj of Haryana have given a befitting reply to the leaders like them through the same slogan of the same name, Jai Valmiki Jai Shri Ram. "
DISCLAIMER: The author is solely responsible for the views expressed in this article. The author carries the responsibility for citing and/or licensing of images utilized within the text.